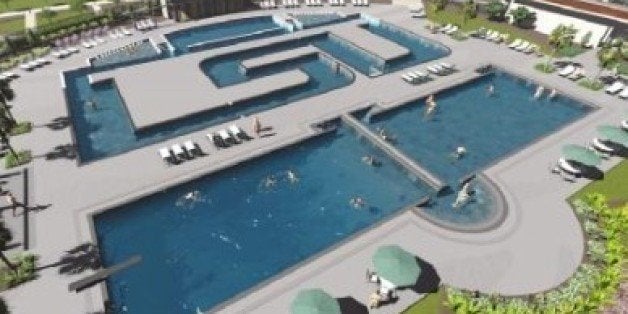 Louisiana State University is currently facing the prospect of a $55.5 million state funding cut, even as it's building a large so-called lazy river in the shape of the school's initials as part of an $84.75 million overhaul of its recreation facilities.
Meanwhile, LSU is entering the third phase of a multi-year construction project approved by students in 2011 that will include a new fitness training slope, a 35-foot climbing wall and an outdoor swimming area with a lounging pool, popularly known as a "lazy river," in the shape of the LSU logo. This current $64.5 million phase is expected to be complete in fall 2016.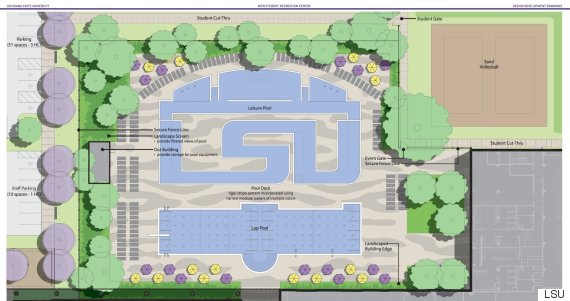 "The funds for the project come directly from the student fee and can only be used for the project," LSU spokesman Ernie Ballard told The Huffington Post. "Similar to donations to the university or funds from the state for capital projects, these types of funds can't be shifted to fill in budget holes or be used in another way. They can only be used for what they were originally designated for."
But Kevin Cope, English professor and LSU Faculty Senate president, suggested the costs are not limited to the project's construction.
In the long term, "such a boondoggle will have high maintenance costs," Cope said in an email to HuffPost. "The idea was proposed by students in 2011 but now those students are long-gone and the new generation is not especially engaged in this project."
Operational costs for the expansion, including the lazy river, will be covered by university recreational operational revenues, Ballard said.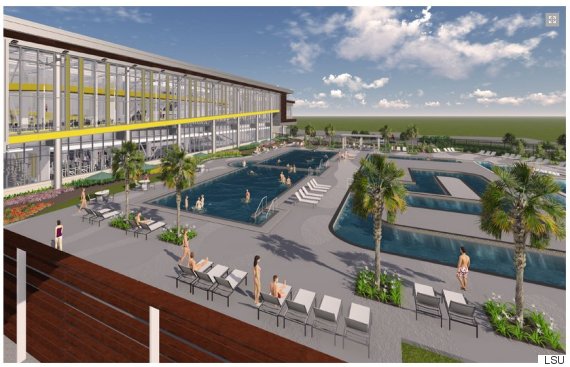 "And so to do that, we took advantage of low interest rates for municipal bonds and invested in rehabilitating our residence halls and eating facilities and putting in more recreation -- workout rooms and lounges, and the kinds of accouterments that really dressed up a campus and made it a much more comfortable and familiar place for upper-middle class students," Garland said. "So those students started applying to us in droves. Application numbers went up, we became more selective, and the SAT scores of the entering class became higher."
A New York Times report last year found swimming facilities that resemble water parks at Auburn University, the University of Missouri, Texas Tech University and Pensacola Christian College, to name a few. Many are in southern states with warmer weather. The University of Oregon in January opened a $50 million renovated recreation center complete with a rock-climbing gym, a Whirlpool spa and a 32-television "media wall."
LSU Director of Recreation Laurie Braden told the Times the school was building its lazy river because "students involved in the planning process wanted something cooler than what anyone else had." Braden gave a similar quote to The Times-Picayune last month, adding, "Expanding LSU recreation facilities will enhance LSU's ability to attract and retain high quality students that have many other options in the [Southeastern Conference]."
Related
Popular in the Community