Rabbi Menachem Mendel Schneerson, also referred to as the "Lubavitcher Rebbe" and sometimes just "the Rebbe," died in 1994. On Tuesday, July 1, thousands of Jews commemorated the 20th anniversary of his death by visiting his final resting place in New York.
Close to 50,000 visitors converged at the Rebbe's gravesite in Queens, New York, Chabad representatives said. A 24-hour observance began at sundown on June 30, bringing visitors together for prayers, lectures and tributes.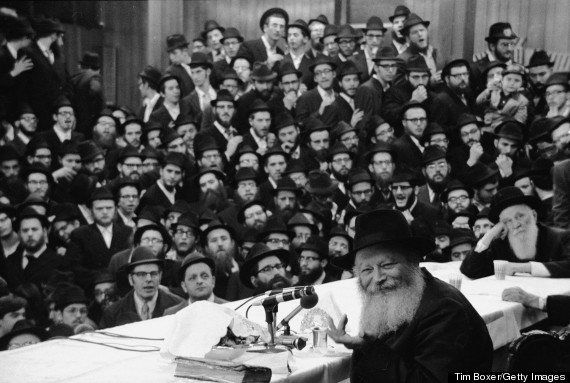 Russian-born Orthodox Jewish Rabbi Menachem Mendel Schneerson (1902 - 1994) smiles and gestures at the camera from behind several microphones on a table while his audience watches, New York, 1970s.
The Lubavitcher Rebbe was the seventh leader in the Chabad-Lubavitch dynasty, and is considered to be one of the most important rabbis in modern history. Born in Russia in 1902, the Rebbe excelled in religious studies as a child, and by the time of his Bar Mitzvah the community had identified him as a Torah prodigy.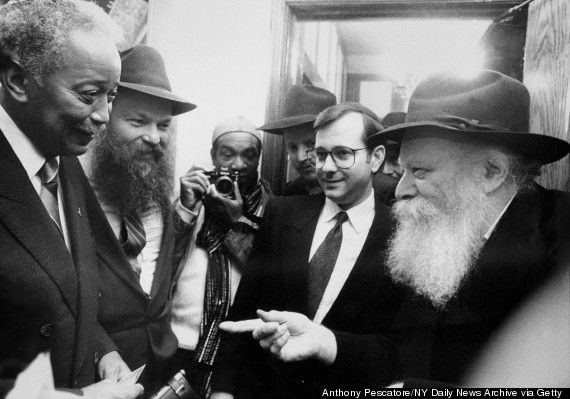 Mayoral candidate David Dinkins and Councilman Noach Dear talk with Lubavitcher Rebbe Menachem Schneerson and Rabbi Joseph Spielman, Crown Heights Community Council president, at Lubavitcher World Headquarters.
When World War II broke out, the Rebbe escaped the jaws of the Holocaust and arrived in the United States in 1941 with his wife, Rebbetzin Chaya Mushka. After the death of his father-in-law, the sixth Rebbe, in 1950, Schneerson assumed the role of seventh Rebbe and began working to expand the outreach of Chabad-Lubavitch..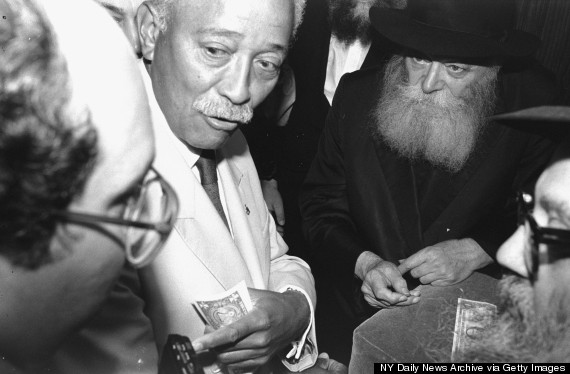 Mayor David Dinkins meets with Rebbe Menachem Schneerson during Crown Heights riots, which erupted after two African-American children, Gavin and Angela Cato, were hit by a car driven by a member of the Hasidic Jewish community.
In 1992 the Rebbe suffered a stroke and became paralyzed in his right side, losing the ability to speak. He died two years later, and his gravesite became a sacred place where visitors to this day come to receive blessings and deliver prayers from around the world.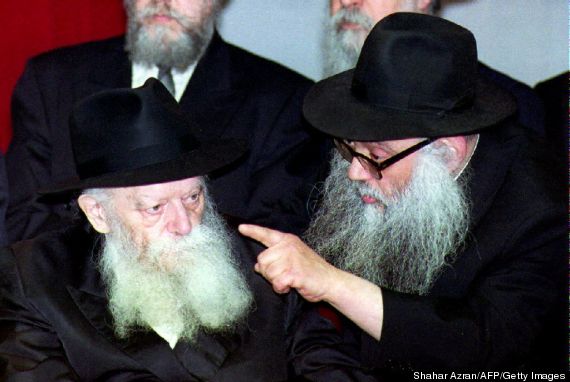 Menachem Mendel Schneerson, the Grand Rabbi of the Brooklyn-based Lubavitcher movement of Hasidic Jews, listens as one of his advisors points to the crowd 31 January 1993.
Chabad commented in a statement:
The Rebbe's gravesite is considered a place of deep spiritual sanctity. Throughout the year, hundreds of thousands of individuals, Jews and non-Jews, frequent his gravesite, seeking blessing, guidance and spiritual inspiration. On top of personal visits, the Rebbe's gravesite annually receives more than 400,000 prayer requests via fax and hundreds of thousands via e-mail.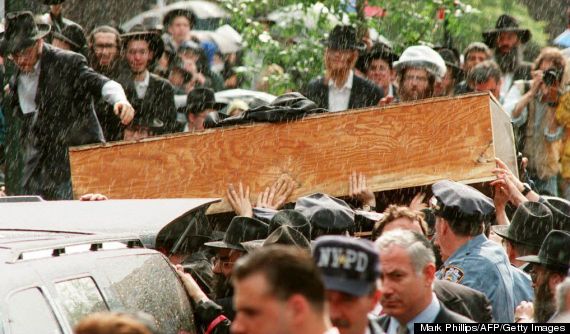 Hands reach out to touch the casket of Rabbi Menachem Schneerson as his funeral procession prepares to leave the world headquarters of the Lubavitch hasidim in the Crown Heights sectiuon of Brooklyn, New York, 12 June 1994.
BEFORE YOU GO
PHOTO GALLERY
20th Anniversary of Rabbi Menachem Mendel Schneerson's Death