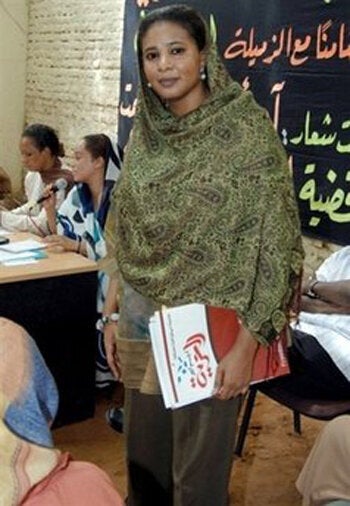 Lubna Hussein, who was arrested July 3 for wearing pants and is now standing trial, openly defied the court by wearing the very same outfit to trial that she was arrested for, AFP reports.
From the Associated Press:
A Sudanese female journalist facing 40 lashes for wearing trousers in public in violation of the country's strict Islamic laws told a packed Khartoum courtroom Wednesday she is resigning from a U.N. job that grants her immunity so she can challenge the law on women's public dress code.
Lubna Hussein was among 13 women arrested July 3 in a raid by members of the public order police force on a popular Khartoum cafe for wearing trousers, considered indecent by the strict interpretation of Islamic law adopted by Sudan's Islamic regime. All but three of the women were flogged at a police station two days later.
But Hussein and two other women decided they wanted to go to trial and Hussein invited human rights workers, western diplomats and fellow journalists to Wednesday's hearing.
Some of her women friends showed up in court Wednesday wearing trousers in a show of support.
"This is not a case about me wearing pants," said Hussein, who works in the media department of the U.N. Mission in Sudan and contributes opinion pieces to a left-leaning Khartoum newspaper.
"This is a case about annulling the article that addresses women's dress code, under the title of indecent acts. This is my battle. This article is against the constitution and even against Islamic law itself," she said after the hearing.
Judge Mudathir Rashid adjourned the hearing until Aug. 4 to give Hussein time to quit her job.
Hussein said she would immediately quit and thanked the U.N. for intervening to spare her possible punishment.
She said the U.N. mission was trying to stand by her, invoking a clause in an agreement between the Sudanese government and the world body's representatives in Sudan that obliges authorities to ask permission before starting legal proceedings against a member of its staff.
Hussein's defense lawyer, Nabil Adeeb, said the U.N. wanted to protect its staff, but Hussein wanted her trial to proceed.
"We have contradicting interests," he said. Hussein can face at least 40 lashes, according to Adeeb.
Islamic Sharia law has been strictly implemented in Sudan since an army coup led by President Omar al-Bashir seized power in 1989, toppling an elected but ineffective government. Activists and lawyers say the implementation of the law is arbitrary.
Public order cases usually involve quick summary trials with sentences carried out shortly afterward, as was the case with the 10 of the 13 women arrested earlier this month. They were flogged and fined 250 Sudanese pounds, or about $120.
Women in the mostly Arabized and Muslim northern Sudan, particularly in the capital Khartoum, dress in traditional outfits that include a shawl over their head and shoulder. Western dress is uncommon.
Still, the raid on a Khartoum cafe popular with journalists and foreigners was unusual.
Associated Press reporter Sarah El Deeb conributed to this report from Cairo, Egypt.
Related
Popular in the Community