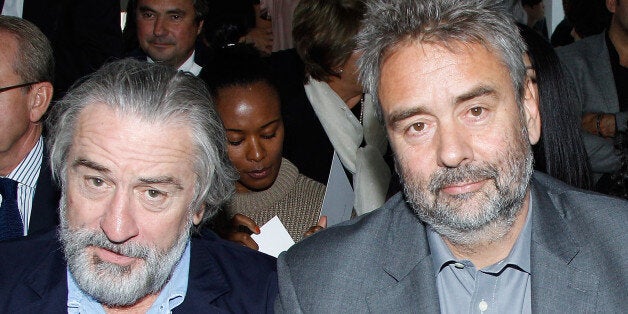 "It's a fake action movie," Besson, the Paris-born director behind such classic films as "La Femme Nikita," "The Fifth Element" and "Leon: The Professional," told HuffPost Entertainment about his latest feature. "It's really about this family who try to adapt themselves to this new environment, while at the same time there's some crazy action. In a way, 'Leon: The Professional' was the same. It had good action scenes, but it's not 'Fast and Furious.' That's an action film."
Based on the book "Malavita" by Tonino Benacquista, "The Family" stars Robert De Niro as Giovanni Manzoni (a.k.a. Fred Blake), a New York mob boss who ratted out his friends and gets relocated to France by the Witness Protection Program with his wife (Michelle Pfeiffer) and two kids ("Glee" star Dianna Agron and newcomer John D'Leo) in tow.
Ahead of the film's Sept. 13 release, HuffPost spoke to Besson about "The Family," the influence Martin Scorsese had on the production, and what it takes to get the best out of a two-time Oscar winner like De Niro.
The idea of putting Robert De Niro in a movie like this is so great. Did you know right away that you'd approach him for the part? The writer of the book, in his mind, he always pictured Robert. The first thing I did was send the book to Robert, just to hear how he would react. He's a New Yorker, so if he liked it, then it was a good sign. He called me back and he said he loved the book, so I said, "OK, I'm going to write the script." Then he loved the script too, so it was great.
You've been picky in recent years about what films you direct. What made you want to direct this? At the beginning, I was not supposed to direct, but we did a reading with Robert and a couple of his friends and, like, half of the cast of "The Sopranos," and that went very well. That was the first step. Then, Michelle Pfeiffer and Tommy Lee Jones got involved, and it was kind of difficult for me, as a director, to resist the pleasure of working with those three together. They had never worked together before. It was just very exciting for me to see them for the first time. They are very high level actors, and they were so excited to work with each other. So, every director, I would say, "No, not this one, he's not good enough. No, not that one." After about 50 names, I realized I maybe wanted to do it myself [laughs].
Everyone is well cast, but I was really impressed with John D'Leo as the family's young son. How difficult was it to find him? There were two things. The first thing was that the actor, physically, had to look like Robert, at minimum. So, John succeeded on that. He looks like Robert in a way, when Robert was young. That was one good point for him. When he came for the audition, though, he was bad, because he was trying so hard. I said, "I'm interested by you, but you were bad." He had prepped the scene, and worked so much on it with his mother or his dad or his friends, that the way he was doing it was wrong. I tried to correct him once, twice and he was always coming back to what he had learned. So I had to break that! I said, "John, if you do one more take like this, you won't have the gig. I need to know the capacity you have to follow what I ask." So we spoke for five minutes and I totally broke down the scene and explained it to him, and we had another try and he listened and did it. For me, what I want from an actor is the capacity to follow what I ask. That's the talent of an actor: half of the talent is propose new things, the other half is to do what you're asked.
How does that style mesh with an actor like Robert, who has such great experience? It was very easy to work with him. He's very professional. He loves details, he talks a lot about it. He trusts you. He's following you. The thing is, sometimes, directors are too busy about the lights and the shots and the technical stuff, and they're not paying attention to the actor. Then the actor could be on autopilot and give a nice performance, but that's it. You have directors who will say, "It was great! Next, next, next!" The question for me was: Scorsese took the lemon juice out of De Niro, but can I take one drop more? They made such wonderful, incredible films together that it was very intimidating for me to go after them and say, "What can I bring?" It's delicate. I was just hoping that I could take at least one drop of the honey from the beehive. So if De Niro gave me normal, average De Niro stuff, I was cutting in the middle of it and saying, "No, no, I don't want that. Give me some of the high-quality [stuff]. I want the honey." [Laughs]
Was it his idea to include the scene where his character watches "Goodfellas"? It was in the book! Honestly, to film Robert watching himself in "Goodfellas" was one of the greatest moments of the film. It was amazing.
This interview has been edited and condensed.
PHOTO GALLERY
Celebrity News & Photos
REAL LIFE. REAL NEWS. REAL VOICES.
Help us tell more of the stories that matter from voices that too often remain unheard.