After exploring the New York City pizza scene in-depth over the past seven years, we finally made it to Lucali last night. I have to admit my expectations were low. We had tried many times to arrange a visit and were told they didn't seat large parties -- which I understand being in the biz -- but also the wait time would be unknown and we could never bank on how long it would take to funnel our crew of 17-30 through the experience. How could the pizza be worth all that? (Something people who haven't been to Home Slice wonder all the time.)
So imagine our shock this year when my partner called to ask yet again about the possibility of bringing a big group and it was granted! If we came early, at 5:30, we would finally get to taste Mark Iacono's prized pies. But then, when trying to confirm the details closer to our departure date, we had trouble getting a call back at all, and when we did reach the host, her comments didn't inspire confidence that it could happen at all. Plus, instead of artisan, the whole pizza-by-candlelight thing could be seen as super pretentious. We'd heard the pies were $38 bucks a piece (not true) and a little over a year ago the guy was repeatedly stabbed in a fight and charged with attempted murder -- a good story for sure, but I wouldn't think service would be Lucali's top priority. Press made him out to be someone fixated on the art of pizza making and the simplicity of ingredients, but it wasn't until we experienced Lucali's that I realized hospitality is what the place is all about.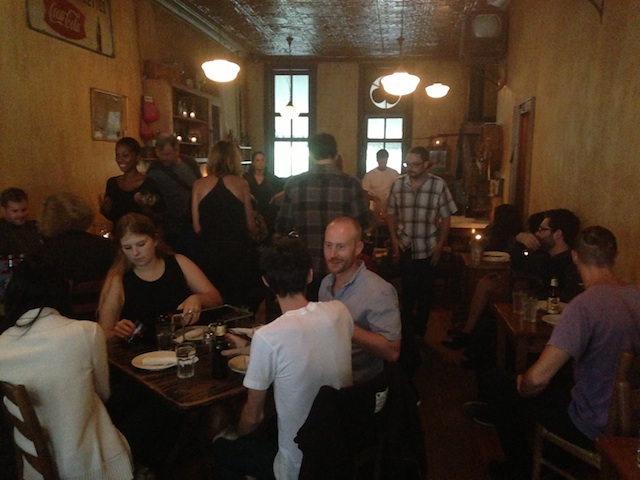 After languishing two hours in the warm welcome of the cozy flicker-filled space, putting away rounds and rounds of delicious pie -- plain, pepperoni, artichoke, mushroom with entire bunches of basil on every one -- all the freshest ingredients assembled lovingly from a bowl at Iacono's hand, and drinking our BYOW, we were all in awe. By the end of the night I was reminded that nobody wants to be in the restaurant business -- at least they don't succeed in the way Lucali's does -- unless they love people, take pride and satisfaction in serving them, and are tickled by turning them on to delicious food.
The host and the servers were lovely, and the artist himself was friendly and humble, answering all our questions and entertaining our oven talk.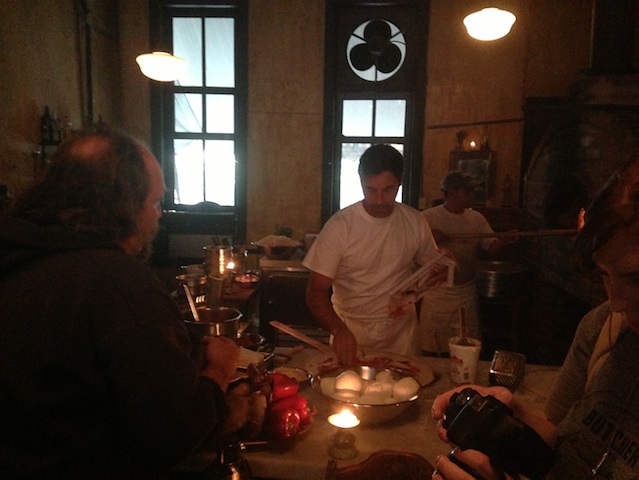 I honestly think that Lucali is the best pizza I have ever eaten in New York, which is huge for me to say -- I almost don't want to commit but I'm going to anyway. I've eaten so much pizza and I'm so picky about it. I'm not afraid to say that for me, Lucali's beat out Pepe's in New Haven, and his white pie with truffle oil edged out Totonno's in Coney Island as my favorite white pie (all due respect, Pepe's and Totonnos!)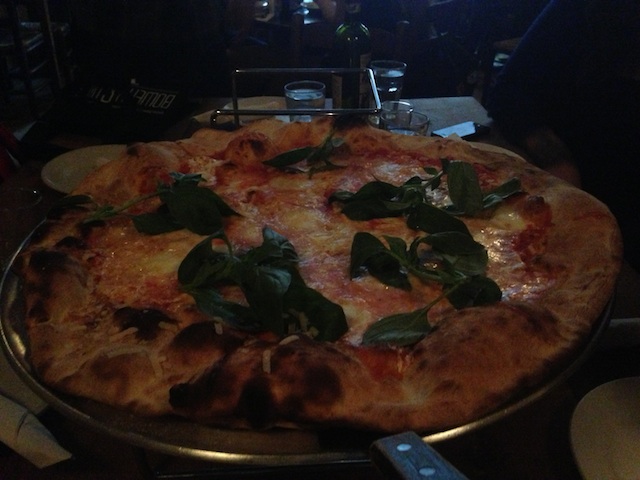 I already felt like I wanted to hug Iacono, but then I read this interview with him on Grubstreet where he talks about the restaurants in his neighborhood growing up (Carroll Gardens -- the same hood Lucali is in today), how they were just in people's living rooms and you paid them to cook for you. Well that is exactly what Lucali feels like -- genuinely and authentically. And the interview painted Iacono as a "rough n' tumble Brooklyn kid raised with decent street smarts in the 70s," which further warmed my heart because I'm from a big Italian family and that's my decade too. And I'm sentimental for the time when things were still homemade, and I was open enough for authenticity to make an impression on me. And like Iacono, I want to share that with people -- the food and the feeling. That's why I'm in the restaurant business today.
Related
Popular in the Community