NEW YORK ― At 5 years old, Lucas Hedges was known around his block as the Austin Powers kid. Neighbors would egg him on, and he'd yell, in an ostentatious British cadence, "Do I make you horny, baby?"
"I remember really killing it, too," he said. "Like, really giving to the impersonation."
Hedges is 20 now, and an Oscar nominee for his very un-Austin-Powers-like role as a Boston-area teenager processing his father's death in last year's "Manchester by the Sea." His first memories of performing aren't in a school play, though he did that, too ― namely, a seventh-grade production of "Nicholas Nickleby," where a casting director saw him and eventually helped to secure him a small part in Wes Anderson's "Moonrise Kingdom." No, his first memories, Hedges told me over coffee earlier this month, are of the days when he would channel Mike Myers' trendy innuendos for anyone who'd ask.
Compared to the image of little dirty-blond Lucas dashing through his Brooklyn neighborhood, Hedges' screen roles have been aggressively restrained. This month, he appears in "Lady Bird," Greta Gerwig's bittersweet coming-of-age gem starring Saoirse Ronan, and "Three Billboards Outside Ebbing, Missouri," Martin McDonagh's tragicomedy about a fiery gift-shop owner (Frances McDormand) avenging the rape and murder of her daughter. Hedges plays quiet teenagers still coming into their own. In "Lady Bird," he's embroiled in the confusing throes of young love. In "Three Billboards," he's a smart, depressed Midwesterner who'd rather his mother stop causing such a spectacle.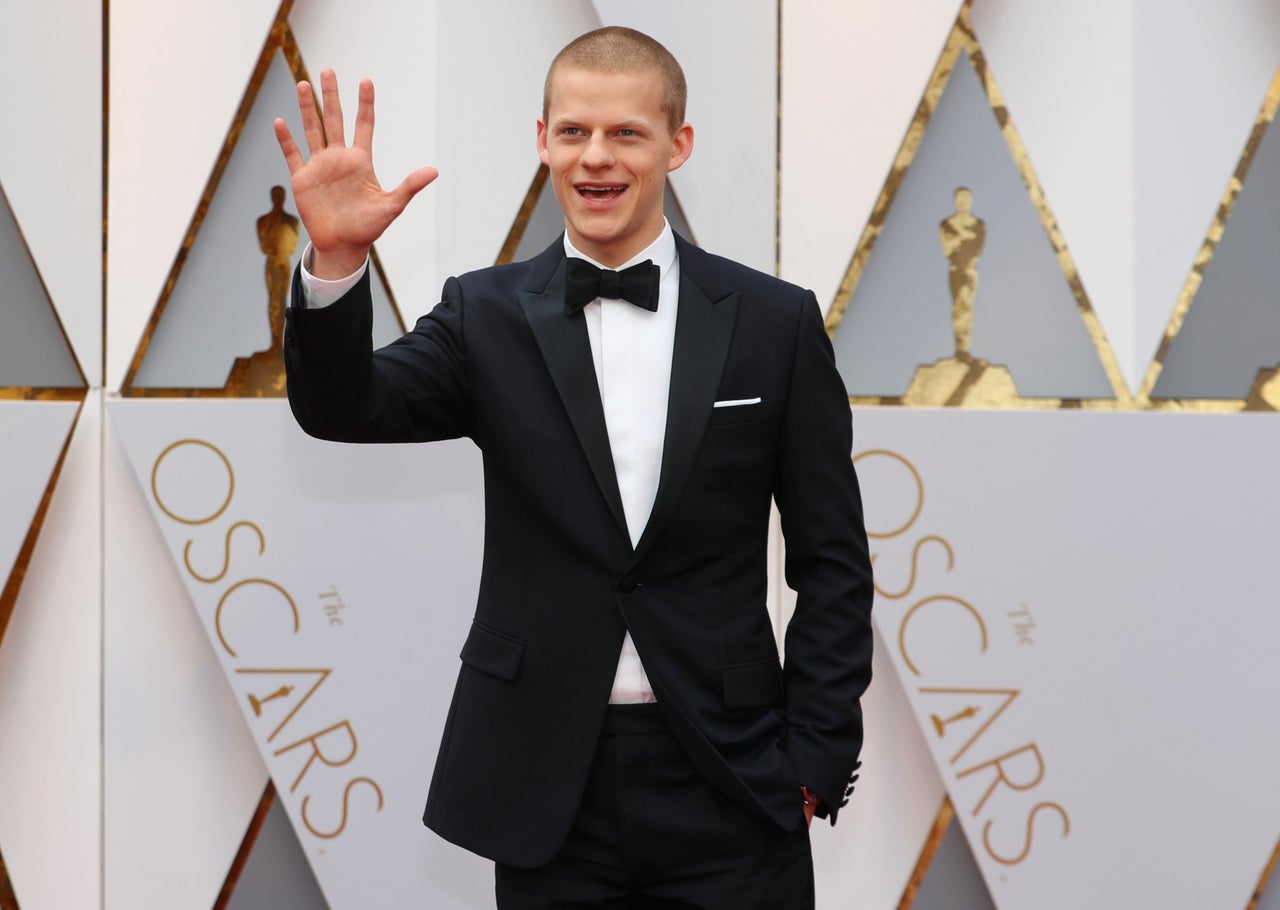 Across our hourlong conversation, during which he took approximately one bite from the quinoa salad sitting in front of him, Hedges' self-deprecating earnestness was punctuated by a comic ease that lent credibility to his onetime Austin Powers theatrics.
He grew up a mere subway ride away from the café where we met, yet still asked where we were exactly ― Manhattan's Upper East Side ― because he needed to meet a friend for lunch in the West Village afterward. He issued a collected "nahhhh" when asked whether he was a party guy in high school, but grew cheerfully closemouthed in response to a question about the first time he got drunk, like a typical 20-year-old not quite prepared to part with his innocence: "I don't even know if I've told my parents about this. Ummm. I'm worried my publicist is going to freak out. I'm sorry."
He agreed that, even though he isn't dating at the moment and isn't keen on meeting anyone through "superficial" smartphone apps, he would "give anything" to scroll through the service that allows creative types (aka celebrities) to pay to match with other creative types (aka celebrities). I assume he's referring to Raya, though he couldn't recall the app's name. I also assume he could easily scroll through it if he chose, because some of his famous pals use the app, though he wouldn't tell me which ones.
This all says a lot about the multitudes of Lucas Hedges, who found a relatively easy portal into Hollywood. His parents are Peter Hedges, the Oscar-nominated screenwriter of "Dan in Real Life," "About a Boy" and "What's Eating Gilbert Grape," and Susan Bruce, an actress and poet who has appeared in "Law & Order: Criminal Intent" and "Pieces of April." They were the sort of parents who let him watch rowdy sex comedies at 5 and the violent thriller "Deliverance" in fourth grade. Hedges ripened in an affluent section of Brooklyn, where he attended a private arts school that didn't assign students letter grades. Famous parents like Maggie Gyllenhaal, Peter Sarsgaard and Jennifer Connelly attended his plays. Kenneth Lonergan, who wrote and directed "Manchester by the Sea," was a friend of Hedges' father long before he cast Hedges in that breakout role, filmed toward the end of his senior year of high school.
As privileged and fortuitous as all of this was, by the time he was about to graduate, Hedges needed to escape from the home life he knew ― "like Lady Bird," Ronan's titular character, he said.
"I just didn't know how to take care of myself," Hedges reflected. "I didn't know how to work hard and exercise and read. I was just confused and scared."
So, Hedges spent a year studying theater at the University of North Carolina School of the Arts, where he decided he was "addicted" to his iPhone and traded it for a flip phone. Hedges was giving an interview to Variety in his "dusty, dusty dorm room" when he first learned his "Manchester" performance was netting Oscar buzz.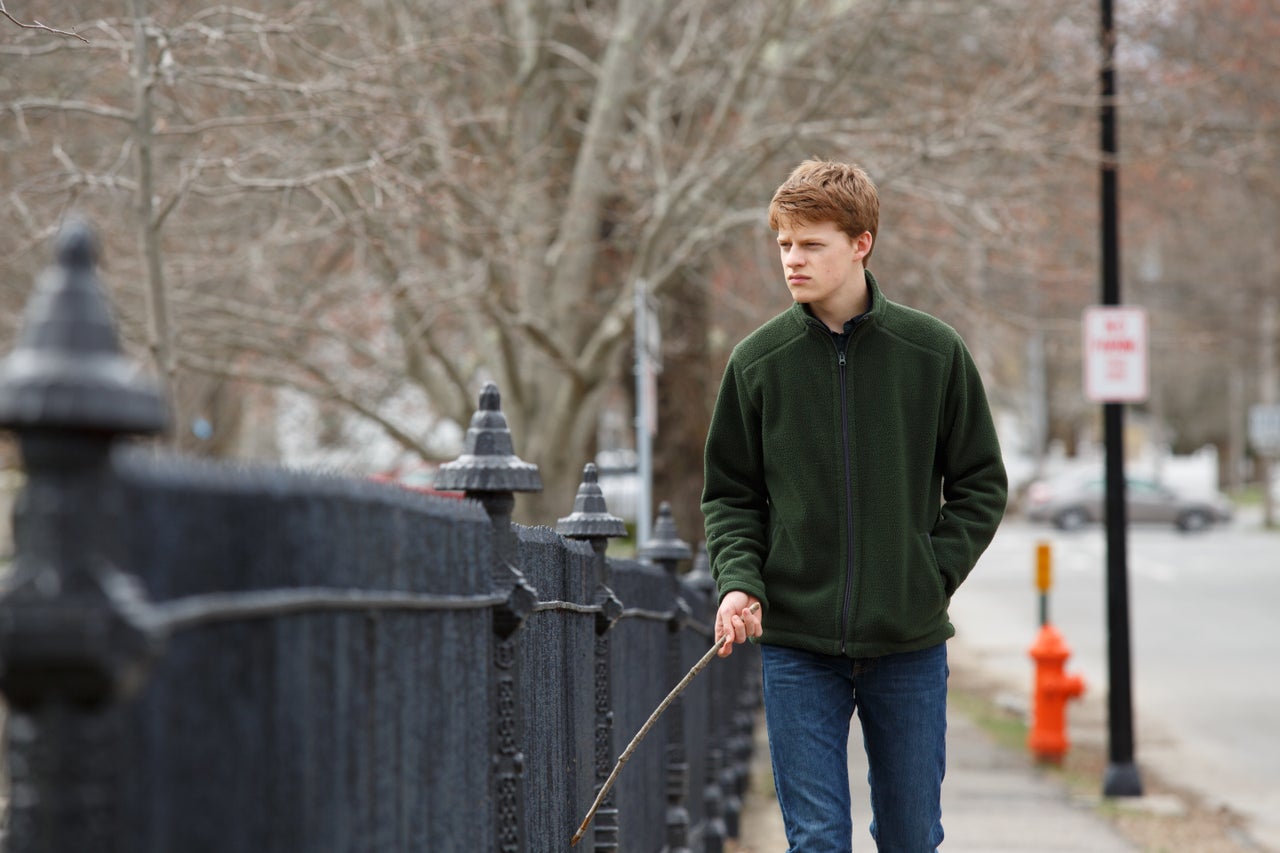 "Part of the reason why I wanted to go to acting school is I thought I would be the man there," he said. "I thought, 'I've been working, and because I've been working, that says something about my talent and what I'm inherently capable of doing.' So when I got to school, I was like, 'OK, I'm going to have the best of both worlds. I have training, everyone's going to think I'm the best.' I went and none of that happened. I truly felt like I was the worst. The teachers were all trying to help me, but really anything other than 'You're a genius, oh my God, I can watch you for hours' would have hurt my ego. I went there with the wrong intention. And if you do anything with the wrong intention, you're going to get fucked."
It was "Lady Bird" that brought Hedges back to Brooklyn ― or, rather, sent him to Sacramento, California, where the movie shot last autumn. He dropped out, because "school's hard" and acting professionally is more invigorating than being judged by classmates during relentless workshops. "I'm so happy I'm not in school right now," he said. "I felt like I was the one bad actor at this school. And then ['Manchester'] came out and everyone really loved the performance."
As these things often go for Hollywood-adjacent kids, one stroke of fortune led to another. At the Sundance Film Festival in January 2016, standing onstage after a screening of "Manchester," Hedges made eye contact with Gerwig, who was sitting in the audience. ("Gosh, she's just the greatest," he told me.) Gerwig would soon offer him a choice between Danny, the earnest musical-theater tenderfoot in "Lady Bird," or Kyle, the too-cool rocker stud who hates the economy and has little interest in attending prom. He chose Danny, who more resembled Hedges' own teenage experience, largely because he, too, dreamed of living in Europe. But Danny departed from Hedges in at least one key way: Hedges wasn't, and still isn't, "brave" enough to do musical theater.
As for the role of Kyle, well, that gave Hedges another new buddy. Timothée Chalamet, the scruffy-haired beanpole who is winning raves for this month's "Call Me by Your Name," got the part. Together, Hedges and Chalamet represent Hollywood's new class. Both are babes who grew up attending New York arts schools; they now wax thoughtful about craft and the business in a way that most young actors do not. "He is my homie," Hedges said before pressing me about "Call Me by Your Name," having not yet seen it. When I told him Chalamet should win the Oscar for best actor in March, Hedges' jaw dropped in excitement. "He's about to be an icon," he said. "There's something special about that dude."
That seems to be Hedges' default mode: thrilled for the people who surround him, as long as their judgments aren't too harsh. Currently, he is trying to court Xavier Dolan ― the acclaimed director and actor from Quebec with whom he co-stars in next year's conversion-therapy drama "Boy Erased" ― to cast him and Chalamet in a movie. Hedges and the 28-year-old Dolan became chummy while making the Joel Edgerton-helmed "Erased," shot in September. They shared scenes with Nicole Kidman, whom Hedges called "the best actor I've ever worked with." Hedges couldn't single out a favorite Kidman performance ― tsk, tsk, young man ― but he gushed about Dolan's infatuation with the psychodrama "Birth," specifically the haunting close-up of Kidman in an opera house.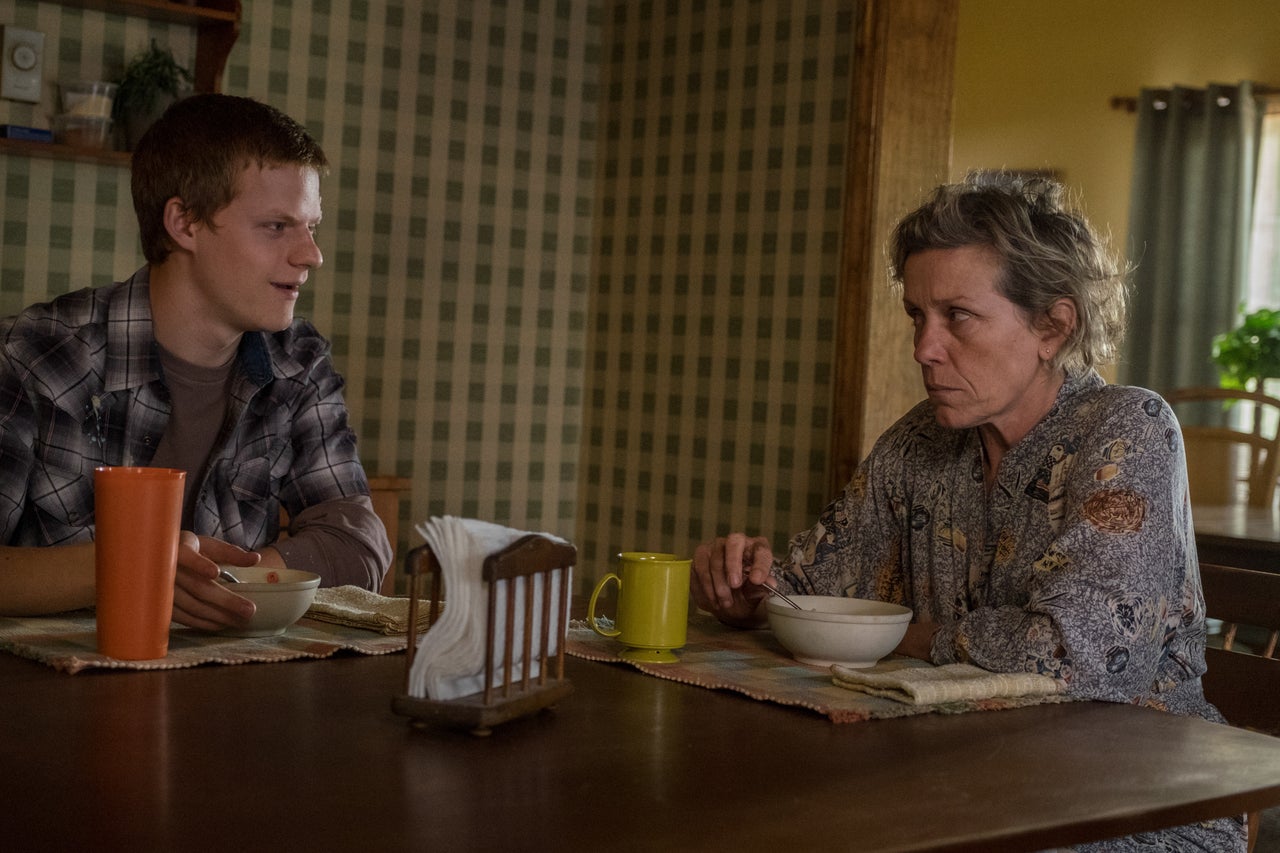 Hedges rattled off names of his North Carolina friends, who have been his strongest support during this transition toward becoming a celebrity. They don't mind that he's been texting with Julia Roberts, his co-star in the forthcoming drama "Ben Is Back," written and directed by Hedges' father. Or that he's starring in Jonah Hill's directorial debut, which he called an "exciting" departure from the Apatovian actor's usual fare. One of those unruffled friends is in possession of an essay Hedges was compelled to write three years ago after first seeing "The Celebration," a heady Danish film that claims a passionate art-house following. Along with "Super 8" and that "Deliverance" viewing in fourth grade, it's the movie that made Hedges fall in love with movies.
"I carried it around in my wallet for so long, and now it's so faded that you can't even really read it," he said of the essay. "I was just visiting my friend in North Carolina, and for some reason it's on his bedside table. It's just, like, there."
For Hedges, his pals' support is encouragement as his nascent fame seemingly ebbs and flows. For about a week after "Manchester by the Sea" opened last November, Hedges felt recognized everywhere he went. And then it ended, just like that, or so he says. Today, he mostly operates with ordinary anonymity, even as his media profile rises.
Ahead of Oscar night this past February, he knew he wouldn't win the best supporting actor trophy ― "Moonlight" actor Mahershala Ali had scored enough precursor prizes to effectively end the race before the big moment arrived ― yet for one split second, when presenter Alicia Vikander opened the envelope, a flashbulb went off in Hedges' head. He was convinced he'd prevailed.
"I was like, 'Oh my God, I won," he said, chuckling. "It was like a split second. It was based in nothing. It might have been some sort of evolutionary reflex. It wasn't even like it happened. It felt like something literally came out of my mouth or my body... I was ultimately very grateful that I didn't win, because I think I'd be very confused and very scared right now if I had. It also just puts the spotlight. I imagine there's already a lot of attention on me just for getting nominated, but there's a lot of scrutiny on your performances after that. I still just want to be experimenting and failing and learning. I think that becomes difficult if you win an Oscar. They expect you to be an expert. They expect you to have it all made."
Whatever Hedges means by invoking this nebulous "they," it's clear that he's coming of age in an industry that's being forced to reckon with its history of transgressions. As if paparazzi at LAX weren't taxing enough for a 20-year-old, he now has to accept that this thing we call Hollywood is riddled with bullies and perverts. He put his head in his hands when asked about the many men being outed as sexual predators this year.
"Hollywood is being purged of a lot of its demons right now," he said, hatching a perfectly succinct response despite his apparent nerves about discussing the subject. "It's a terrifying thing, learning about these things. And it's also a terrifying thing in and of itself to just watch people get canceled. You just wonder who's going to get canceled next and what don't you know about what you're going to find out. Yeah, it's scary. It also just makes me wonder, what was Picasso doing that nobody knows about? All of the great artists in history whose work we cherish, which ones were perverts? Which ones were really destructive forces in many respects? I'm sure so many of our heroes were like that, and then how do we separate the art and the ― what's the phrase?"
The art and the artist, I said.
"The art from the artist, yeah."
Hedges and I rose to leave shortly after finishing this heavy discussion. A middle-aged woman sitting nearby pointed out his untied shoelaces. Hedges was wearing a navy blue cardigan and jeans cuffed above his ankles ― a preppy but nonchalant ensemble, both youthful and mature. The woman said she's a mother, so she notices such things. "Thanks, Mom," Hedges replied, his lighthearted ease returning.
Popular in the Community