During tenures in World Wrestling Entertainment and Total Nonstop Action, Ivelisse Vélez faced the top women in the squared circle. However, it is in upstart Lucha Underground -- where inter-gender matches are a norm -- that the gorgeous grappler feels most at home.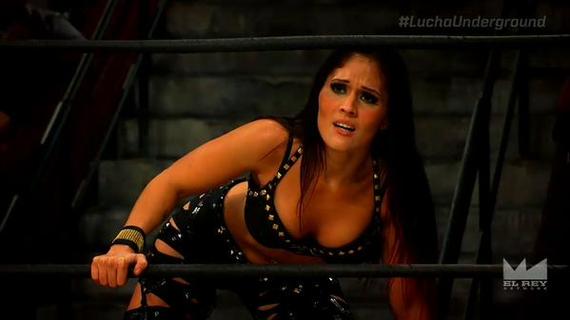 "I have always wrestled like a guy; I have always had it in my mind to have that standard," admits the Puerto Rican-trained superstar. "I have always wanted to bring that level of credibility to women's wrestling. Women can fight. Women are just as good as men. Women are just as tough as men."
Finally Vélez has the opportunity to show exactly that. An original product of cable's El Rey Network, Lucha Underground is a unique combination of high-flying Mexican Lucha Libre wrestling and classic telenovela storytelling wrapped in production values heretofore unseen in the world of professional wrestling.
Packed with names familiar to casual fans of sports entertainment -- Chavo Guerrero, Jr., Johnny Mundo (formerly WWE superstar John Morrison), Rey Misterio, Jr. and more -- Lucha Underground also brings legendary Mexican grapplers like El Texano and Blue Demon, Jr. to U.S. audiences. Standout talent like King Cuerno, Prince Puma, Fenix and Lucha Underground champion Mil Muertes wow each Wednesday night on the cable provider.
Vélez notes the show is much more, however, than arguably the most exciting, high-impact in-ring product on TV. Due to a cinematic quality heavily emphasizing well-produced acting segments and extensive character development, each episode's stories unfold in "movie-like" fashion.
More importantly, she says, wrestlers within the company and fans alike have grown to appreciate how, in Lucha Underground, "all competitors are treated as equals" regardless of gender. In fact, unlike any other U.S. wrestling program, the company's top female competitors often see in-ring action with their male counterparts. For Vélez, it is not only a return to her roots, it's actually a preference.
"Initially I preferred wrestling guys," shared the grappler, who trained with former WWE Intercontinental champion Savio Vega in Puerto Rico's World Wrestling Council, "I actually didn't start wrestling women consistently until I got into WWE. Before then, it was largely men."
Ivelisse Faces Mil Muertes for the Lucha Underground title.

In 2011, Vélez was cast on the fifth season of WWE's Tough Enough reality series. After being prematurely eliminated due to a leg injury, she was signed to the company's NXT developmental territory. There she feuded with future WWE Divas Champion Paige before moving on to a brief run with TNA Impact Wrestling.
In Lucha Underground, though, Ivelisse has truly hit her stride. Along with other females like Sexy Star and newcomer Kobra Moon, she frequently sees action against the company's top males. Of course, the broadcast team of Matt Striker and wrestling legend Vampiro openly play up the sometimes glaring disadvantages of facing larger, male competition.
However, the ladies are never presented as incapable or unable to overcome those challenges. In fact, these women frequently rack up victories!
Indeed, Vélez at one time held the organization's Trios Championship with male partners Angelico and Son of Havoc, a tenuous partnership which started in many ways as an on-screen love triangle. Together, the threesome competed in incredible matches -- including a stellar ladder match which saw them drop the belts in the Season 1 finale -- often against all-male pairings.
On the Jan. 27, 2016 Season 2 return of Lucha Underground to El Rey, Ivelisse made history as the first woman to ever compete for the company's heavyweight championship. "Put gender roles behind you," announcers told fans in advance of the contest. Though she was ultimately defeated by Mil Muertes -- though it took some underhanded pre-match tactics from the champ -- fans were clearly behind her.
To Ivelisse, this signals a continued evolution in professional wrestling -- and opens the door for Lucha Underground expanding interest in sports entertainment's beyond its traditional fanbase.
"Now that we are all equal, men and women, like you see in movies -- where women fight men a lot of times and everything is completely equal -- I think [wrestling is] going to transcend that male-only soap opera," Vélez prophesizes. "Women will be pulled in too. Everyone will be watching."
Outside Lucha Underground, the move to give women the same in-ring respect and opportunities as men is also taking hold. Like many others, both inside and watching professional wrestling, Ivelisse is happy to see it is no longer enough for females to be fitness models suited for the cover of Playboy.
Now fans want women who are tough, smart, capable and beautiful, she says. In her eyes, the "Divas Revolution" taking place in WWE, which has invigorated viewing interest in female competitors over the last year, is proof.
"I highly doubt it has anything to do with the talent, the women out there itself," Ivelisse acknowledged. "It has to do with the fact WWE was the main wrestling entity, and that's what they wanted to sell. Anyone else who had a different agenda pretty much got short-handed.
"Now it's out there; there's a higher demand for that type of performer," she continued. "They sort of have no choice but to roll with the punches and finally give people what they want to see."
The Latina -- as fiery outside the ring as in, it would seem -- admits "it would have made it a lot easier [for her] to survive in the WWE" had the emphasis been on in-ring skills during her time with the company. However, Vélez has no regrets in being "very, very strong in standing my ground" and refusing to compromise what she "whole-heartedly wanted to bring to the table," despite the fact it led to her ultimate departure from the pro wrestling juggernaut.
"I wanted to sell that women have the capability of doing things as much in the ring to deserve just as much respect and credit as men," she explains. "I also wanted to sell my Hispanic/Latin heritage, and neither of those were very welcomed in the main company."
Fortunately, the star soon found a collective looking for exactly that.
"With Lucha Underground, here I am, where I was meant to be all along," Ivelisse continued. "That's why I feel like I was meant to go through all that hell. This is perfect for what I wanted to bring to the world."
And it makes her success with the company that much more exciting.
"It definitely means a lot," Ivelisse concluded. "Being in this career and giving everything I have given, being acknowledged... It makes that feeling ten times bigger. I'm happy it's happening, happy for everything to come and extremely grateful!"
Lucha Underground broadcasts Weds. nights on El Rey Network. Check cable providers for local listings and broadcast times.

For more information, follow: @LuchaElRey
Calling all HuffPost superfans!
Sign up for membership to become a founding member and help shape HuffPost's next chapter