In the world of sports entertainment, anything is possible -- anything but the fair and accurate representation of the LGBT community, it would seem. Historically, pro wrestling has portrayed gay characters less than charitably, acknowledges Lucha Underground star Joey Ryan.
Ryan says his current television home, Lucha Underground, might be an ideal place to change pro wrestling's legacy of LGBT misrepresentation. The weekly episodic, which returns for its third season on cable's El Rey Network on Weds., Sept. 7, is produced by Emmy Award-winning Survivor producer Mark Burnett and marries elements of Mexican Lucha Libre with the supernatural, police procedurals and telenovelas.
"Lucha Underground definitely takes itself as an entertainment product and not a professional sport," noted Ryan. Saying the show embraces the known fact that pro wrestling is scripted -- which means audiences accept a wider spectrum of influences and subject matter -- he pointed out: "This is a world which has time travelers and supernatural beings wrestling in it."
Indeed it is. With Ryan playing an LAPD detective on an undercover assignment competing against wrestlers who are un-dead, witches, serpents and more, it would seem an LGBT character would scarcely stand out. And, given the strong influence of Mexican wrestling on the program, Lucha Underground is ripe for the introduction an "exotico," a character portrayed as homosexual in traditional Lucha Libre.
In its first season, the American television program did feature exotico Pimpinela Escarlata ("The Scarlet Pimpernel") peripherally. However, since Lucha Underground's 2014 debut, such luchadors have taken an even greater role in Mexican wrestling.
In Consejo Mundial de Lucha Libre, the premiere wrestling organization in Mexico City, exotico Maximo Sexy is the reigning CMLL World Champion. Competing organization Asistencia Asesoría y Administración (AAA), with which Lucha Underground has a strong working and talent-sharing relationship, has also seen a rise in these characters.
"I think definitely it is going in the right direction, the progressive thinking in pro wrestling with the success in AAA and the characters we've seen here and there in Lucha Underground," Ryan shared, "There's definitely room for more."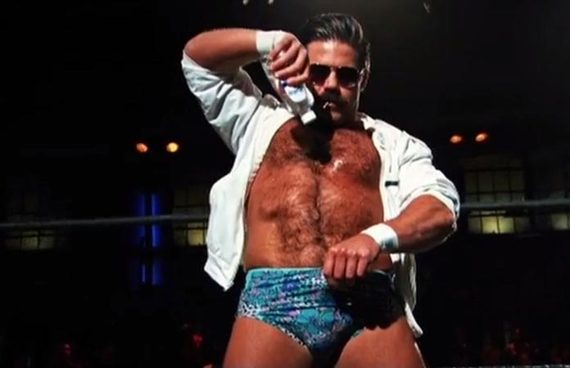 Wrestler Joey Ryan Greases Up for a 'Lucha Underground' Match
In the past, availability "with some of the established performers and artists from AAA" the company brings in has been challenging. Given Lucha Underground's filming schedule, which produces an entire season of television during an extended weekend of tapings, any existing wrestler would need to be scheduled well in advance. This has an easy solution, Ryan says.
"I think with the success in Mexico, and hopefully pushing the envelope a little more here in the United States, maybe [Lucha Underground] can create their own character or character with that type of background," continued the wrestler, "Then they would have availability whenever they want and put [the character] on every episode if they want."
The second -- and more important -- challenge to introducing an LGBT character, Ryan says, is doing it "tastefully."
"You wouldn't want a gay character to be [in pro wrestling] just because they're gay," he contends. "You wouldn't want the reason for their storyline to be they're gay."
Ryan expressed a strong desire for any future LGBT characters to be handled differently than previous such wrestling stories. He points to World Wrestling Entertainment's Goldust (Dustin Runnels, the heterosexual son of wrestling legend Dusty Rhodes) and the Total Nonstop Action tenure of openly bisexual competitor Orlando Jordan as examples of how gay or similar characters have been portrayed in negative ways.
"[Both were] presented as 'I'm going to be sexually aggressive and freak out my opponents,' where the straight character would be scared by the homosexual antics," Ryan continued.
In Lucha Underground, where soap opera-like segments advance storylines and characters in almost cinematic fashion, Ryan suggests an LGBT-themed wrestler could be better fleshed out through backstage sequences and potential insights into a relationship. Done properly, Ryan says, sexual identity would become a single facet of the character, not its entirety.
"You wouldn't want to exploit somebody's sexuality to make them an oddity just because of that sexuality," Ryan concluded, "It could be part of the character, but it shouldn't be the driving force."
To listen to Joey Ryan's entire 45-minute interview with 'Party Foul Radio with Pollo & Pearl' -- in which he discusses the suicide of gay wrestler Chris Canyon, a gay wrestling character he was once asked to play, his in-ring proposal to fellow professional wrestler Laura James becoming an internet sensation and much more -- click here.
Season 3 of 'Lucha Underground' returns to Cable's El Rey Network on Weds., Sep. 7, 8pm. Check local listings for availability.
'Lucha Underground' Seasons 1 & 2 are now available on iTunes.

Calling all HuffPost superfans!
Sign up for membership to become a founding member and help shape HuffPost's next chapter