Many people find retirement homes to be dull, sterile places. But this is not so in the case the Savina House for Veterans of the Stage in St. Petersburg, Russia, which is home to many retired actors, dancers, and luminaries of the arts.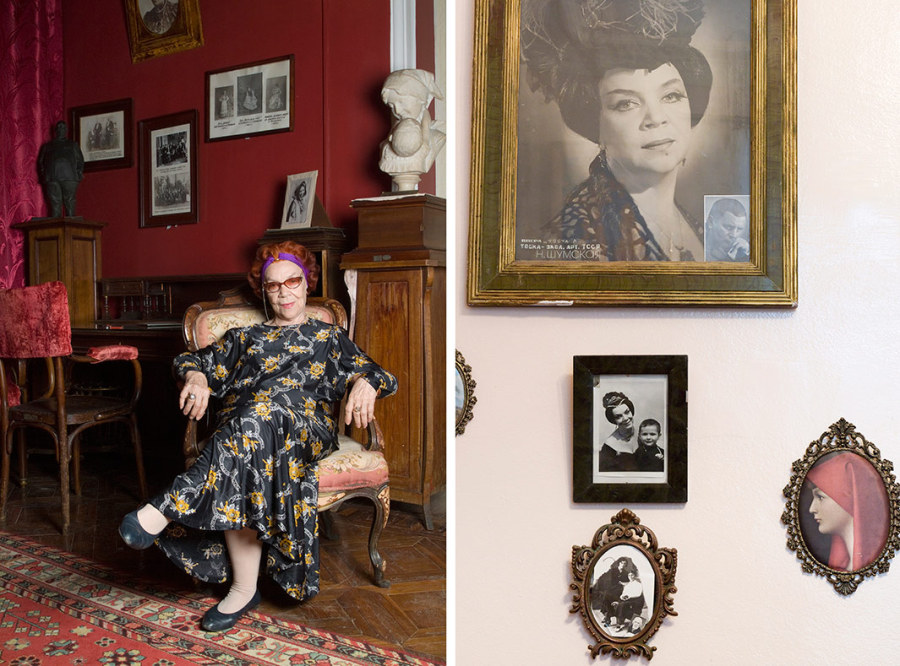 In 2006, Lucia Ganieva decided to pay a visit to the home while traveling in Russia. Built in the mid-1890s and situated on one of the islands that make up St. Petersburg, the beautiful complex consists of three buildings in a park filled with gardens, fruit trees, ponds, and walking trails, with an interior decorated with antiques. "When I visited and saw the magnificent building and spoke with the people, I immediately got my idea for a photo project," Ganieva recalled.
That project, "Sunset of Fame" is a series of 24 diptychs that include a portrait of the retired actors, artists, opera singers, and ballet dancers, paired with stills of their rooms decorated with memorabilia from their past.
For Ganieva, who was born in Russia but has lived in the Netherlands since 1993, the project was a chance to learn about the retired artists' personal histories as well as the history of Russia. "Sometimes I had to sit two or three hours talking with one of them, with a cup of tea and some sweets and looking at the souvenirs of their past," she said. "It was very pleasant to work there. Many of the retired artists are still living in the past. They even perform now and then on a stage [at the home]."
Ganieva said although many of the artists reacted differently when approached about participating in the project, most of them were pleased to be part of it. The youngest person she met was in her 60s and the oldest was 97. Their rooms at the home are tiny but filled with memories. "I found it important to show in my pictures both aspects of their lives, and that is why I chose to make diptychs," Ganieva said. "The artists were all well-known in Russia before, but now their career lies far in the past, and they miss being the center of [attention]."
"Sunset of Fame" has been shown in a number of exhibits. In 2008 it was on view at the National Centre of Photography for the Russian Federation in St. Petersburg, and many of the residents were able to visit to see the series. Ganieva said she's grateful to have made the project. "In in a way, all the memories of these artists have become my own," she said.
Calling all HuffPost superfans!
Sign up for membership to become a founding member and help shape HuffPost's next chapter