It's not your average art gallery, its location isn't exactly associated with avant-garde works, and the person running it is from another country.
Mention Kuwait and you elicit talk of oil wealth, desert sands, and Iraq's invasion of the emirate in 1990.
Interestingly, it's been a center for art and culture since before the aggression.
It should come as no surprise to connoisseurs that this Arab Gulf state is home to some of the world's richest contemporary works and Islamic art collections.
What also helped it come along in recent years was Lucia Topalian -- Lucy to friends -- a transplanted Lebanese of Armenian origin who has enriched the scene and encouraged up and coming artists.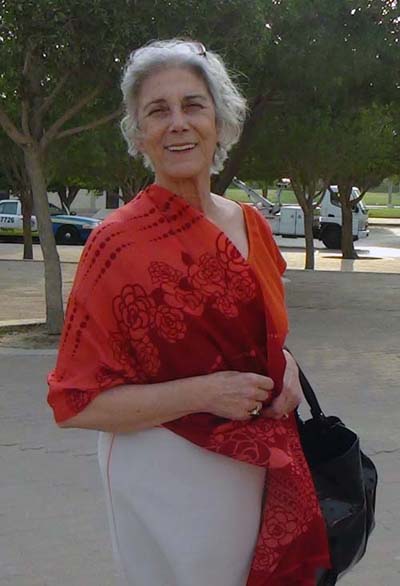 Lucia Topalian (Abu-Fadil)
"I'm always introducing new artists from new countries, using diverse materials," she told me while on a visit to Kuwait. "I've brought some unknown artists to the market."
Her headquarters is Dar Al Funoun (Arabic for House of Arts) in Kuwait City where she's promoted, exhibited, and sold, works of artists from Kuwait, Saudi Arabia, Qatar, Iran, Iraq, Lebanon, Syria, Egypt, Algeria, Tunisia and Libya.
While focusing on the Middle East/North Africa region, Topalian has also exhibited the works of artists from France, Italy, Spain and Greece.
"I find their works interesting. In four years I've done four Italians and four Spaniards," she noted amidst a wealth of modern paintings, sculptures and mixed media pieces.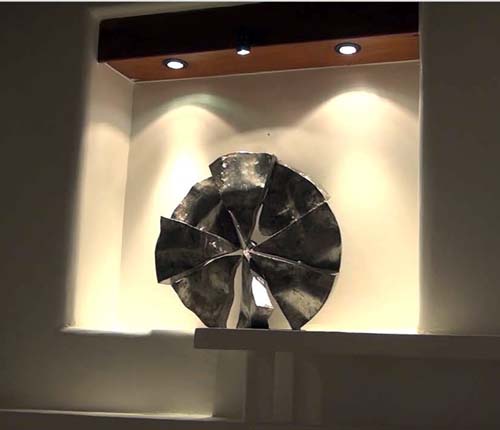 Polished iron piece by Iraqi artist Ahmad Al Bahrani (Abu-Fadil)
The interest began in Lebanon, where Topalian had majored in child education and where she bought works by paying in installments - $10 a month - until it grew on her.
She often visited the Alec Manoogian Club in Beirut that included a gallery where she spent a lot of her time meeting artists.
By 1976 she decided to move to Kuwait, a year after Lebanon's 15-year civil war broke out, and held different jobs in sales at a computer company, working up to deputy managing director.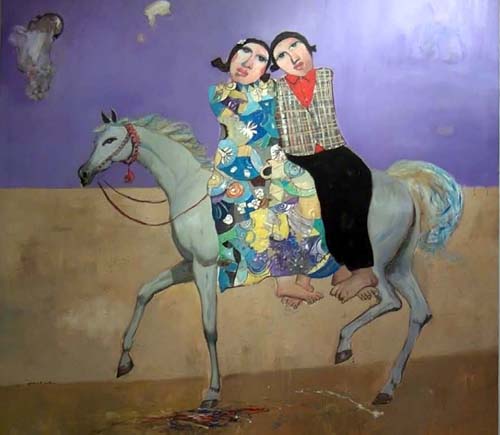 Iraqi artist Sinan Hussein's acrylic on canvas (Abu-Fadil)
The civil war was a nasty interruption to her life in Lebanon so she decided to wait out the conflict in the emirate.
"I had friends. They said come. I couldn't go anywhere without a visa," she recounted.
Her three-week wait for an end to the internecine conflict turned to a few months, after which she decided to work.
But computers were moving too fast for her, so Topalian eventually shifted gears to art.
"Being from Lebanon, there were major Lebanese artists who came to exhibit in Kuwait in the late 1970s and early 1980s and I started buying works," she said.
When visitors to her house expressed interest in buying the works, she decided to either buy herself or purchase art from an American consultant in London who'd lived in Lebanon and wanted to introduce Arab artists to the Gulf region.
In 1997 she plunged into the dynamic art milieu and became managing partner in a gallery with Sheikha Hissah Saad Al Sabah, an old college friend and member of the Kuwaiti ruling family.
Since then, Dar Al Funoun, a charming two-story house with a central courtyard and fountain built in the 1940s, has hosted 7-8 exhibitions a year.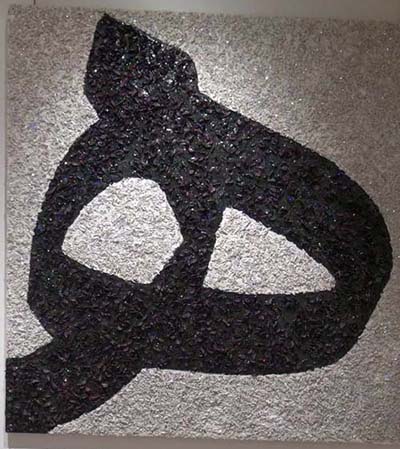 Bahraini artist Jamal Abdel Rahim's petals, wood shaving
on canvas (Abu-Fadil)
"We used to do exhibitions to attract people to the gallery," Topalian said, adding that she often changed shows monthly.
Over time, art fairs and auctions took away the urge from people who frequented galleries and discovered new artists, she lamented.
"The whole art scene has become art to be consumed."
But that has not deterred Topalian, who still receives traditional clients and newcomers with warmth and grace, while taking the time to explain each piece's history and the artist behind it.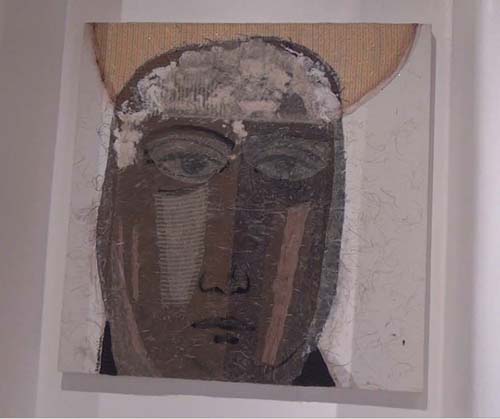 Egyptian Mohammad Abou El Naga's mixed media on canvas (Abu-Fadil)
Since she was restricted in what she could, or could not, show -- no sex, eroticism, nudity, and religion -- given the conservative nature of Kuwaiti society, the art lover had to be creative.
"I was bored with landscapes," she said.
There was enough variety and creativity for a market as far as she was concerned, but she also had to be excited about things.
So she experimented with fun concepts like video and conceptual art, although they're impossible to sell, she explained.
Water, for example, was the theme of a show in which she had 500 sardine cans dripping from a tank perched atop the terrace of the house onto the lower gallery's floor.
Although it cost a bundle and left her exhausted, Topalian said the exhibition created the kind of buzz she sought.
Despite the recent economic downturn, Topalian has been able to keep it going and remains a purist. She refuses to mix paintings and sculptures with furniture and clothes.
"I feel I've reached a stage where I love what I'm doing: I'm occupied with my hobby and making a living of it. It's almost a dream world," she said.
Calling all HuffPost superfans!
Sign up for membership to become a founding member and help shape HuffPost's next chapter