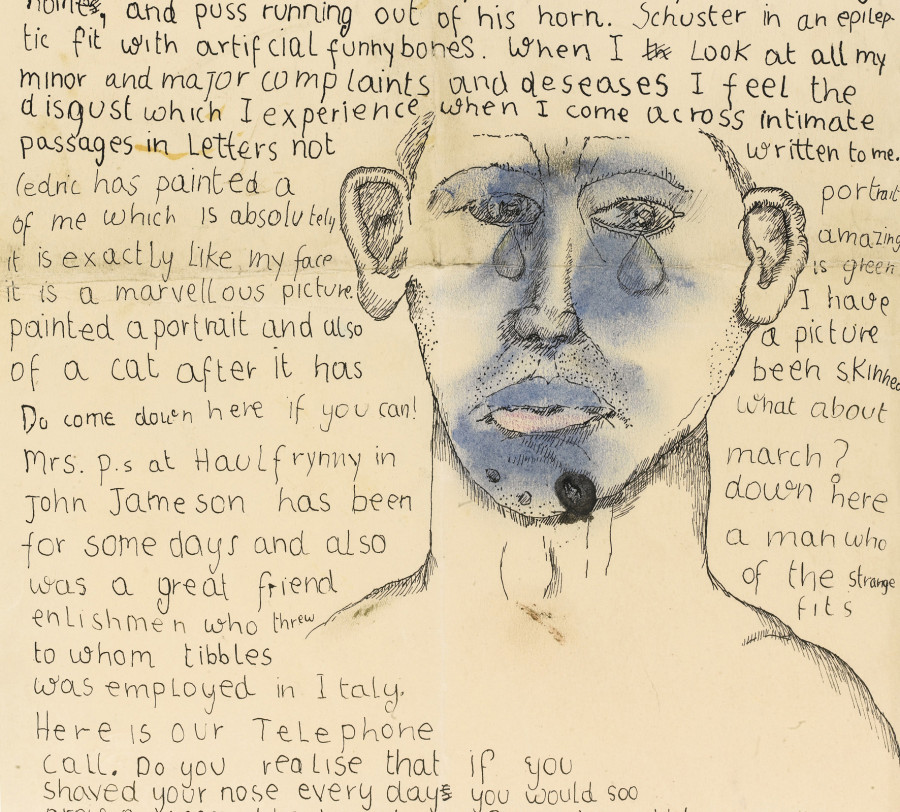 In 1941, at the age of 19, Lucian Freud wrote a letter to his friend, poet and critic Stephen Spender. At the time, Freud was studying at the East Anglian School of Painting and Drawing in Dedham, Essex, on his way to becoming the masterful handler of paint we know today, whose impasto portraits of unclothed figures both entrance and repulse.
After spending 70 years in the Spender family collection, Freud's unpublished letters are heading to auction. They're slated to sell at Sotheby's Contemporary Art Day Auction for a price up to approximately $65,000.
Freud, who died in 2011, is one of Britain's most renowned painters, known for his grotesque depictions of flesh, transforming human beings into gnarled sacks of hungry flesh. Until now, little has been revealed about the artist's teenage years, so much so that the artist faced criticism for "constructing his own, mythical narrative of his youth," Sotheby's explains.
His letters to Spender are works of art in themselves, filled with drawings and watercolors that reveal a wickedly talented artist in the making. We're personally fond of the 1941 image above, featuring an oh-so-teenager-esque self-portrait of Freud, tinted blue and shedding a single tear from each eye. Yes, as you may have assumed, one of the 20th century's most disquieting artists was a pretty emo teenager.
Beyond the moody hormones, what has really captured people's attention is the flirtatious tone of the notes, somewhat unexpected considering Freud was widely known to be heterosexual. (So heterosexual, in fact, that he had 14 children and reportedly 500 female lovers.) Despite this label, Freud's early correspondences, now being categorized as love letters, are dripping with flirtation, notably his adorable signature "luscious fruit."
"From the letters it looks like Dad was in love with Lucian," Stephen's son Matthew Spender explained to The Independent. "Whether Lucian was in love with Dad is another matter. Lucian, especially as a young man, was the kind of young man that my father would be incredibly attracted to ... But Lucian also was the most tremendous flirt. He inherited from his grandfather [Sigmund Freud] this ability to get under people's skin and manipulate them."
Aside from displaying the young, impressionable side of a beloved art giant, Freud's letters exhibit a refreshingly fluid take on sexuality, especially for a teenage boy in the 1940s. However, a closer look at Freud's work reveals that, despite his documented affairs with countless women, his relationship to the naked form was far more complex than unambiguous attraction. His gnarly renderings turned humans into animals, with both male and female subjects featured as contorted globs of bluish flesh splayed out before the viewer.
Just another reason to worship the strange (and luscious) fruit that is Lucian Freud.
Calling all HuffPost superfans!
Sign up for membership to become a founding member and help shape HuffPost's next chapter
BEFORE YOU GO
PHOTO GALLERY
Lucian Freud