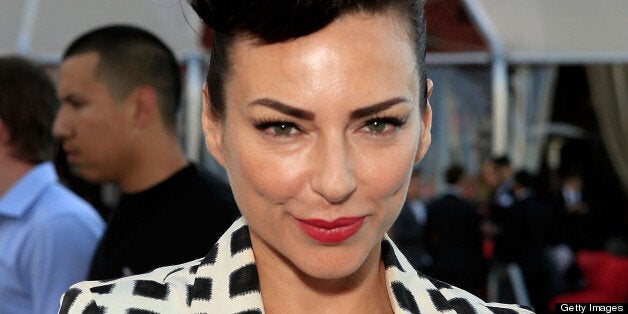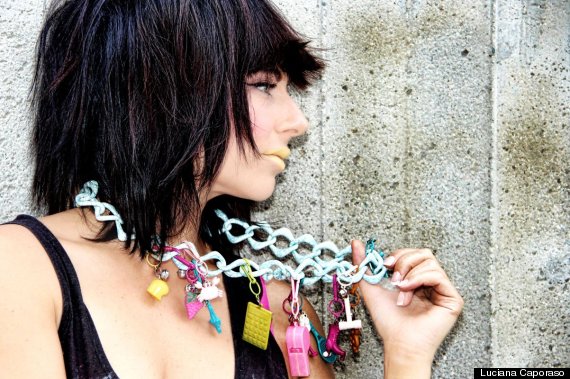 Multi-platinum songstress Luciana Caporaso has a packed schedule of tour stops and performances. Recently she took time to catch up with me and share her latest goings on and projects.
RC: You're a EDM music veteran.. with some amazing collaborations.. wanna give us some highlights?

LC: Love that I'm called a veteran! Am I a hero if I've done it for this long? 15 years in the business and never lost a sequin yet! Yes... I've worked with Tiesto and Wolfgang Gartner for "We Own The Night," "I Like That" with Richard Vission/Static Revenger, "I'm Still Hot" (did a fab music video version with Betty White). There are so many that I hold dear to my heart that we'd be here all day!

RC: Recently, I was chatting with Havana Brown and she said that you are an inspiration to her.. have you ever met? Would you consider a collaboration?

LC: That's such a sweet thing to say... I totally adore her, she's got it! And she's a real sweetheart too. We've written a track on Havanna's EP called "One Way Trip" and we're also writing with her for her next EP -- so the collab is already happening!

RC: Where did "U B the Bass" come from?

LC: My crazy brain... I think I saw the visual image in a dream I had, I woke up saying "I'll be the speaker, U B The Bass" -- It's a great picture, n'est pas?

RC: The video is amazing, can you tell me about the visuals?

LC: We got to work with the fabulous/amazing/crazy good Director JB Ghuman Jr, who we had recently worked with on a music video for a track I did with the lovely Cazwell called "Guess What" (Out this Summer). So we asked JB if he would be up for Directing this video. When you work with him you're just in awe so you do what you're told hehe! He's a genius, we all felt very honored to work with him.

RC: What's next on your horizon?

LC: My single "U B The Bass" is coming out this Spring/Summer time (we just released the music video) -- and then I have a single coming out with Richard Vission called "Primitive" which I'm really proud of. We (my writing partner Nick and I) are in love with this track. It's a hot, sick, sicker than a sick thing from Sickenham. Then I have a single coming out with Akon and Dave Aude called "Electricity & Drums." It's pure club dirt. You can never go wrong with club dirt. It's the essence of a good night on the dance floor.

RC: I caught you and Cazwell performing together recently in LA. What's that all about?

LC: Yes, it's the "Guess What" track we collaborated on. It's so good I wet myself. We have a good chemistry together (fellow Cancerian). We did a surprise performance at Luke Nero's party Rasputin in West Hollywood -- it was a special moment. He's so bloody good there's a constant light shining around him.

RC: You perform at venues around the world, but have frequented a number of gay clubs and pride events. I just heard you'll be at this year's San Diego Pride festivities. How do you feel about your gay & lesbian fans?

LC: I love all my LGBT fans... They are big reason why I continue to do what I do... They love the music, and I'm in love with all of them. It's very simple -- we have a connection. I'm all about pride and gay parties. They have the best atmosphere for me to send my message out through lyrics and music.

RC: Gay marriage has been a subject that's come up recently here in the USA as well as overseas where you're from. What's your opinion on the issue?

LC: I think in 2013 it's crazy we are even still having discussions about equality. Everyone is equal, end of story. Let's get the dinosaurs out and the new wave thinkers in. It's all part of evolution. Gay marriage will 100% happen. It's just a matter of time... Hurry up for God's sake!

RC: What else have you got under your sleeve for 2013?

LC: I have more solo material to release and I'm putting together and EP now -- I'm also putting together a compilation of some of the collaborations I have done over recent times and wrap them up nicely for people that have always given my such amazing support. I have a feeling that "Primitive" with me and Richard Vission will turn a few heads. I'm not saying why -- you'll have to wait and hear for yourself! I also have a few things in the fire with Fedde le Grand and R3hab -- keep your ears to the ground everyone!
Calling all HuffPost superfans!
Sign up for membership to become a founding member and help shape HuffPost's next chapter