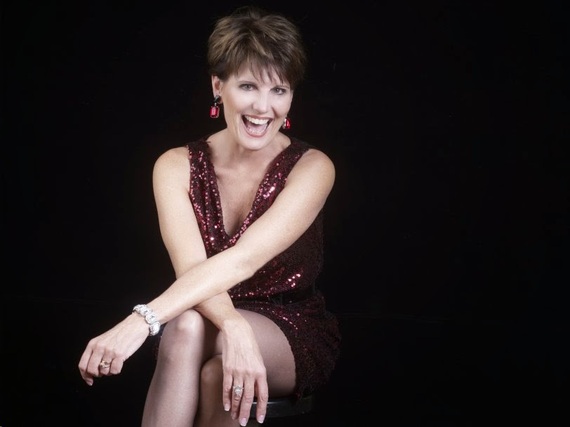 Let's face it, the first national touring production of 2013's Tony-winning hit Pippin (Best Musical Revival), didn't need all that much to lure in the masses. But now that the indelible Lucie Arnaz has come on board to play Berthe, the sassy grandmother to the show's befuddled protagonist, it gives us all the more reason to experience the production, which opens at San Francisco's Golden Gate Theatre this week, before venturing onward.
Arnaz is just one of countless castmembers reinvigorating the revival with its cirque-like makeover. In its current incarnation, the show boasts mesmerizing acrobatics, fueled by Les 7 Doigts de la Main ("Trances"). And in the hands of Tony-winning director Diane Paulus (Hair, The Gershwin's Porgy & Bess), the production's razzle-dazzle element -- already potent with all that Bob Fosse choreography and music and lyrics by Stephen Schwartz (Godspell, Wicked) -- has definitely been amped up.
The original story is still there, however. Pippin, a prince and the son of King Charlemagne, searches for meaning in life, and his attempts to find it in war, status, love and other arenas, always fall flat. Plenty of dance and a bevy of now-revered songs -- "Corner of the Sky," "Magic To Do," "Love Song" -- pepper the mix while a circus Emcee guides the befuddled Pippin along his way.
Ben Vereen first turned heads as the role of Emcee/Leading Player back in the '70s opposite John Rubinstein, who returns this time around playing Charlemagne. Arnaz appears in the SF run for two weeks -- Andrea Martin steps in after that -- and will later join the Broadway production for a spell.
Arnaz is certainly no stranger to the stage. She won raves in her Broadway debut for her role as Sonia in the late-'70s musical "They're Playing Our Song." Other outings, especially a memorable ride opposite Tommy Tune in "My One and Only," and "Dirty Rotten Scoundrels" and Terrance McNally's "Master Class" stood out.
Being raised in the entertainment business -- her parents were showbiz legends Lucille Ball and Desi Arnaz, after all -- may have helped Arnaz hone her career path, but at 63, she is definitely her own woman -- creativity and all. Life and living are all about evolving. So, when Arnaz recaps some of her own unforgettable life experiences, you get the sense that she's done plenty of soul searching. (A theme in Pippin, in fact.) Here, she opens up about the show and other magical moments ...
Greg Archer: How much did you know about Pippin before the reboot?
Lucie Arnaz: A great deal. It was one of my favorite shows growing up. I saw on Broadway in the '70s. I memorized the whole album. I have always loved the show. It's actually a perfect Broadway musical. The book is smart and funny and about something that really matters. And the music is flawless. I never get tired of listening to and watch this show. And now, with this whole new focus; adding this incredible challenge with the acrobats and the trapeze I am doing--all this extra stuff. It's almost too big. I find myself asking, "Wow, how does this really happen every night?"
Greg Archer: Can you talk about that more? Obviously the character of Berthe, Pippin's grandmother, must be memorable to play?
Lucie Arnaz: It used to be just a one-scene event. Berthe sang, "No Time at All." And I don't want to give too much away because the new production has that "what?" element, but I will say that it involves the trapeze. And I am also a "player" within the show.
Greg Archer: Yes. There's been some tweaks to the original show.
Lucie Arnaz: Yes. Because there is an overall circus-tent feel to the show, so everybody is part of a troop of players that perform a show called "Pippin," and it's flawlessly folded into the original script without really changing anything. It means that my character is the beginning, the scene when the second act opens, and the finale. And John Rubinstein plays King Charlemagne.
Greg Archer: That must be a trip because he played Pippin originally back in the '70s.
Lucie Arnaz: It's so perfect, it's ridiculous. Because the history that comes off of the stage with John is ...
Greg Archer: So, why do you think this production has been so well received--from Tony Awards to being embraced by the masses?
Lucie Arnaz: [Director] Diane Paulus is, well, I am going to make up a new word for her because when I try to tell people how good she is, I don't like any of my words--phenomenal, amazing, awesome. This is one of the best directors I have worked with in my entire life. Her attention to detail is unparalleled Her idea was from the get-go, to look at this fresh. It called out to her that it seemed circus-like to her -- that they performed his show called "Pippin." She contacted Gypsy Snider, who has her own circus called 7 Fingers [Les 7 Doigts de la Main] outside of Montreal. It's the vein of those beautiful circuses we see today where people do aerial things on stilts and incredible acrobats. Let's just say, I never expected to have bodies flying by me, with knives and fire.
Greg Archer: Well, and Berthe is a big part of the show in some ways.
Lucie Arnaz: The heart of the number she sings ["No Time At All"] is saying, "Seize the day -- the sun is shining, the air is warm. You woke up. It's a great day. Use this beautiful stuff that has been given to us because in a minutes, you may not be able to." She's saying, "Pippin, you think too much, Stop thinking. You have to learn how to live in the moment." This is one of the greatest things you can tell somebody at a certain point in life. Sometimes we overthink everything. It's about right now. And living "right now" well -- not worrying about what happened yesterday or what's going to happen tomorrow. If you miss "now," you're never "now." And I am trying to live my life like that and I am fortunate that the song I get to sing is a belief system I carry.
Greg Archer: Would you say you learned some of that from your parents?
Lucie Arnaz: I can't say I got that from my folks. Not really. I would say it's something that I have had to learn later on in life and work hard at understanding. I am not sure they understood that. I don't think so. I think my father, maybe more. He's the one that said, "Stop and enjoy the sunset. Look at that. God's handy work." He was more of nature person and made time for some fun. My mother was paid to be a clown and her fun was on the stage. You talk about people's real lives and who they really were. That's a different story. And that's not always the same person.
I have to work very hard to understand what makes one's life mean something; what you life is supposed to be about. My brother Desi and I always say, "It's not all sunglasses and autographs." It's not what people think. And you have to find it--what is really going to make you happy.
Greg Archer: I get that. I feel as if I'm just getting started -- all over again.
Lucie Arnaz: It's takes a while, don't you think? You have to go through the normal channels of growing up. That's why Pippin is such a perfect musical. It's a condensed version of somebody's usual life journey--"I'm going to try this out and that will make me happy. Actually. No. Maybe it's that. Oh, see... I can have power. No. Money. No -- sloppy sex. No. Let me see ... how about we go inside -- it never was 'there' ... it always was here. Where is here?'" And "here" for me, is that if you're not happy with what's inside then you are never going to be happy with anything you find outside.
Greg Archer: Very true indeed.
Lucie Arnaz: To me, these players in the show represent all these thoughts we carry on in our head. And maybe the Leading Player is the darkest part of us that we don't want to acknowledge that we have. But the part of us that does get a little curious -- to see blood and guts and war and see bad headlines. Call it the ego, whatever you will. All these things Pippin goes through, it's a journey inside of his head. They even say that -- there's a line that the Leading Player says to the audience; that if you ever decide you want to go on this journey with us, we will always be here for you -- right inside your head. So if there is any question who they are or what they represent, it's right there in the script.
Greg Archer: Exactly. Alright, how about some fun questions. First thing that comes to mind ... Salt or pepper?
Lucie Arnaz: [Laughs] Well, I don't know what they represent really, but how about salt.
Greg Archer: Coffee or tea?
Lucie Arnaz: Decaff coffee and decaff tea!
Greg Archer: Oprah or Ellen?
Lucie Arnaz: Gosh -- I don't want to choose.
Greg Archer: Good for you. Don't. Let's see, how about sharing a little bit of advice. Something from your mother and something from your father.
Lucie Arnaz: From my mother: "Never leave your luggage!" And my dad? Hmm. "One wave at a time. You know, I like that a lot. It's his version one day, one moment at a time. I used to say, "Dad, how do you navigate all this stuff you have to do: reading the scripts, running a studio, being an actor?" He would look at me and say, "Honey, there's an expression in Cuba. The waves will be high along the banga boat with a little motor, and I used to say, 'We get home ... one wave at a time.' So, that's what I do. I look at all the lines and all the scripts and all the meetings and say, 'Take it one wave at a time.'" And that's a great way to look at life.
Greg Archer: You seem to be an upbeat, happy person. Are you, typically?
Lucie Arnaz: I don't know. It's a funny question to answer really, because I don't just walk around upbeat and happy. But in the last 15 years, I started being one of those people who studied New Thought and different ways of looking at stuff. You said, Oprah or Ellen, and I believe in both -- the way Oprah looks at life and the humor and comedy Ellen brings to life. They are both equally important.
I try to study what's important and I am happy when I am "awake" -- mentally, physically, spiritually, awake. And seeing things for the way they really are and not the way some other colored part of my psyche thinks they are. So, "happy" is a day-to-day, moment-to-moment kind of thing. You have to work on it constantly. You have to digest everything that happens all day long and process it properly.
Greg Archer: So what makes you most happy?
Lucie Arnaz: What makes me happiest, I guess, is when I am doing that. Then, I am happy. It isn't a thing -- "Oh, I am happy when I am dancing." No, I am happy when I am in a proper state of mind. I could be unaware and that can be true. I'd like to think that when it's it my time to go, that I will be in state of mind that I can be in a place that I can call that, "happy." That I can even take that on.
REAL LIFE. REAL NEWS. REAL VOICES.
Help us tell more of the stories that matter from voices that too often remain unheard.