While the stars of today show off their homes on Instagram on a near-daily basis, the process was much more formal for entertainers in the early- and mid-20th century. Celebrities would welcome photographers and camera crews into their dwellings for portrait sessions that promoted their upcoming projects and delighted fans who picked up LIFE or the popular fan magazines of the day. Everyone from Charlie Chaplin to Audrey Hepburn gave readers a glimpse of their private worlds in Hollywood and abroad. We're taking a look back at how these iconic stars (including a few still entertaining audiences today) lived.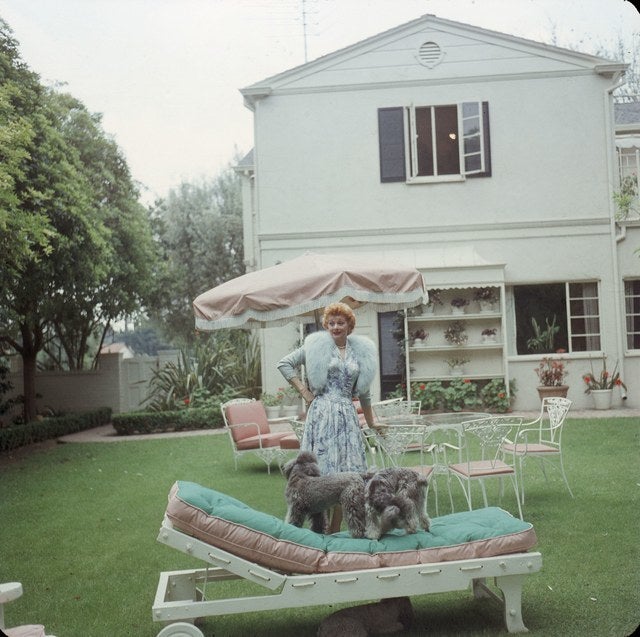 Lucille Ball and her second husband, Gary Morton, lived in this classic Colonial on North Roxbury Drive in Beverly Hills. The street was home to a number of other Hollywood stars, including Jimmy Stewart, Rosemary Clooney, Jack Benny, and Ira Gershwin.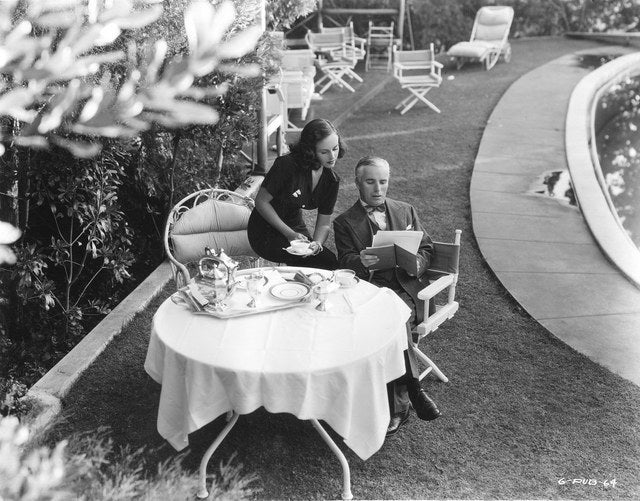 Charlie Chaplin, one of the most iconic stars of the silent film era, is seen here at home in Los Angeles with his third wife, Paulette Goddard, in 1937. Goddard reportedly carried on an affair with the architect Wallace Neff at the couple's Alpine Drive home after commissioning him to remodel one of Chaplin's other properties.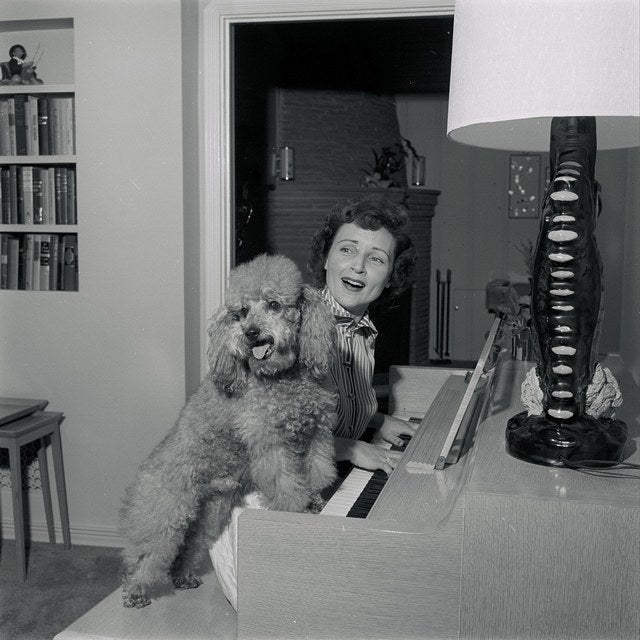 Betty White has been a constant presence in Hollywood since the 1940s. Photographers visited her dog-filled Los Angeles home in 1957, when she was staring on the TV show Date with the Angels.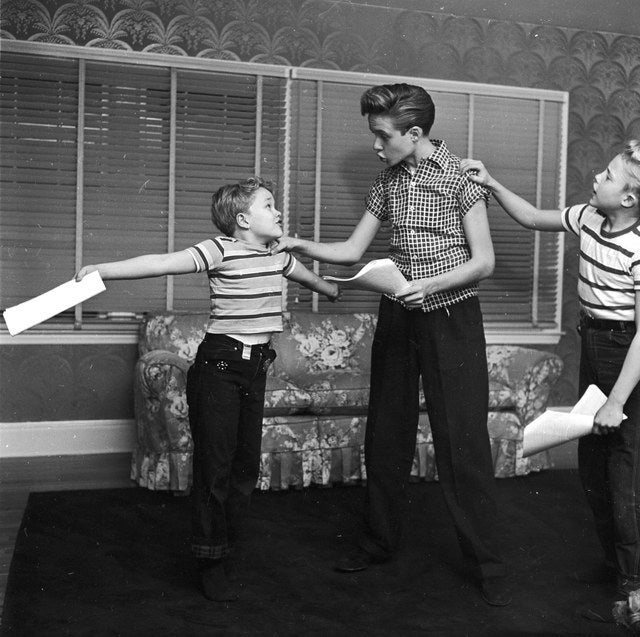 Before he was the Oscar-winning actor appearing in The Deerhunter and Catch Me If You Can, Christopher Walken was a child star who went by the name Ronnie Walken. Walken (right) lived with his family, including fellow actors Glenn (left) and Ken (center), in Bayside, Long Island.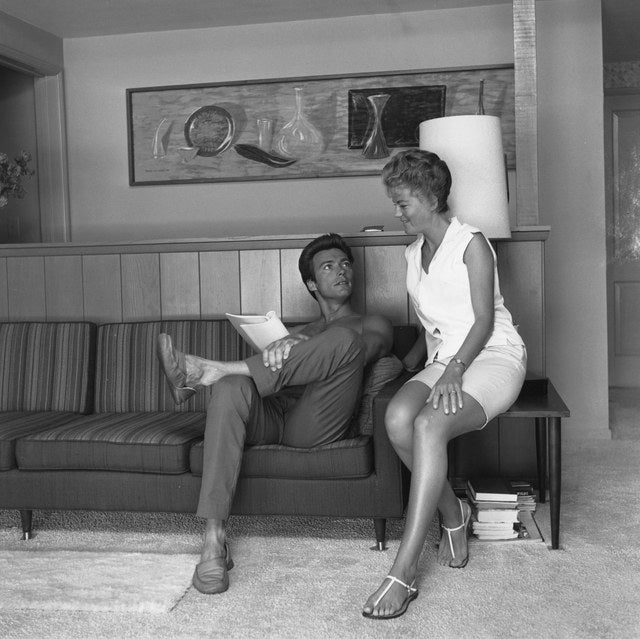 Actor and Oscar-winning director Clint Eastwood was photographed in 1960 in his Hollywood Hills home with his first wife, Maggie Johnson.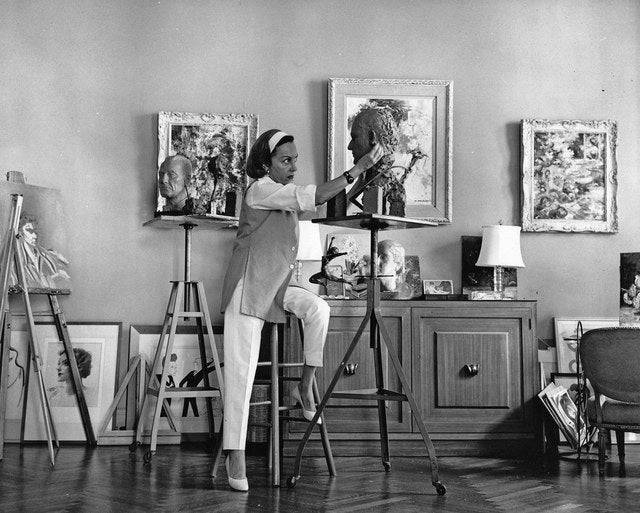 Gloria Swanson was best known for her performance as Norma Desmond in Sunset Boulevard, but she was also a prolific painter and sculptor. Here, she works on a piece in her Manhattan home in 1965.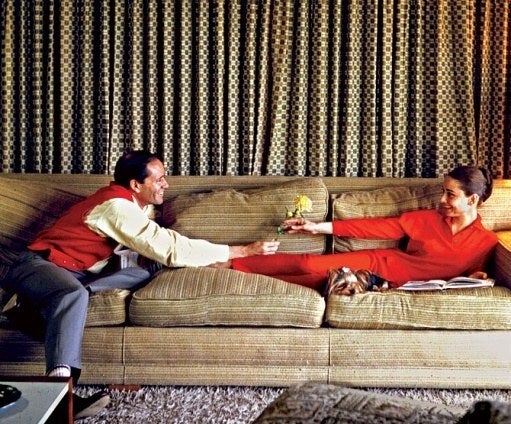 "Audrey was shooting The Unforgiven (1960), with Burt Lancaster, directed by John Huston," explained actor and director Mel Ferrer about a location shoot involving his wife, actress Audrey Hepburn, with whom he shared a house on Kimridge Road in Beverly Hills. "Audrey's agent and I had gone to Mexico to see the production…we were barely back when I got the fateful phone call. Audrey had broken her back. Always ready for the most difficult assignments, she had not flinched when Huston—who had almost drowned Gregory Peck during the filming of Moby Dick (1956)—asked her to ride out of a shot on the back of a horse at the end of a scene. She rode out, bareback, and slipped off the horse halfway up a steep hill. Lamentably, she landed on a rock. I knew that Audrey had never had any experience as a rider. But John should have known it and checked before asking her to run the risk."
After finding a bone specialist to treat Hepburn, Ferrer set about transporting the actress back to their Los Angeles home. "I got a hospital bed moved in, with all the concomitant equipment," Ferrer recalled. "The Kimridge house looked like a hospital ward." (March 2006)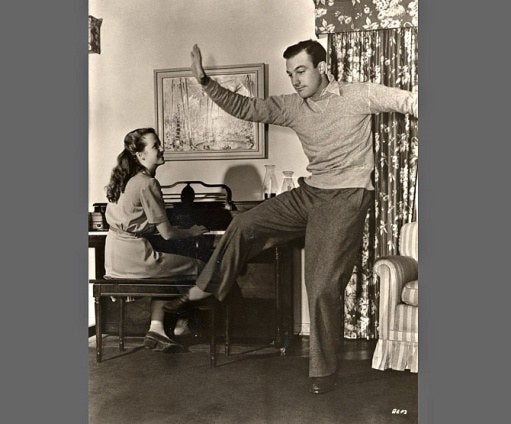 In 1946 Gene Kelly and his first wife, Betsy Blair, bought a modest home at 725 North Rodeo Drive that everyone in their circle would regard as one of the most vibrant social hubs. "A gang of us used to meet on weekends, most of them members of The MGM Family,'" wrote actor Hume Cronyn in his 1991 memoir A Terrible Liar. "These gatherings would shift from house to house, but those I remember best were at the house of Gene and Betsy Kelly." Famous for his athletic ability and rather notorious competitiveness, Kelly would invite his friends to play touch football and volley ball, providing generous spreads of food and drink, and enjoying sing-alongs at the piano with the likes of Judy Garland and Hoagy Carmichael.
Most memorable for his guests, however, was the elaborate and complicated version of charades that Kelly invented, known simply as The Game. "The trick was to pick a series of phrases or quotations so outrageous that they would defy the abilities of the most accomplished pantomimist," writes Cronyn. It was nearly impossible to beat the Kellys, he says, who shared a "radar-like communication." "He was a very bright man, in addition to being a talented man," author and Hollywood historian Rudy Behlmer remarks with admiration. "He was very articulate and his recall was not faulty." By all accounts, Kelly was exceedingly happy in the North Rodeo Drive residence. There he would live until a tragic Christmas fire in 1983 destroyed it and everything in it, including unique works of art, collected papers, and Kelly's honorary Oscar for his brilliance and versatility as an actor, director, singer, dancer, and, especially, a choreographer. But so fond was Kelly of the house and its location that when it burned to the ground, he had a new house built in its place on the same property and lived there with his third wife until he died in 1996. (April 1992)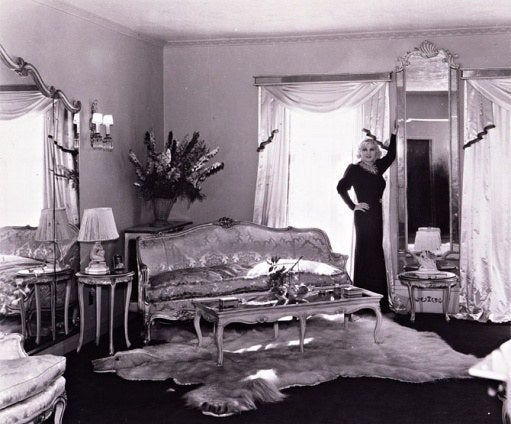 "There's always been just one way—what's right for me," said the indomitable Mae West. Like many performers, West was a mixture of show-off and recluse, a personality at once calculatingly public and insistently private. These two facets of the actress's nature were reflected in her home and the life she led there—not in any balanced way but, like nesting boxes, one hidden within the other. Outside was the Mae West persona, sex-obsessed and self-loving, for which she found a domestic equivalent in the apartment she moved into in 1932, when she first arrived in Los Angeles, and where, in what may well be a record for residential longevity in Hollywood, she remained for the next 48 years.
Located on the sixth floor of the Ravenswood, an Art Déco building on Rossmore Avenue whose other tenants included Ava Gardner, Hedda Hopper and Judy Garland, West's apartment was modest in size. It had just two bedrooms, a tiny kitchen, and common rooms that were by no means grand, but the decoration aspired to grandeur, and beyond. "Quality, quality—that's all I heard [from my mother]," West told Life magazine in 1969. "Everything has proportion, nothing is jarring. Everything is symphony." Fearful of the damaging effects of sunlight and fresh air on her beauty, she kept the blinds permanently drawn and the air conditioning perpetually humming. (April 1994)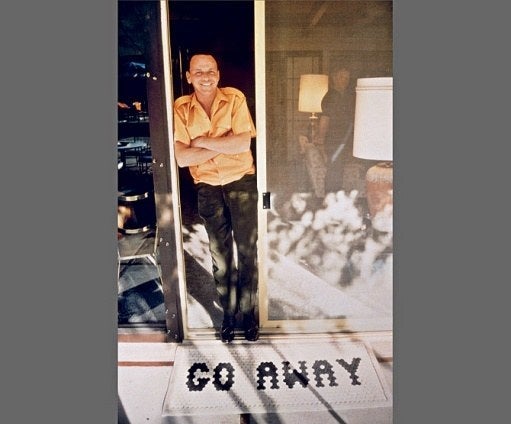 He was the consummate host, but "if you weren't invited," recalls Frank Sinatra's youngest daughter, Tina, "'Don't bug me' was his motto." In love with the desert, Frank Sinatra built a home in Palm Springs, California, in 1947, then moved to nearby Rancho Mirage, where he bought a house in the Tamarisk Country Club (AD, December 1998). "Once," Tina Sinatra says, "some moron decided to snoop around and poked his face through a window. It was funny,' Dad said, we were practically nose to nose.' A chase ensued around the property, and in his haste to escape, the invader climbed onto the roof. But Dad, in close pursuit, followed and cornered him. It was FS or jump. He jumped—right into our pool—and sank like a stone. Of course, Dad had to dive in to save the idiot. Dad enjoyed telling this story for years." (November 2008)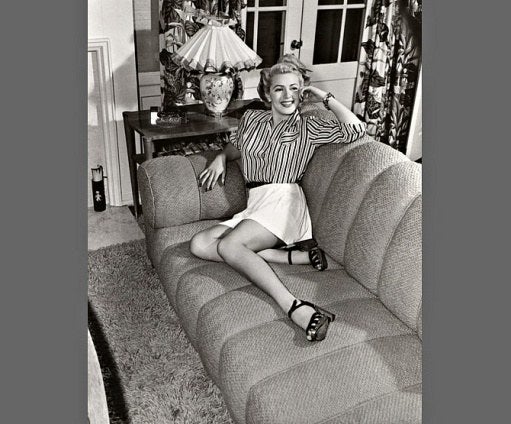 "Legend has it that Julia Jean Turner was discovered at Schwab's Drugstore," remarks Cheryl Crane, daughter of actress Lana Turner. "But, in truth, Billy Wilkerson, a talent scout, spotted her at the Top Hat Café, a soda fountain across from Hollywood High School. He took her to Warner Bros., where she was renamed Lana, cast in several movies and dubbed the Sweater Girl." As such, Lana Turner became one of the most durable pinups of her generation. "That image clung to me for the rest of my career," Turner observed in her autobiography. "I was the sexual promise, the object of desire. And as I matured, my façade did too, to an image of coolness and glamour—the movie star in diamonds, swathed in white mink."
She was in her early twenties when she purchased a modest cottage in a lush, quiet neighborhood north of Sunset Boulevard. For the interiors, Turner created a cocoon of frills and flounces and surrounded herself with china figurines, ruffled lampshades and an enormous teddy bear. At home, at least, she was still very much Julia Jean Turner from Wallace, Idaho. (April 1992)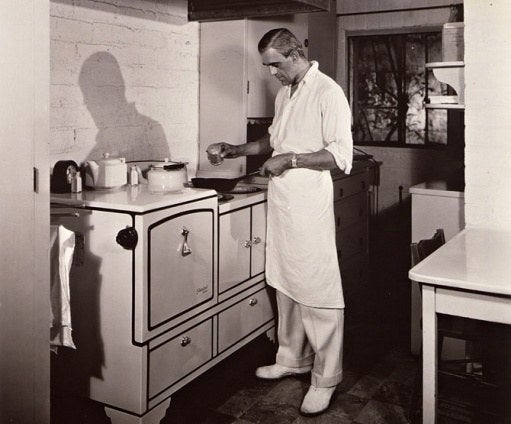 "When I was nine, I played the demon king in Cinderella—it launched me on a long and happy life of being a monster," recalled actor Boris Karloff, who, in the 1930s, lived with his wife Dorothy in a Spanish-style house in Los Angeles's Coldwater Canyon. Karloff first came to Hollywood in 1916 and took whatever movie jobs he could find. With his gaunt build and brooding looks, he found himself cast as Mexican bandits, Arab sheiks and Sudanese servants. Between productions he drove a truck, did day labor and even sold ice cream. His roles improved with the coming of sound because his stage-trained voice worked well for film. Then, in 1931, when Karloff was 44, he landed the role for which he is most renowned—the monster in Frankenstein. "The monster was the best friend I ever had," noted the actor. (April 1998)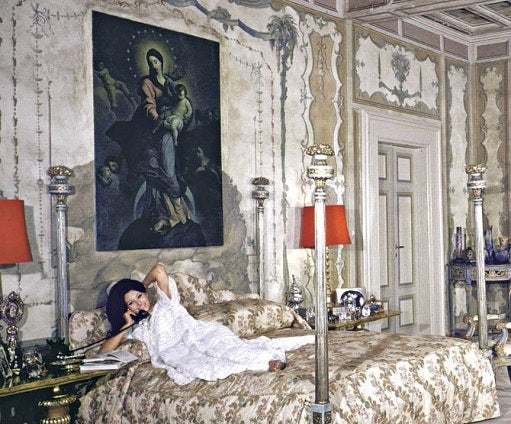 In 1964 actress Sophia Loren graced the cover of at least 40 magazines internationally, was earning a reported one million dollars for The Fall of the Roman Empire and would soon be Oscar-nominated for her role as a 17-year-old prostitute in Marriage, Italian Style. Also that year, Loren posed for photographer Alfred Eisenstaed in the villa outside Rome she shared with her husband, producer Carlo Ponti. "I remember our dwelling with great fondness," recalls her son Carlo Ponti, Jr., today the music director and conductor of Southern California's San Bernardino Symphony Orchestra. "I think it was—and still is—the most beautiful house I have ever seen." (November 2008)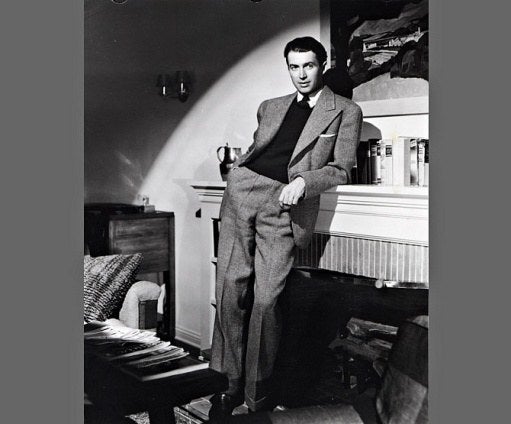 "I've never been a Hollywood glamour boy," claimed James Stewart, who starred in nearly 80 films. Signed by MGM in 1935, he was first cast in The Murder Man, with Spencer Tracy. "I told him to forget the camera was there," said Tracy. "That was all he needed."
The house on Roxbury Drive in Beverly Hills, where the actor lived for nearly 50 years, changed little since he bought it in 1949. Behind silver birches on the 900 block of Roxbury Drive in Beverly Hills sat their unpretentious Tudor-influenced, two-story family house. The cozy foyer led to two formal rooms: On the right was a large living room, with a few French pictures and a grand piano, at which Jimmy occasionally performed his deadpan rendition of "Ragtime Cowboy Joe." To the left was the dining room, with an oak table and a French provincial bookcase serving as breakfront. Except on holidays and a few festive occasions, the Stewarts rarely used either room. Instead, the family gathered each evening in the library beyond the living room. When it came time for family vacations, Stewart prepared by putting valuables in a vault—not jewelry and silver, but the family photograph albums. (April 1998)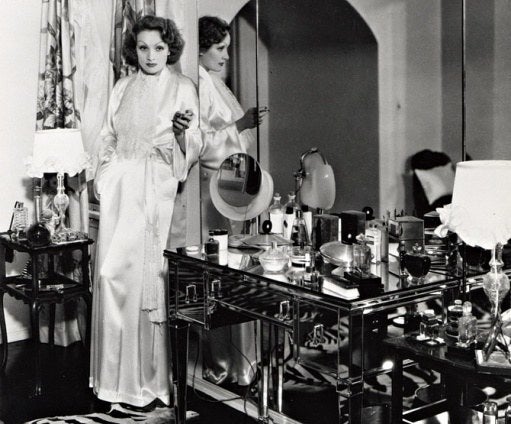 "I had no desire to be a film actress, to always play somebody else, to be beautiful with somebody constantly straightening out your every eyelash," said Marlene Dietrich in 1964. "It was always a big bother to me." The actress arrived in Hollywood from her native Germany in 1930 with her mentor, director Josef von Sternberg and ended up renting a number of residences. She never truly settled in Hollywood, though her Beverly Hills residence in the mid-1930s reflected her preference for high-contrast black-and-white furniture in a home that featured a tuxedo sofa, a mural of a leopard and a zebra, a zebra-print throw, 19th-century Chinese wallcoverings and an ankle-deep carpet of fur. "I would like to have lived in Hollywood at another time," Dietrich once remarked. "The anecdotes about the days of the silent films made my mouth water." (April 1990)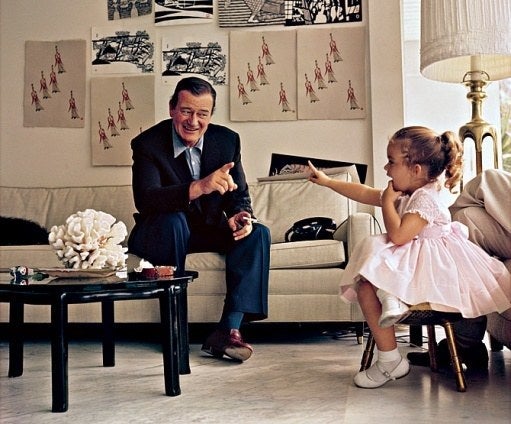 "It was a magical place for a small kid," comments Aissa Wayne about the lush acreage in San Fernando Valley that she shared with her siblings, her mother and her father, actor John Wayne. "My dad had a huge soft spot for animals, children and the needy and he was extremely generous. For birthday parties my parents would arrange for a cotton candy machine, ponies, carnival rides and even a baby elephant one year. Dad loved to watch the kids get a kick out of it all; it pleased him to see happy children. He was the first one awake on Christmas morning because he took such pleasure in seeing children open their gifts. I remember he would pace the hallways at 4:00 A.M., and I thought it was Santa—but it was my dad waiting for daylight so we could open our presents… Funny, isn't it? For a tough cowboy, he was the biggest mush-ball you ever came across." (November 2008)
More from Architectural Digest:

Calling all HuffPost superfans!
Sign up for membership to become a founding member and help shape HuffPost's next chapter
This post was published on the now-closed HuffPost Contributor platform. Contributors control their own work and posted freely to our site. If you need to flag this entry as abusive,
send us an email
.