In a country where a woman's self-rendered sexuality can still raise eyebrows, Lucinda Williams is accustomed to testing limits.
If Elvis freed your body and hips and Bob Dylan freed your mind, then Williams' strong, distinctive desires and hungry, sexually-charged ghosts untied your sexuality.
As a singer-songwriter synthesis, undoubtedly she has guile, grit and stamina. Her songs are seductively menacing because they are so inexorably about pain or yearning or sexual desire. But just as often they're about taking a trouncing, about losing some subpar, inaccessible man who bitches and suffers and drinks and vomits; about a man who never lived up to any of the oaths he made: about some empty husk she summoned to enjoy food and drink, as well as the nourishing, transforming, and healing nectar of sex.
Her shocks have been salutary. Indeed, Elvis' hips made the yelping girls beam; Dylan's craggy voice projected its newsreel, topical poetry and soothed the social movement; Williams' songs about love striving to overcome deep, unhealed wounds stabs the corkscrew to the core. Love called for a charge, and Williams leaped forward with a bloodthirsty yell -- frequently at her own expense.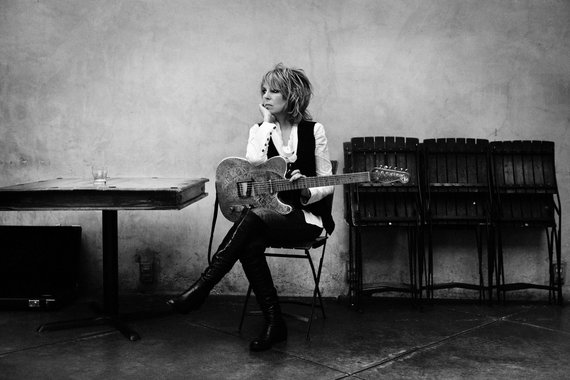 "Yeah, there are plenty of songs where sex is sprinkled through," said Williams. "I grew up looking at sexuality as bluntness and realness, and my father (poet and literature professor Miller Williams) once said to me, 'if you are going to be a good writer, you have to never ever censor yourself, or you will get too self-conscience. There is a lot of the failing, I think, in songwriting, and there are people who refuse to be on that same level. They either don't know to be or are incapable or scared. My dad was a poet, and, wow, he could write about anything from a cat sleeping on the windowsill to a wreck on the highway. And here I am as a girl, you know, and throwing this stuff out."
"Throwing it out" is something the Lake Charles, Louisiana, native has been doing since she started playing guitar at 9 and wrote her first song at age 13. She recorded her first album in 1978 and has recorded several gorgeous albums along the journey, most notably "Sweet Old World," in 1992, "Car Wheels on a Gravel Road," in 1998, and "World Without Tears," in 2003. Perhaps too many words have been exhausted over the years attempting to explain away her exploratory Americana style, or categorize her combination of rock, blues and country, or pass judgment on her risky themes of sex, suicide and death.
Bed of Roses, Field of Battle
Love repeatedly materializes as a beautiful apparition and Williams observes the bed of roses and field of battles and zealously intervenes with a notepad and guitar. When she does, her efficiency is uncanny.
"I was raised in a purely feminist family and I was raised to achieve something, to have a career," said Williams. "It was taught to me very early that it was important to be passionate about something. It never occurred to me in the early days that there would be such a stigma because I'm a woman. Many times it was so subtle, especially when coming from another woman. I'd say that that stigma followed me everywhere I went. I was on a morning show in Nashville once, invited to play in early 1990s, and they had the cast of something called "Up with People." I wanted to play "Pineola," and they said it was too dark and I was starting to get pissed off. The producer -- thank god -- he was a little hip, and he said,' I talked to them and it is okay.' There is no difference between that song and "Long Black Veil," as far as what they are influenced by. Country got a real sugarcoating in the 1990s, and here I am with an armload of songs about suicide, death, and sex. When 'Essence' came out, there were people telling me, 'hey, wife and I got it on to that song.'"
Her 12th studio album, The Ghosts of Highway 20, dredges a range of emotions and connects us to her contemporary sentiments. Williams searched for love for a long time. Loneliness was the norm. Connection was an ideal: the exception, not the rule. But, at 63, she found it. To quote a phrase, she has met her knight in shining armor. She's married to her manager, Tom Overby. No more sexual affectations. Not in her personal life and not in her music.
"Tom and I met and I got engaged, but I can still write songs," said Williams. "I think I've convinced fans that it's okay and I can still put out albums and be involved in a long, committed relationship. That's how much of a myth I think there is about happiness and art; people expect that since you changed in your life, well, so much for any new songs. Part of that challenge was, yes, I did change and I got married and at the same time I found it to be challenging and liberating, because it made me look at other subject matter. I started exploring other subjects than before -- not just love songs. It was all out of necessity and it's nice to not be writing unrequited love songs all the time.
"I wrote 'Honey Bee' about Tom and I have the freedom now to look into a well of childhood and family stuff and the things that have been dragging me like weight. I still worry about my family and the therapist said, 'you've been carrying your mother's baggage around.' So I deal with it and I write about it. I am not embarrassed to write about it."
The melancholy miasma of The Ghosts of Highway 20 and its cutting tone reflects the recent death of her poet father, Miller Williams; she carried his haunted spirit into the torchy, obsessive realm of songwriting. In many ways, the album is equally an open wound and a complete circle, for it was dad who encouraged his daughter to write music, often editing her lyrics.
"Once you've lost both of your parents, you are a different human being," said Williams. "I was very close to my dad. We had an unusual bond and I never could never even think about the day when he would not be here anymore. Dad and I bonded and he was my rock. I wrote 'Death Came' after my mother's death (in 2004). The older you get, the more loss you experience. My dad had a very bad back and he was in chronic pain and on painkillers, popping Tylenol and codeine, which would put him in a bad mood. We didn't do a lot of activity -- like skiing or things like that. That is the thing about these illnesses -- they affect everyone else around them."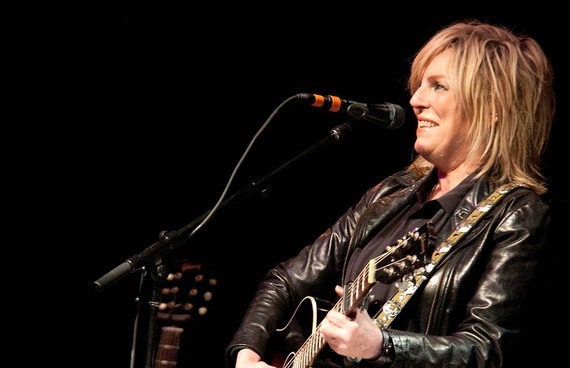 On The Ghosts of Highway 20, we hear the fruits of Williams' labor, slowly ripening, in the shadows of her afflictions.
"I lost my dad a year ago, January 1, 2015. My husband's father died one month before my own dad died. I lost one of my long time friends, Ian McLagan (Rock and Roll Hall of Famer and Small Faces keyboardist), and the album is a combination of loss, getting older, maturity, a mix of wisdom, and getting comfortable in my own skin."
In his final months, Miller Williams suffered from Alzheimer's. One song on The Ghosts of Highway 20, "My Love Could Kill," addresses and personifies the disease. Shortly before his death, her dad did a reading of his poem "Compassion," which they recorded. Later, Williams herself sang a version of the poem. She recalls a day when her father explained that he had lost his facility to write poetry, to connect mental images with words. She watched the disease displace his creativity and erode an overriding element of his identity. (Miller Williams published 37 books of poetry and prose and delivered a poem at the Capitol for President Bill Clinton's second inauguration.)
"I'm so angry about the disease," said Williams, "a disease that affected my dad and his older brother, and their mother, and Tom's father."
Artists such as Lucinda Williams come across many difficulties and are constantly subject to ups and downs in their practice. But Williams asks no sympathy from others in the anxiety and agony of a finished life or shattered love.
"There are positive outcomes from the darkest parts of life," said Williams. "You can have these beautiful melodies and arrangements and a beautiful connection to the audience -- and they react positively. Some of my songs are part of a long run of a lot of the old mountain ballads, tragic, sad and heartbreaking, like 'Long Black Veil.' The connection is the thing that gives the feeling of something they can relate to. I've been asked so many times about why I write dark songs or of suicide, songs like 'Drunken Angel,' or 'Sweet Old World.' The songs really bothered them. It was more overt and obvious then, back when I did not have as much creative freedom. I remember one time I was on the Terry Gross show, I picked 'Sweet Old World,' and they said, 'those are really darks songs. Are those the songs you really want to do back to back?' I was disappointed, thinking, 'you have a problem with that?' I mean, would someone have asked a man, say, (poet Lawrence) Ferlinghetti, that question about writing about darkness?"
The roster of emotions tapped into by Williams on the newest record is impressive and the songs are even better: ruminations on time, tenderness, mortality, purpose, mercy, and long-standing love. Her distinctive voice -- protected by a flap of skin exposing a scar from surgery to correct a narrow trachea -- etches each one with the clarity it deserves.
For all her hardships and at times shaky mental states, Williams is one with the wonderful pattern of life that radiates out in all directions. She sees the close connection between herself and others, how we share happiness and suffering. She is also one with those who find no happiness in family life, who have no roots and no peace of mind, who are hungry for understanding and love, and who are looking for something beautiful, wholesome, and true to embrace and to believe in.
"I'm still the same girl as I was back then and I have the same sense of optimism," said Williams. "I know I've got the deep, heavy songs and they move in. At the end of the day, I'm a person who believes that the glass is always half-full. When I look at the world, there is like a shopping list of things I've been thrown. I've been wasted. Been on the brink. Been abused. Left down and left behind. But when I look at the world, it's a different story."
Williams' method as a performer is as unguarded as her material is familiar -- another word for it might be "honest." Night after night she finds herself, on stage, staring at her strings, with sorrow and interest, digging deep into the same sense of isolation that has proved revelatory.
"I absolutely go back to that place and re-live that place," said Williams. "I have to. Whether it's 'Fruits of My Labor' or 'Lake Charles,' about a self-destructive partier who died, and who I lived together with for four years. I guess it's like method acting or something. Sometimes it surprises people that I have so many songs that go so far back but that I can still write and sing about what's going on now."
What is going to come out of Lucinda Williams next? Perhaps her attention will deepen and turn ever more thoughtful; that is, ever more inward. Things that ache and sting will most likely continue to equip her with the instruments of illumination.
"I've finally got to the age and to the point in my career where there is less and less of the confused response to my work," said Williams. "Although, I'm hearing, 'now she is into death' or 'she's scary.' The more loss and pain you face, the more you want your art. And I don't mean that to sound elitist. I grew up with poets and novelists, and I grew up believing that an artist's role is to keep creating. My dad said that in the world of poets, you were not even taken seriously until you were well into your 60's. That's the world I was raised by."
Photos courtesy Lucinda Williams. Brian D'Ambrosio's newest book, "Rasta in the Ring," details the offbeat life of Rastafarian boxer Livingstone Bramble.
Calling all HuffPost superfans!
Sign up for membership to become a founding member and help shape HuffPost's next chapter