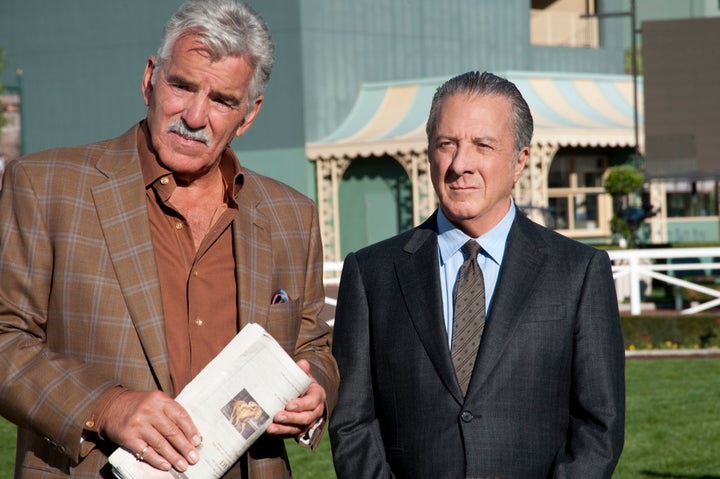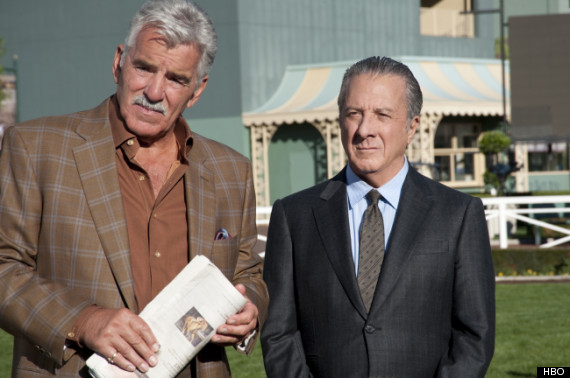 "Is it another 'John From Cincinnati'?"
That's probably the first question David Milch fans have about his new HBO drama, "Luck" (Sundays, 9 p.m. EST on HBO), which officially premieres this weekend (though HBO previewed the "Luck" pilot in December).
No, it's not a weird, impenetrable misfire like "John From Cincinnati." I know that 2007 show has its champions, but, in spite of the great love I have for Milch's masterwork, "Deadwood," I could not scale "John's" wall of inscrutability.
"Luck," which slowly intertwines the lives of a dozen characters at a California horse racing track, presents a much more recognizable world; though I wouldn't go so far as to say that it's readily accessible. It takes a while before you understand the relationships among four bickering gamblers (played to perfection by Jason Gedrick, Kevin Dunn, Ian Hart and Ritchie Coster), a couple of trainers (John Ortiz and Nick Nolte), a vet (Jill Hennessey), an agent (Richard Kind) and a trio of very different jockeys (Tom Payne, Kerry Condon and real-life jockey Gary Stevens). It doesn't help that the characters played by Ortiz, Condon and Payne have accents, or that everyone throws around liberal quantities of horse racing slang and gambling lingo.
So you're likely to feel a little lost at first, but, having seen seven of "Luck's" nine episodes, I can say that this impressively directed drama is very much worth sticking with. Not every aspect of "Luck" has the satisfying richness of the stories involving the trackside foursome and Nolte's quietly fascinating trainer; but the parts that do work possess the doom-laden yet strangely optimistic romanticism of Milch's best work. The horse racing scenes are fantastic (Michael Mann does a particularly fine job with them in the pilot), and some of the most meaningful and resonant relationships in "Luck" are between humans and horses. Not only do these animals have great hearts, Milch seems to be saying, they're never, ever full of shit.
It's not bad, per se, but in the least effective storyline, Dustin Hoffman plays recent prison inmate Ace Bernstein, who's plotting a comeback that involves the race track. Though he's the show's big-time star (and you know how HBO likes its big-time stars), Ace's storyline is largely separate from the rest of the narrative, and it just doesn't feel as though Milch was as invested in it. Generally speaking, it's more halting and less compelling, and I never get the sense that Hoffman is entirely comfortable in the role. Still, if nothing else, there are some fine scenes of Hoffman's abrupt character softening around horses, and the Ace storyline also features Michael Gambon in full Cockney-gangster mode, which is a beautiful thing.
It was odd of HBO to show only one hour of "Luck" a month ago; Milch's pilots aren't really mission statements as much as they are the opening chapters of novels that take a while to gain steam. But when Milch decides to move you and convey the kind of ecstatic joy that almost inevitably brings tragedy, watch out. A crucial race in the fourth episode proved that Milch owned me; his characters and their desires had seeped into my mind and soul without my realizing it, and I found myself near tears before the race was over. Gambling isn't my thing (I'm the kind of person who goes to Las Vegas and spends $5 on roulette), but true artists find ways to convey their most passionately felt experiences, and Milch, his directors and his cast do an outstanding job of that in the peaks and valleys of the track stories.
Not everything in "Luck" operates on that level of transcendence, but the search for exalted moments is the key to understanding the characters who hang out at the track. They are all obsessed with something. Those cravings and needs often block their ability to connect with other human beings, which leads to moments of profound loneliness and despair. But what I love about Milch's work is his belief that connection is possible, even between deeply damaged human beings (and Milch's dramas are always full of extremely damaged men).
The seventh episode explores with haunting tenderness the desire to care and be cared for, first in a difficult, funny conversation between the characters played by Gedrick and Dunn (both of whom are simply terrific in "Luck") and then through a series of spare scenes tinged with the melancholia of Edward Hopper's paintings. Milch is fascinated with the intensity of despair and hope, and as "Luck's" world comes into focus, he explores those emotions with wonderful restraint and intelligence.
It's hard not to see "Luck" as an insider's guide to addiction, a topic Milch knows well. But he hasn't written a book about that; he's created "Luck," which posits that the things that we connect with on the most primal levels -- the experiences that bring us ecstasy and wonder -- are often the things that lead to our downfall, especially if we pursue those passions at the expense of rationality and even self-preservation. From the newest jockeys to the track rats, to the criminals in their penthouses and yachts, these are characters who have a terrifying ability to hone in on their compulsions, and they can't or won't stop to ponder the damage they have done to their lives. And yet they don't give up, and it's hard not to love them for that.
Perhaps the best thing that can be said about "Luck" is that it is very Milch-ian. You don't come to his shows to encounter worlds you've seen before; you come to be immersed in his obsessions and to experience his compassionate yet unsparing examinations of human weakness. Milch's dramas are at their best when they obliquely show how the possibility of great passion brings with it the possibility of great pain, and perhaps that's why the thundering, thrilling horse races are the best part of "Luck." They convey not just the intensity of the jockey's experience, but the terrifying power of the animals that these frail, tenacious humans ride.
Holding on requires not just skill and training but, yes, a lot of luck.

Check out HuffPost TV's Maggie Furlong's interviews with "Luck" stars Dustin Hoffman and Nick Nolte, creator David Milch and executive producer Michael Mann here.
Ryan McGee and I discussed "Luck," as well as "Touch" and "Spartacus: Vengeance," in this week's Talking TV with Ryan and Ryan podcast, which you can find here and on iTunes. The RSS feed for the podcast is here.
"Luck" airs 9 p.m. EST Sundays on HBO.

Popular in the Community