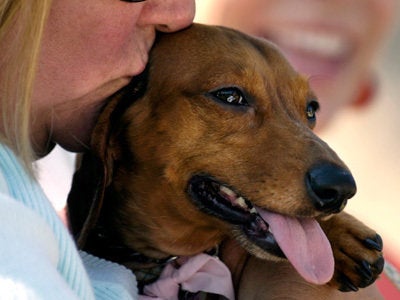 Well here we are in November. Lucky doesn't like November (or any of the cold months) because as the temperatures get lower, her hair gets longer, and she thinks it makes her look fat. I have to tell her that anything that weighs under seven pounds can never be fat, and either way she should comfortable in her size. But she'll never listen and she keeps begging for a cut. I haven't seen her beg like this since the last time I took her to Kobe Club and she smelled all that beef!

This week Lucky and I got an exclusive invite from the one and only Joan Rivers to come and support her in a Celebrity Apprentice 2 auction party. I think Lucky is the only woman in the world not afraid of Rivers because she is always confident in her white fur coat. But of course Lucky and I were going to stop by and support Ms. Rivers because we would love to see a woman come out on top in Donald Trump's boardroom, you know, as Lucky would say, without having to get on all fours. At the auction there were a lot of items to bid on, but Lucky and I bid on the Faberge Eggs because they were the only animal related items. Knowing Lucky though, she would want to just make scrambled Faberge Eggs out of them. At the auction I saw "The Donald" himself, his always stunning daughter Ivanka, and his very charming son, Donald Jr., who said his dogs are fine and he and his wife, Vanessa, are not ready for anymore because they're expecting their second child! Congratulations DJr and Vanessa!
Lucky and I also chatted with our favorite fiery Irish funny woman Kathy Griffin who said Chance and Pom Pom are doing fine, but Chance is the only man in her life. Maybe I should get a male dog, too. Country singer Clint Black was there talking about his dog, Radar, and when I asked him to describe what kind of dog his wife, Lisa Hartman-Black, would be, he said "A Collie. A good one!" The Blacks rescued Radar, who's a mutt, from the streets of LA, which is pretty admirable because there are some people on the streets of LA that need rescuing, too. Pokerman Phil Helmuth was also there, but he had his poker face on and I wasn't sure how to read him. He did tell me about his dog, Willow, who is a half Whippet rescue. When I asked him what kind of card Willow would be he said "the four of clubs," but in true poker champion fashion, he didn't explain why.
In the name of fashion, it was important for Lucky and I to check out a very special FURLA event hosted by Kelly Rutherford and Lindsay Price . Lucky and I are always on the hunt (her literally, because it's in her blood) for a new dog carrier bag to add to her collection of 300, but alas we had no luck at FURLA. At the event we saw purses, shoes, 30 Rock's Lonny Ross, model Alle Wiel, designers Courtney Crawford, Max Kibardin and Alice Ferrari, club kid extraordinaire and designer Richie Rich and Gossip Girl's Amanda Setton.
Finally, this week was our always-entertaining 8th Annual Halloween Pet Costume Party benefiting the Humane Society of New York and the Animal Care and Control of New York. Par usual the party featured some downright adorable and hysterical canine costumes. We had cute costumes like Sonny & Cher barking "I Got You Dog", a Merman (a male dog mermaid, so basically no shell bra), New York Giants' canine quarterback Eli Manning, and Elvis the King of Rock barking, you guessed it, "Hound Dog." We also had some bizarre costumes like a white-veiled transvestite bride (no husband in sight), and some popular costume cuties such as a New York City fireman -- who never used his hose on the hydrants, thank dog -- a ladybug, an angel, and one dog even came as a Metro card. With times so economically ruff, we all felt the appropriateness of the costume. With so many outstanding costumes the competition was feeling American Kennel Club tough, but our competitors made it though with the help of our slew of amazing celebrity judges.
Participating at the event was Beverly Hills Chihuahua star Piper Perabo, who loves animals but is far from Coyote Ugly. Perabo had the toughest judging job of the night, picking the winner of "Who Wants To Be A Beverly Hills Chihuahua" category. Piper selected an Animal Care And Control one-eyed Chihuahua rescue dog, named Lucy, who was dressed as Alice in Wonderland! Piper claimed, "This dog was so sweet, and displayed so much confidence for a one-eyed Chihuahua that Lucy deserves a trip to Beverly Hills!"
Other celebrity guests judges included Dina and Ali Lohan, Bravo's Real Housewives of New York New York socialite Jill Zarin, Beth Ostrosky-Stern, America's Next Top Model winner Whitney Thompson, Gossip Girl's Nicole Fiscella, and Z100's Skeery Jones judging pups in other categories including "Cutest Couple," "America's Next Top Dog," "Dog that Needs Rescuing" and "Dog Most Gossiped About." The night's big winner was an adopted Chihuahua named Eli dressed as a vampire bat with a "slicked to the side" hairdo that resembled a young Jerry Lewis! The judges unanimously crowned Eli as the winner of the Best Howling Pet Costume Of 2008. Lucky stared in shock and awe like Faith Hill when she heard Carrie Underwood won at the CMAs a few years back.
With all the laughs and tears... oh wait there were no tears (except maybe from Lucky), we raised over $25,000 dollars for homeless animals! I want to thank everyone for coming out and supporting Lucky and I in another great event. Next stop? Toys For Dogs 2008!
On the eve of election night, Lucky and I want to urge everyone to go out and "Bark the Vote!" In the canine election, Lucky's voting for Shamus (Hillary Clinton's dog). Make sure you vote too!
Related