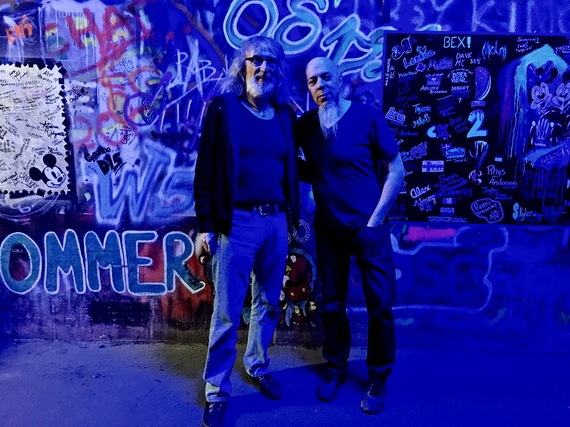 The unexpected death of keyboard legend Keith Emerson (a reported suicide) left many in shock. But two people in particular have had many reasons to take the loss particularly hard.
Jordan Rudess (right, in above photo) a keyboard legend in his own right (both with prog metal giants, Dream Theater and as a solo artist and technology wizard), wasn't just a huge fan of Emerson; the two had also become friends in recent years. Then there's Keith Wechsler (left, in above photo), who for years was Emerson's keyboard tech, producer, engineer and is currently Rudess's keyboard tech on the current Dream Theater world tour in support of their new album, "The Astonishing."
I spoke to both of them last week as they sat in backstage in Belgium, just moments after the band had wrapped up a show; two men still coping with stark and sudden news that's left a void in both their lives.
Rudess shared, "Losing him is dramatic, traumatic, and everything in between. It's taken a lot out of me emotionally. I mean, this is my number one musical hero who changed the course of my life. Represented everything to me. Any time I lay my hands on the keyboard, I think of him. I mean, so much of what i do is because of him. This gentle soul. He was and will always be just so important to my existence. To have been even acknowledged by him is beyond my comprehension."
Wechsler has his own unique relationship with Emerson. "I first saw Emerson, Lake & Palmer in 1972, in San Francisco, and Keith just blew my mind. To work with him for many years was like a dream come true. He was so mild mannered off stage and then onstage he just turned into this wildly expressive artist. He had an amazing sense of humor, very unassuming and subtle, but then he was all about pushing boundaries. Challenging things. That's what he taught me. First, you learn the rules. Then you break them. I will always do that because of him."
Together, as the tour continues around the world, these two close friends grow even closer as they remember Emerson and share stories as they travel, reflecting on Emerson's rich legacy. "We can lean on each other because we both knew him in special ways," Rudess told me. "It makes the loss easier. We are very lucky to have each other as a coping mechanism. But I just can't get Keith Emerson off my mind. Evidently he was upset that he couldn't play the same anymore due to physical issues; that he could not deliver for the fans. I will always think about that now. About the realities of what we do as players, and what I need to be aware of. In that respect, Keith Emerson will never stop teaching me."
Calling all HuffPost superfans!
Sign up for membership to become a founding member and help shape HuffPost's next chapter