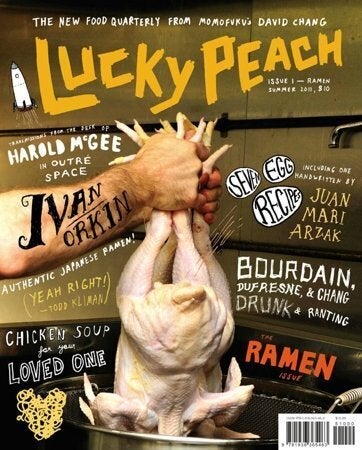 Momofuku's David Chang doesn't do anything halfway. So when he decided to delve into the world of publishing, he wasn't going to be content with just a column, or even a bestselling cookbook. Instead, he's teamed up with McSweeney's, publishers of McSweeney's Quarterly and The Believer among others, to launch an entirely new publishing property, Lucky Peach, with both a quarterly magazine and an iPad app. The first issue of the magazine, which focuses on ramen, hits newsstands today. (The app is still in development; it's said to include video.)
We've been lucky enough to get an early look at the magazine. It's high-quality in the same way that the Momofuku restaurants are—it eschews quaintness in favor of bombastic irreverence. This means that Lucky Peach isn't afraid to offend on occasion. In the 174 pages of the first issue, David Chang lambasts overcooked eggs, Ippudo ramen ("it's just this massive chain") and Kraft Parmesan cheese ("the epitome of mediocre"). But it also means the magazine doesn't condescend. It includes recipes by culinary superstars from around the world without wrapping their names in the typical explanatory praise. "The magazine doesn't assume you know who Juan Mari Arzak is, but it assumes the reader can make an informed guess that he's an über-respected, extraordinarily talented chef," Chris Ying, Lucky Peach's editor-in-chief, told the Huffington Post.
In a time when many magazines are scaling back, Lucky Peach feels shockingly rich in content. It includes personal essays, taste tests, interviews, 22 recipes, even a short story by Junichiro Tanizaki. "There were just so many disparate things we wanted to include, we ended up blowing straight through our original page count and including a slew of things we hadn't originally thought of," Ying said. But with contributors like these (Ruth Reichl, Harold McGee, Anthony Bourdain), there's nothing you'd want to cut out—except maybe the subscription card.
Below, a sneak peek at the inaugural issue of Lucky Peach: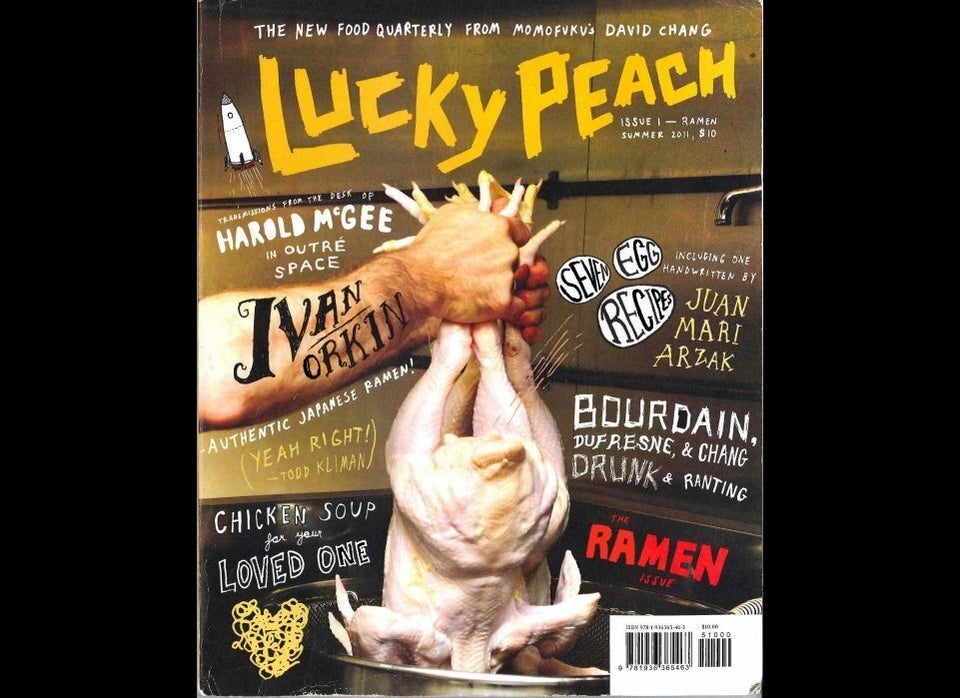 Related