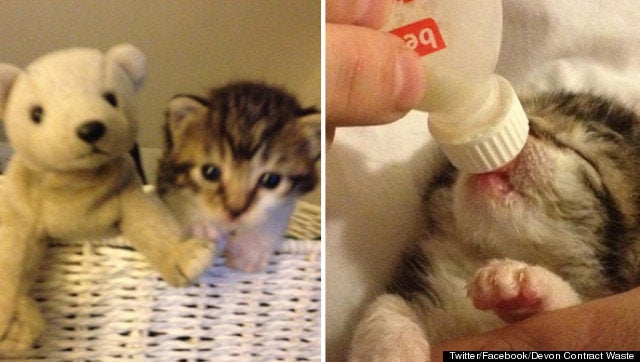 A very lucky 3-week-old British kitten was saved from being crushed in a recycling truck by two workmen who heard her cries in the nick of time, the BBC reports.
According to Sky News, the tiny tortoiseshell kitten had been dumped in a recycling bin in Plymouth, England, that was then emptied into the back of a waste collection truck.
The workmen on duty didn't see the kitten at first and fired up the truck's crushing mechanism. The kitten would not have survived in the truck for very long.
According to the BBC, Adam Hawkins and his colleague from Devon Contract Waste saw the kitten fall from the crusher's blades.
The two men immediately scooped up the terrified animal and brought her back to the company's depot. The kitten was then brought to the vet, where she was declared healthy and unhurt.
"She is really lucky to be alive," Donna Cook, another employee of the waste collection company, told ThisIsPlymouth.co.uk. "I cannot believe anyone can be so cruel as to throw a kitten into a bin. They must have known she would have been crushed to death," she said, adding that the kitten is no bigger than the palm of her hand.
The kitten, aptly named "Lucky," has since been adopted by the company's managing director and his family. The company even uploaded photos of the kitten on its Facebook page and Twitter account.
"She comes into the office and gets lots of cuddles now, so she's probably going to end up a bit spoilt, but she deserves it after what she's been through," Cook told the BBC.