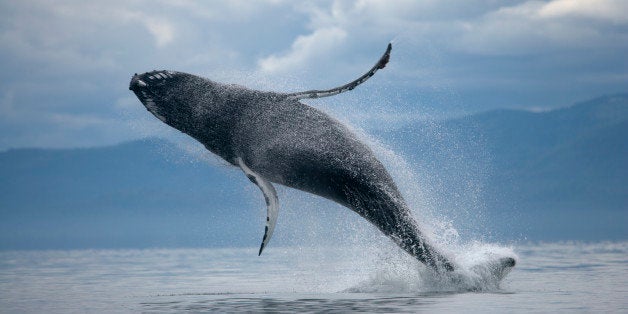 When you go on a whale-watch, just the prospect of seeing the majestic creatures at all is seriously thrilling. For a few lucky tourists off the coast of Massachusetts, their trip out to sea turned into a once-in-a-lifetime opportunity to get really cozy with the ocean's gentle giants.
On this particular occasion, the guides spotted the bubbles from above and settled into place, hoping for a show. And boy, did the whales deliver!
Swooping up from under the bow of the charter boat, a pod of at least four humpbacks (but probably more) nearly knock into the vessel, breaching right alongside the deck in their pursuit of a tasty meal. As we saw with this impatient humpback, these whales are not at all cowed by humans.
The charter was adhering to regulation, meaning that they stopped moving once whales were in the area, and didn't intentionally come within 100 feet of the animals, so they definitely weren't expecting to meet these colossal creatures in such close quarters.
While I doubt that anyone on that boat will ever forget this amazing encounter, it definitely seems a tiny bit close for comfort. After all, while humpbacks wouldn't hunt a human, they are definitely big enough to accidentally capsize a boat!
Please SHARE if you were astounded by this close encounter with these underwater giants!
More Stories From LittleThings
: