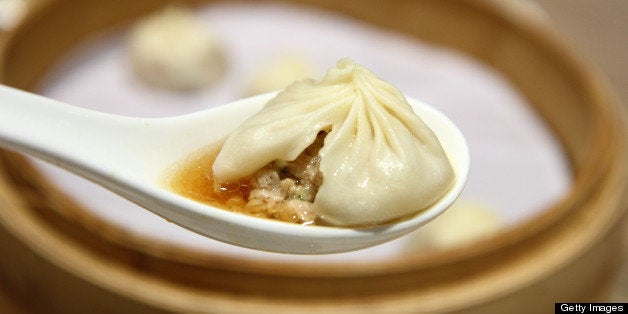 I mostly write about booze, and what's wrong with that? I like to drink and I like to write about the stuff I drink. But drinking isn't the only thing I do, oh no. For instance, I also like to eat. In fact, eating is an essential part of drinking. After all, if you don't eat, you're not going to last very long with the drinking. Another thing about eating -- when you eat the right dishes at the right places, it tastes pretty damn good.
What I'm trying to say is, I like food. You could even say I love it. And anyone who knows me knows I love Asian food most of all. If there is a more perfect food in the world than a well-made dumpling, I don't know what it is, although sushi comes close. And udon. And dolsot bibim bap. And... well, I really love Asian food.
If you love Asian cuisine the way I love it, or if you like it, or if you don't know much about it but want to learn more, then you're going to enjoy the fourth annual LuckyRice Festival, which will be in New York City from April 29-May 5 before heading out on a tour that will bring it to the ramen and kimchi-starved masses in Miami, Las Vegas, Los Angeles and San Francisco.
Now, you might think that bringing a festival devoted to Asian food and drink (yes, cocktails are involved as well) to a city as passionate for Asian cuisine as New York would be a no-brainer, like bringing a sausage-and-beer festival to Milwaukee or a poutine festival to Montreal. But a whole lot of how New Yorkers pride themselves on knowing which nooks and crannies of Chinatown or Alphabet City or Flushing have the cheapest, most obscure culinary delights. A high-profile, high-priced (tickets for each event run from $50-250) event is not an automatic sell. I asked festival founder Danielle Chang if she saw the sophisticated and somewhat jaded New York hipsterati as a challenge.
"I think it's definitely a positive that people are so knowledgeable about food and culture," Chang replied. "That makes my job more interesting because then we can introduce distinct regional flavors from Asia into the festival, instead of lumping Asian food into what was formerly the trilogy of Japanese, Chinese and Thai. I don't think a lot of Americans really thought beyond that trilogy before. Now, people are not only knowledgeable about cuisines like Korean food and Malaysian food, but they're asking for specific regional cuisine like Hainanese or Hunan."
An oft-overlooked Asian cuisine, Filipino food is getting its chance to shine at a dinner hosted by Leah Cohen of Top Chef fame. "I'm really excited about that," says Chang, "because I always thought it was such an anomaly that Filipinos are the largest Asian-American community in cities like New York by population, and yet their food is just so under-represented." The 10 scheduled events feature cuisines and dishes that run the gamut, from rice and ramen to Siamese (northern Thai) and the awesome sounding "This Stinks! Fermented Food Favorites From Asia," including dishes like Laotian sour sausage and Cambodian fermented fish.
One of the sponsors of the festival -- and LuckyRice's official spirit -- is Bombay Sapphire East, a gin infused with Asian flavors like peppercorn and lemongrass which was released to much acclaim in 2011. The LuckyRice festivals have helped spread the word about it. "It's such a great endorsement of what we're doing," Chang says, "because, you know, here's a major company that has launched the first new gin in 20 years of its history, and it has an Asian provenance, but it's not targeted for Asians per se. It's targeted towards the general audience, which is what we're doing with LuckyRice.... We've had Asian spirits in the past but they've always been highly flavored, like a lychee vodka or like a Midori melon, so over-the-top and not really mixology-friendly." I can vouch for Bombay Sapphire East's excellence in a martini, but I'm looking forward to trying it in more creative drinks whipped up by some of NYC's finest bartenders at Luckyrice's Cocktail Feast, hosted by Iron Chef Morimoto.
The event I'm most looking forward to, however, is the opening night Dumpling Party, where guests will make their own dumplings along with Danny Bowen of Mission Chinese, New York's hottest new Chinese restaurant of 2012, and James Murphy of LCD Soundsystem fame. "James is kind of looking into his next step, outside of music, and really getting interested in food," says Chang. Hey, the guy knows his zeitgeist -- music is cool and all, but for young urban hipsters, food and drink are really where it's at. Isn't eating at a one-night-only pop-up restaurant this generation's equivalent of getting into a sold out club gig by the latest band du jour?
Hipness factor aside, the deliciousness factor should be high. Check out the LuckyRice Festival schedule here. You'll also find schedules for the other cities on the 2013 tour.
REAL LIFE. REAL NEWS. REAL VOICES.
Help us tell more of the stories that matter from voices that too often remain unheard.