For the longest time, Asian cuisine and cocktails seemed to be mutually exclusive animals. Your choices were limited -- sake, plum wine, "Polynesian" tiki cocktails, and my favorite, free glasses of box wine, a staple among the greasier Chinese places trying to nab the just-over-21 crowd. But Asian cuisine, be it hole-in-the-wall or high end, simply didn't have the indigenous cocktails to go with it. Danielle Chang, the founder and grand poobah of the Luckyrice Festival, the Asia-centric culinary extravaganza, wasn't the first to promote cocktails with an Asian influence when she launched the first "Moon Festival Cocktail Feast" in 2010. But she definitely helped the scene evolve to where it is today, when it seems like cocktails with an Asian twist are everywhere. Hell, now there's even a bar dedicated to making cocktails utilizing baijiu -- the notoriously challenging sorghum-based spirit that's ubiquitous in China but almost unknown here.
Six years on, Chang sees the role of the Cocktail Feast, which takes place this Friday (Sept. 16) at the Bowery Hotel, as helping to nurture the burgeoning movement. "Asian flavors have progressively made their way into our cocktail world," she says. "Chefs are masterminding their cocktail programs by getting out of the kitchen and behind the bars. Cocktails are no longer just a precursor to dinner, or an after-dinner drink, but part of the culinary experience itself." She helped bring East and West together in a big way by collaborating with Bombay on Bombay Sapphire East, a gin with Vietnamese black peppercorn and Thai lemongrass in the botanical mix. Launched in 2012, it makes a nifty martini or gin-and-tonic to go with meals, as well as serving as inspiration for more creative cocktails.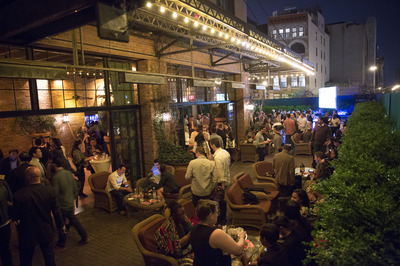 Where it's at for the last word in Asian-inspired cocktails: the Bowery Hotel, home of the Luckyrice Moon Festival Cocktail Feast.

Bars and restaurants participating include Maharlika, Grand Army Bar, tiki palace Mother Of Pearl, and Macao Trading Co., an offshoot of the legendary Employees Only and one of the forerunners of the Asian-influenced cocktail scene in New York. Uros Miljkovic, a bartender at Macao, created two of the Cocktail Feast's signature drinks. The Bashful Maiden features Bombay Sapphire East; Uros says it "was created for those who sit in the middle of the drinking spectrum. Customers who are not willing to take the leap with an extremely complex cocktail, yet want something more than a simple 2-ingredient mixed drink. We wanted to create a go-to cocktail for both men and women, that has complexity, yet is really easy to drink." [See recipe below]
The Mata-Hari, his other creation, employs D'usse cognac and fresh pomegranate juice. "Dushan [Zaric] and Jay [Kosmas, partners at Macao and Employees Only] wanted to make a cocktail with fresh pomegranate and a new chai-infused sweet vermouth they were excited about. The base spirit was vodka at first, but it flattened out all the wonderful flavors. They decided to substitute cognac for vodka and ... It became one of the finest cocktails I have ever tried. Stunning to the eye, seductive on the nose and orgasmic to the taste." That alone sounds like a good reason to show up -- I mean, who wants to pass up a good taste orgasm?
Orson Salicetti, the owner of Lumos, the aforementioned baijiu bar, will also be a featured mixologist. Baijiu is still a niche spirit in the States, to be sure. But in New York, at least, where a bar has an Asian-themed cocktail menu, as often as not at least one will contain baijiu. Chang says, "The first time I got drunk was from baijiu.... I'm fascinated by how much attention baijiu has received in the US over the past couple of years. It has such a distinctive flavor, so I suppose that's why it's frequently mixed in a cocktail rather than poured straight up, as the Chinese traditionally consume it."
Baijiu is just one of the spirits that Chang hopes will be popping up more frequently in American bars. "There are so many spirits that are currently not readily available in the US," she says. "Sake and shochu used to be rare, just like baijiu is in its infancy today. I hope to see other spirits -- like sweet shaoxing wine, perfectly paired with Shanghainese cuisine and typically served warmed, as well as other traditional Asian spirits -- readily available on our tables." Personally, I'm hoping for a few under-the-radar Asian spirits to make their bow along with the usual suspects this year. But having been around the Cocktail Feast track a few times, I can tell you that classic, reinvented or new, you're going to imbibe some mighty fine drinkage. [Tickets for the 7th Annual Luckyrice Moon Festival Cocktail Feast are available here, as are tickets for the first-ever Los Angeles Cocktail Feast on Sept. 23. And for the record, I have no skin in the Luckyrice game, financial or otherwise, I'm just a fan.]
And hey, make one of the Cocktail Feast's signature cocktails at home! Here's the recipe for Uros Miljkovic's Bashful Maiden:
1.5 oz Bombay Sapphire EAST Gin
.75 oz St-Germain French Elderflower Liqueur
.5 oz velvet falernum
.75 oz lemon juice
1 oz Boiron melon purée
Shake with ice and strain
Garnish - mint crown
Glass - 6 oz Champagne coupe
REAL LIFE. REAL NEWS. REAL VOICES.
Help us tell more of the stories that matter from voices that too often remain unheard.