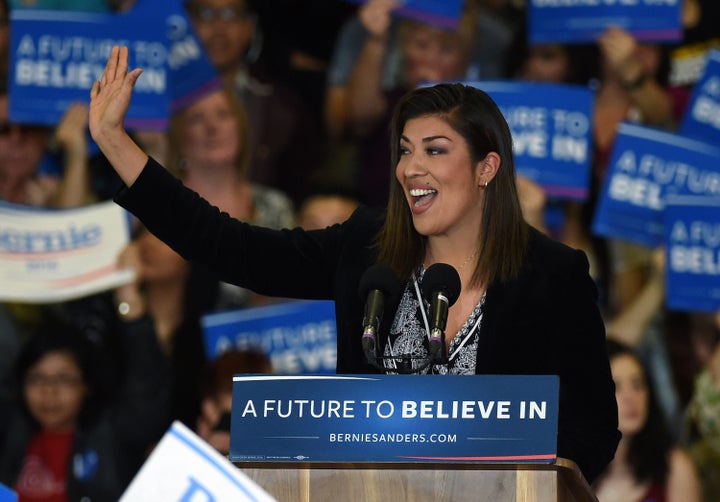 Lucy Flores took a risk in 2013 when she stood before the Nevada State Assembly and told the story of her abortion at age 16.
But after Flores, an Assemblywoman at the time, divulged this private detail, her political career took off. She racked up interviews, airtime and endorsements, earning a reputation as the up-and-coming Latina abortion rights champion.
That is, until 2016, when Flores endorsed Sen. Bernie Sanders (I-Vt.) over Hillary Clinton in the Democratic primary, losing a key endorsement from EMILY's List and, ultimately, her bid for Nevada's 4th congressional district seat — all of which Flores discusses in a new interview for "The Woman Card," a Fusion special examining the role of women in the 2016 election that premiers Thursday.
"I don't regret it," Flores said of the abortion during a 2013 legislative hearing where Nevada lawmakers were considering a sex education bill. "I don't regret it because I am here making a difference, at least in my mind, for many other young ladies and letting them know that there are options and they can do things to not be in the situation I was in."
Immediately, Flores was embraced by the abortion rights movement and considered a rising star in progressive politics. She seemed the embodiment of the strategy of EMILY's List, a group whose express mission is to "ignite change by getting pro-choice Democratic women elected to office." The EMILY's List argument has always been that policy change can happen by electing people whose lived experiences give them insight into reproductive justice in a unique way. Electing a female president is the group's holy grail, and they've long been ardent backers of Clinton.
EMILY's List endorsed Flores during her state assembly campaigns in 2010 and 2012, and again in 2014, when she sought the spot as Nevada's lieutenant governor. The group called her an "inspiring community leader" who "has not shied away from sharing her personal experiences growing up in order to highlight the real impact that legislation can have on the lives of Nevadans."
But when Flores sought the Democratic nomination for Nevada's 4th congressional district this year, EMILY's List opted instead to endorse one of Flores' primary opponents, philanthropist and multi-millionaire Susie Lee, who was not vocal about reproductive rights in her campaign, but whose personal wealth and network of rich friends gave her a leg up on fundraising.
"It was heartbreaking ... I was so shocked that I didn't even know what to say."
In an email obtained by the Las Vegas Review-Journal, an EMILY's List staffer said that Lee's campaign resources tipped the balance in her favor.
"Susie is clearly the strongest candidate in this race — she currently has over half a million dollars more in her campaign account than Lucy, who hasn't built an operation capable of communicating with voters this time around," the staffer, Lucinda Guinn, wrote in the email to a supporter.
This move felt like a betrayal, Flores told Fusion.
"It was heartbreaking," she said.
When someone from EMILY's List called to warn her they'd be endorsing Lee, "I didn't ask why," Flores added. "I, frankly, I was so shocked that I didn't even know what to say."
If viability was truly the top factor, rather than Flores' opposition to Clinton in the high-stakes battle for Nevada, then EMILY's List botched its political calculation.
In June, Flores ultimately lost the primary election to male challenger Ruben Kihuen, who won 40 percent of the vote to Flores' 26 percent. Lee, the candidate EMILY's List claimed was the most likely to beat Kihuen, finished third, with just 21 percent. Could Flores have won if EMILY's List hadn't split off and endorsed the third-place finisher? It's impossible to know, but in the interview for Fusion, Flores doesn't blame EMILY's List for her failed bid. She does, though, admit frustration with the group's justification for going in another direction.
Many of Flores' supporters — and Sanders himself, in a fundraising email on her behalf — considered her endorsement a factor in the group's decision.
A spokesperson from EMILY's List told The Huffington Post that Flores' endorsement of Sanders did not play into their endorsement of Lee.
"There is simply no merit to the claim that any of our decisions are based on who our candidates endorse — in fact, several [of] our candidates supported Bernie Sanders during the primary," Rachel Thomas, a spokeswoman for EMILY's List, said in a statement.
Those candidates, though, did not have other Democratic abortion rights female opponents in the primary, as Flores did, according to a Fusion review. Of the Sanders supporters that EMILY's List endorsed, they only faced male or non-Democratic challengers.
Eight days before endorsing Lee, who is white, EMILY's List announced an initiative to increase the number of Latinas elected to public office. Flores and other prominent Latinas, including Alida Garcia, did not appreciate the group's hypocrisy.
"We can't let any organization get away with having one stated mission, but then [in] application having it be completely different," Flores said. "I never played by the rules, and let's be honest, that hurt me."
HUFFPOST READERS: What's happening in your state or district? The Huffington Post wants to know about all the campaign ads, mailers, robocalls, candidate appearances and other interesting campaign news happening by you. Email any tips, videos, audio files or photos to scoops@huffingtonpost.com.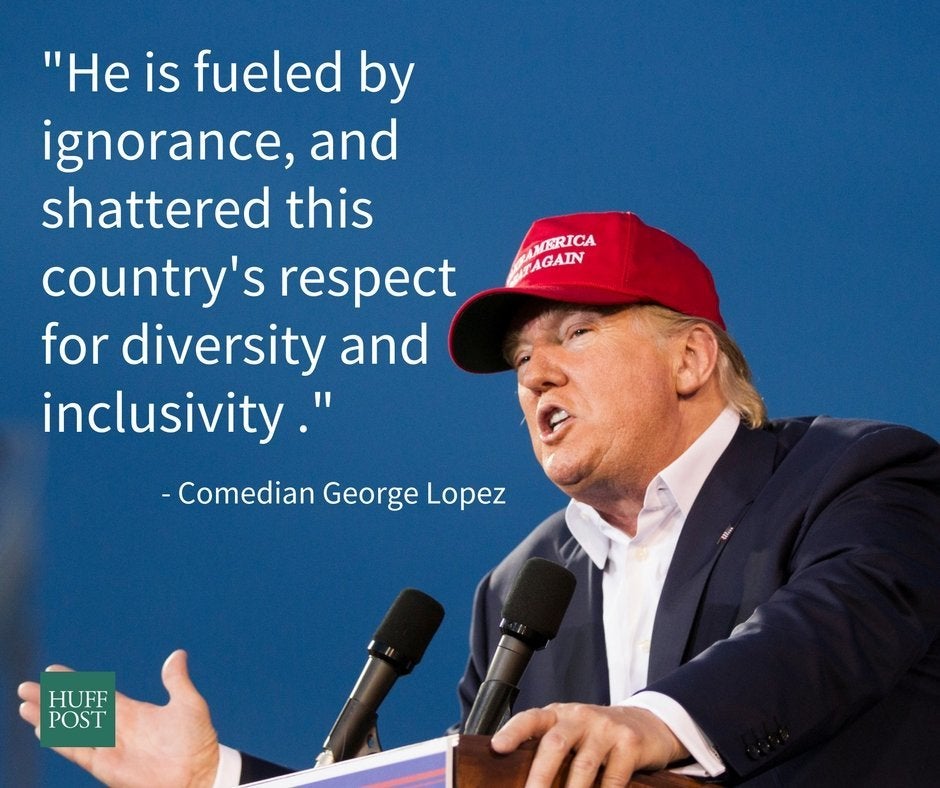 31 Latinos Share Their Most Eloquent Thoughts On Donald Trump
Popular in the Community