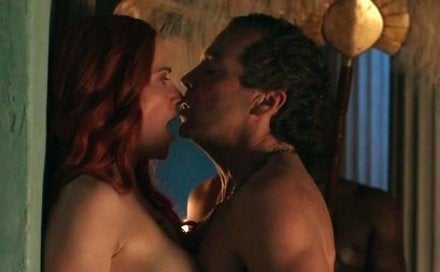 Here are some highlights:
You have a merkin [a pubic wig] for the show. Have you gotten to use it?
"I think everyone's got [a merkin] just for fun. Mine, I haven't had to break it out yet. Though [laughs] next season, maybe! Yeah, wait for it!"
They gave the men prosthetics as well. Who's using one?
"I don't know, a couple are stapled to the wall. I'm not sure if they've used them yet. Nobody's telling!"
In preparation for all these scenes where you get to expose yourself, have you felt the need to go back to the gym and get into fighting shape for the show?
"My character is not supposed to be ripped. She's a woman. It's Ancient Rome. It's not like they were popping off to the gym every two seconds, but they were very image conscious, that's for sure. I must admit that I have beefed up my exercise routine in the interim. Since I finished the show, I'm doing a lot more squats and even running now."
Do you still have a very big following from your Xena days?
"Oh, yeah, they're amazing. I couldn't be luckier. They're the most incredibly loyal fans, they're incredible supportive even though I go off on wild tangents. They understand the difference between Xena and Lucy and they love me anyway. I'm very grateful for the bold support they've given me. It's a great stage to jump off from."
Support HuffPost
The Stakes Have Never Been Higher
Popular in the Community