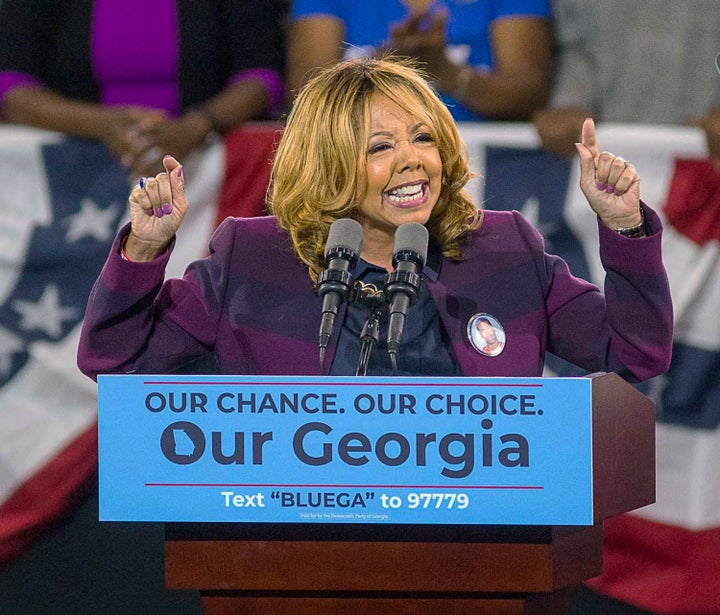 Democrat Lucia "Lucy" McBath won her race for Congress in Georgia's traditionally Republican 6th Congressional District, the same suburban Atlanta seat where massively funded Jon Ossoff lost a special election just last year.
McBath, a gun control advocate, beat Republican incumbent Karen Handel by only a few thousand votes ― with McBath declaring victory Wednesday and Handel conceding Thursday.
McBath succeeded thanks foremost to the down-ballot impact of Stacey Abrams' gubernatorial run, according to Kerwin Swint, a political science professor at Kennesaw State University.
"Lucy McBath had the Stacey Abrams energy and turnout and excitement that Ossoff didn't have," Swint said.
Abrams is locked in a still-too-close-to-call race with Republican Brian Kemp in an election dogged by voter suppression issues.
"When the voters of Georgia are allowed to pick their candidate without the interference of vote suppression, Georgians choose leadership that is more reflective … of the people of the state," said Nse Ufot, the executive director of the New Georgia Project, a nonpartisan nonprofit. "If every vote is allowed to count, we're going to see a bunch of Lucys."
McBath's authenticity and deep roots in the district were also significant factors, according to Stacey Evans, a supporter who represented part of the 6th District in the state House until 2017. Republicans blasted Ossoff, who was raised in the district, for living just outside its boundaries during his high-profile run.
"She had the personal background of having been in the district for many, many years, raising a son there. She was the district," Evans said.
Praising McBath's down-to-earth demeanor, Evans added, "It doesn't matter if she's speaking to a big crowd or she's talking to you one on one ― you get Lucy."
When President Donald Trump tapped Tom Price, the longtime conservative congressman from Georgia's 6th Congressional District, as his health and human services secretary in early 2017, Democrats sensed an opportunity.
The suburban district ― an increasingly diverse hub of highly educated and affluent Republicans ― had already shown its dissatisfaction with Trump. In 2016, Price won re-election there by 23 percentage points, but Trump edged Hillary Clinton there by less than 2 points.
Jon Ossoff, a 31-year-old documentary filmmaker and former congressional aide, ran for the seat as a cautious, moderate Democrat focused on restoring civility to the office. He drew some criticism from some progressives for avoiding firm stances on pocketbook issues like student debt relief in favor of centrist bromides about deficit reduction and "consolidat[ing] federal data centers."
"Playing to the center or trying to out-Republican Republicans is not how you win swing districts," Ufot said.
"It doesn't matter if she's speaking to a big crowd or she's talking to you one on one ― you get Lucy."
To some degree, Ossoff was a victim of timing. Coming just months after Trump's election, his candidacy blew up first on Daily Kos and then more broadly.
He became a national liberal rock star, complete with regular appearances on MSNBC and high-profile support from progressive actress Alyssa Milano and other celebrities.
By the end of the race, Ossoff raised an eye-popping nearly $30 million. But the national attention and resources came at a high price: Republicans spent heavily as well, turning the race into a contest of partisan identity that Ossoff could not win in a district with so many registered Republicans.
Evans suggested that Ossoff lost not despite getting outsize attention and resources but at least partly because of it.
She emphasized that she did not blame Ossoff for the national tenor his bid took on, but "motivating your own base doesn't happen in a vacuum," she said. "If you do something to motivate your base, you may well be doing something that motivates the opposite party's base."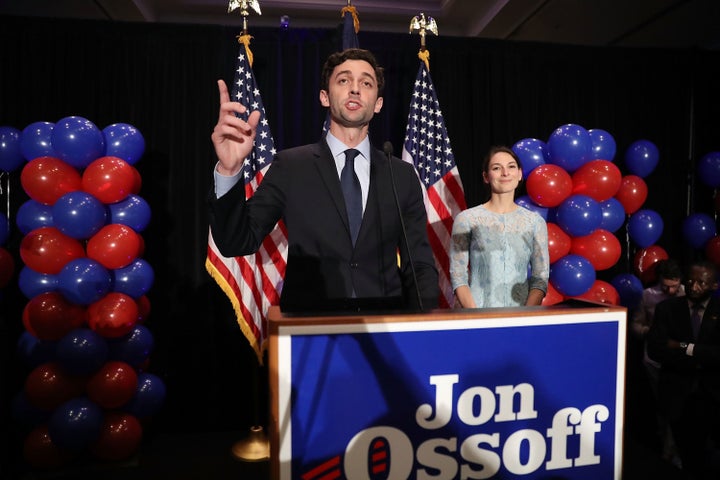 Ossoff's defeat was not a total loss for area Democrats. His candidacy prompted the creation of a sophisticated Democratic voter turnout operation driven by a base of enthusiastic volunteers that did not go away.
The infrastructure was there for McBath, a 58-year-old African-American woman and former Delta Airlines flight attendant, to take advantage of a year later.
"Jon laid incredible groundwork," Evans said. "Lucy was able to capitalize on the volunteer grassroots energy and put it to work."
She ran on a platform of tougher gun safety regulations, affordable health care, ensuring women's reproductive rights and preserving middle-class tax cuts.
Unlike Ossoff, who endured relentless attacks for living outside the district, McBath could point to an ongoing, deep presence in the community. In Cobb County, she helped create the Champion in the Making Legacy Foundation, which helps fund higher education for local high school graduates.
And while she won endorsements from former President Barack Obama, Clinton and EMILY's List, her contest was among more than 100 hotly contested congressional races, ensuring that she would not endure the counterproductive level of attention that Ossoff got.
Also, McBath had a compelling personal story that she connected to her moderately liberal policy stances. She was first thrust into the national spotlight in 2012 when her teen son, Jordan Davis, was shot dead by a white man at a Florida gas station angry about the volume of the music Davis was playing in his car. Her tragic loss spurred her into activism, as a spokesperson for gun safety group Moms Demand Action, and now into political office.
McBath spoke frequently about her son's death in arguing for the closure of background check loopholes and raising the minimum firearm purchasing age to 21, among other changes.
But she did not focus on gun safety to the exclusion of other issues. In a 30-second TV spot that came out in the final month of the race, she spoke about the tragedy as an event that inspired her public service without referring to guns at all.
"When my son was murdered, I vowed to make a difference," she says in the spot. "I will fight to protect women's health care and middle class tax cuts."
McBath is also a two-time survivor of breast cancer. She invoked her experience when making the case for defending the Affordable Care Act's protections for people with pre-existing conditions.
Swint said women were the key swing voters in the district. By virtue of her gender and the ordeals she had undergone, McBath could simply speak to those voters in a way Ossoff could not.
"Her personal story resonated with the female voters in that district. McBath connected with them," Swint said.
Notwithstanding Georgia's pro-gun conservatism, the proliferation of mass shootings has nudged many suburban women with conservative fiscal tendencies to embrace stricter gun laws. And though Georgia's 6th District is more than two-thirds white, constituents from communities of color may have found McBath's message particularly appealing. Polling shows higher support for gun control among black and Latino voters, who experience a disproportionate share of gun violence, than among their white counterparts.
"Talking about losing her son ... was able to connect her to a lot of mothers in the district who perhaps haven't had to lose their child to gun violence, but they worry about it," Evans said.
Before You Go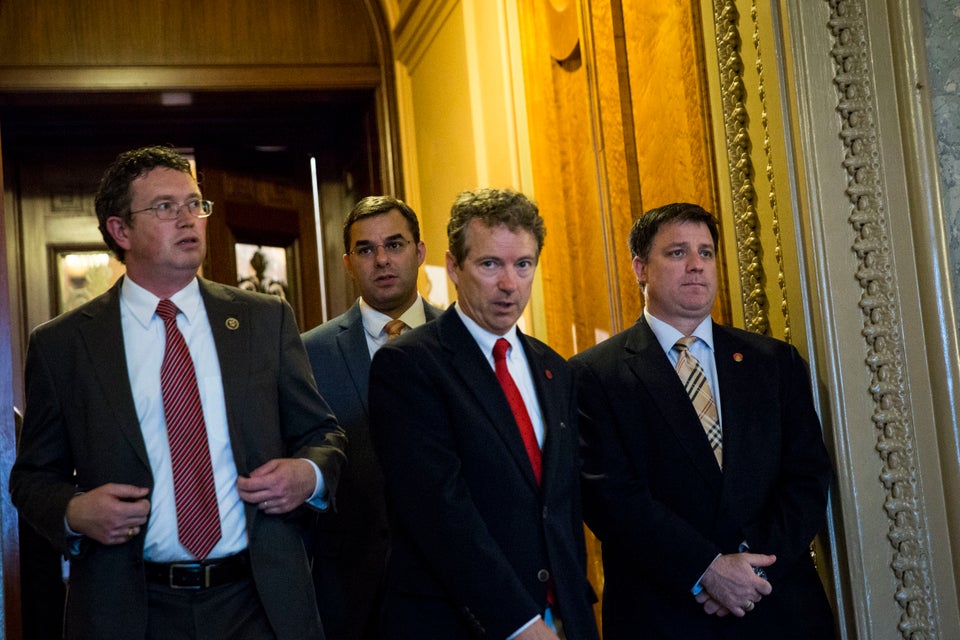 Scenes From Capitol Hill
Popular in the Community