Bucks County native David Ludwig's is from an illustrious family of musicians (his grandfather was legendary pianist Rudolf Serkin), but he has been on his own musical trajectory as a composer. Along with a constant stream of commissions by orchestras, chamber groups and virtuoso performers, Ludwig teaches composition at the Curtis Institute of Music in Philadelphia.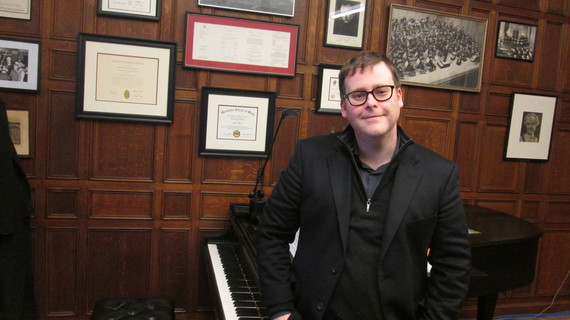 Composer David Ludwig at the Curtis Institute (LW)
Ludwig can add film composer to his list of achievements. In 2013, director Michael Almereyda asked Ludwig to compose the score for a modern adaptation of Shakespeare's Cymbeline, featuring a powerhouse cast including Ethan Hawke, Ed Harris, Milla Jovovich, John Leguizamo, Penn Badgley and Dakota Johnson. Hawke starred in Almereyda's surreal 2000 film version of Hamlet.
Almereyda's update of Cymbeline's plot of warring royals and family conflicts is set against the backdrop of corrupt police and biker gangs. "He could have made a film with huge battle scenes. But actually he made it about people, love, conflict and all the great Shakespearean themes. Even though there are battle scenes at its core it's a very intimate film," Ludwig said in a recent interview at Curtis.
Cymbeline hits US theaters this month. Ludwig missed the film's premiere screening at last year's Venice Film Festival where it had great buzz.

"I've always been a huge Shakespeare and this is a marvelous play and it's not performed enough," he said. "Imogen, the king's daughter, is played by Dakota Johnson who has rocketed starring in Fifty Shades of Grey. Here she plays a very different character, very empowering and of course it's has that Shakespearean dimension," Ludwig said.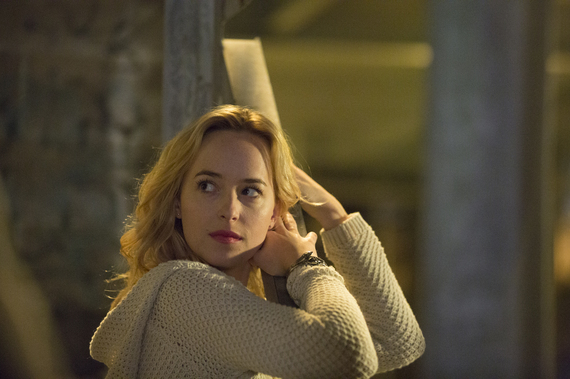 Dakota Johnson as Imogen (courtesy Lion's Gate)
Ludwig admitted scoring the film was a very challenging "learning curve" for him, "A film composer has to be highly responsive and flexible and have a thick skin to take some licks and get off the mat and keep writing, "admitting that as different as that was than composing for the concert hall.
For Cymbeline, it required composing 90 minutes of music in less than a month. As much as Ludwig said he loves the epic cinematic scores, but for Cymbeline he wanted to create a more intimate composition using classical and contemporary structure. "For this, the music needs to support, not overshadow," Ludwig said.
Many films rely on " very good sound technology, but I'm a live musician composer. And fortunately I had musicians available to make the recording. " Ludwig said writing film music "is a weird alchemy."

Almereyda and Ludwig collaborated throughout the composing process. "I had an ensemble of musicians who could produce big acoustic sound, but they also played with a chamber music intimacy. Michael would say things like 'this passage has great energy, but it's not what I'm looking for in this scene' and we found a common language."
In a throwback to the old studio days, Cymbeline's score was recorded in a studio in Philadelphia with musicians playing live to large screen monitors in the studio, wrapping it "In just eight hours. When you have musicians of this caliber it makes a world of difference."

He is a fan of film composers John Williams ("the gold standard") and Nina Rota, "who was on the faculty at Curtis." Ludwig cited Philip Glass' soundtrack to Koyaanisqatsi as an early influence. "he was a great inspiration for this film," Ludwig recalled, " I met him at Berkeley on a flight delay during Hurricane Sandy and I went to a performance of Einstein on the Beach. He suggested that I should write some film music. I took that to heart."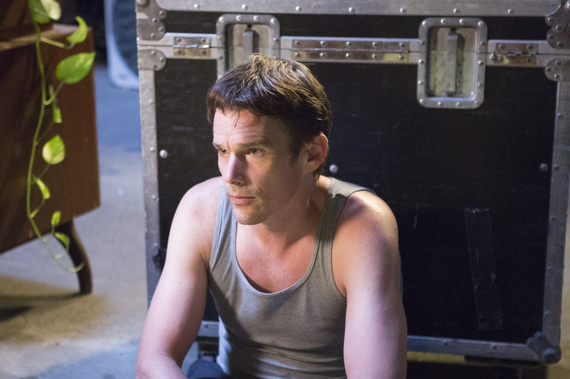 Ethan Hawke as Lachimo (LG)

Ludwig's next project is an oratorio based on ideas of conservation and environmentalism, a cause he is as passionate about as music,. "Everything I write I want to have some sort of message. I want it to have social significance," Ludwig said.

Cymbeline the movie opens on March 13, 2015 in theaters and on Video On Demand
REAL LIFE. REAL NEWS. REAL VOICES.
Help us tell more of the stories that matter from voices that too often remain unheard.