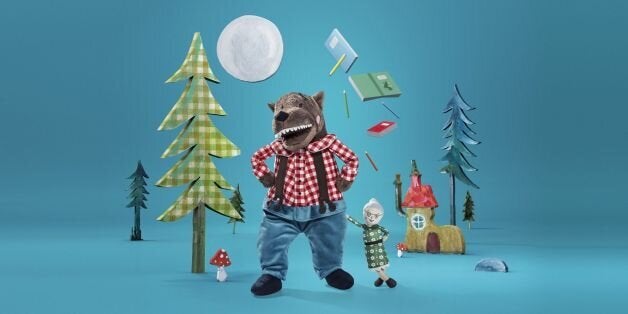 HONG KONG -- People here have been known to line up for limited-edition Hello Kitty toys, designer goods on sale, or food that has become the latest fad. But for the first time on Monday, crowds flocked to the territory's three IKEA stores to jostle for a toy wolf with a profane name.
If that sounds unlikely and absurd, it is.
Yet the toy, which was made to resemble the wolf in the Little Red Riding Hood, has become an icon of protest against the highly unpopular government. At a town hall meeting on Sunday, a protester threw a Lufsig toy -- whose name in Cantonese, Lo Mo Sai, sounds like the offensive phrase "mom's c***" -- at Hong Kong's chief executive, Leung Chun-ying. "Throw Lo Mo Sai" in Cantonese sounds like "f*** your mother."
The toy became an overnight sensation, dominating social media, discussion forums and even the mainstream media. Lufsig now has a dedicated Facebook page with more than 30,000 "likes."
It was while looking at coverage of the protest that I came across the stuffed wolf. At first, I could scarcely believe the creature's name and had to check for myself. When I clicked on the IKEA website for mainland China and saw the words Lo Mo Sai, it was a "punch the air" moment. I was amazed by the serendipity of it all. It seemed like Lufsig was meant to be used as a tool of protest against Leung, who is widely referred to as "The Wolf" or "Wolf Chun-ying," a wordplay on his surname, which resembles the Chinese word for wolf.
I was clearly not alone. On Monday morning, I was already receiving text and photo messages from friends who had hit IKEA to get their hands on the coveted toy. When my friend Ruby said she was going to IKEA and asked if anyone was interested in the toy, I happily signed up. But by noon, reports of low supplies were coming in. And by early afternoon, disappointed shoppers thronging to the stores were being told they would have to wait.
Staff at IKEA stores had already resorted to referring to Lufsig as "that stuffed toy" to avoid accidentally swearing, Ruby said. She traveled to an IKEA store about an hour away from her home, only to find that the toy was sold out. Staff told her the same thing at another store on the other side of town. They advised customers to wait an hour for replenishments.
Since it's Hong Kong, the customers formed an orderly line and waited. The first person in the line tried to buy 200 toys, most likely to sell them at a marked-up price, Ruby said, although he ended up making do with 20. But she added that most of the more than 100 people in line were genuine buyers who just wanted a toy for themselves or their friends. I was relieved to learn she eventually managed to buy five Lufsigs, one of which she'll pass on to me.
I have to admit that I've had the nagging feeling that there's something wrong about my interest in the Lufsig toy. I don't use the word c*** in English or in Cantonese, and I've always hated using the word "mother" in curses and insults. So it came as something of a relief to learn that Ruby shared my misgivings and revealed that she, too, saw the Lufsig phenomenon as something of a guilty pleasure.
The confluence of crude innuendo and a perfectly calibrated act of protest has somehow transformed Lufsig from a soft toy with a dodgy Cantonese name into a vessel with multiple meanings. Possession of a Lufsig toy, or a desire to possess one, signifies a shared hunger for fully democratic elections for the city's leader and legislature, as well as a shared frustration over what Hong Kongers say is an unresponsive and incompetent government. The wolf is an embodiment of people's demands.
Lufsig mania has its critics -- those who see a bunch of lemmings blindly following the latest fad or view the mass purchasing of the toy as symptomatic of a collective mental illness. I see it more as a manifestation of a Chinese saying, "to find merriment in bitterness."
Even as I was relishing the dark humor of Lufsig, I was trying to figure out why I found him subversive. It was only after talking with Ruby that I realized that Lufsig, or Lo Mo Sai, had bypassed the very profanity of the phrase its name resembles. The name no longer seems like an aggressive, misogynist insult -- it has become a symbol of solidarity and protest. I can't wait to receive the toy, which has so quickly become an icon in our society.
Popular in the Community