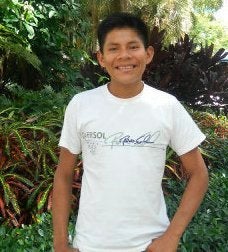 After shooting himself in the groin with his father's rifle at age 9, Luis Canelos is coming to the United States to "become whole again," according to The Miami Herald.
Now 17 years old, Canela is undergoing a "phalloplasty." In other words, he's getting a new penis.
A non-profit organization known as the International Kids Fun Wonderfund is helping raise $50,000 the surgery will cost, while the Ronald McDonald House provides housing, according to Fox News Latino. Two medical teams will instruct a new penis using "a fibular bone from a cadaver," and doctors expect the surgery will provide the teen with functioning genitalia, which will allow him to "father children," according to The Miami Herald.
The charity of others will change this teenage boy's life dramatically, because his family was unable to pay for the surgery themselves. "I want to recover my body, be young again," Canelos told the Herald.
The Wonderfund is providing financial assistance, "not only because of the physical situation but also because of the emotional side effects that come with the situation," Executive Director of the Wonderfund, María Luisa Chea, told The Miami Herald.
This is the Canelos family's first visit to the United States, and they are very thankful to the donors who made the surgery possible.
"I never thought I could get this far," Canelos said. After the surgery, he says he will "seguir adelante" or "move forward."
The teenage boy is expected to return home to Peru in September after his surgery in August.
Check out these strange X-Rays...
PHOTO GALLERY
Wild X-Rays And Medical Photos
REAL LIFE. REAL NEWS. REAL VOICES.
Help us tell more of the stories that matter from voices that too often remain unheard.
BEFORE YOU GO