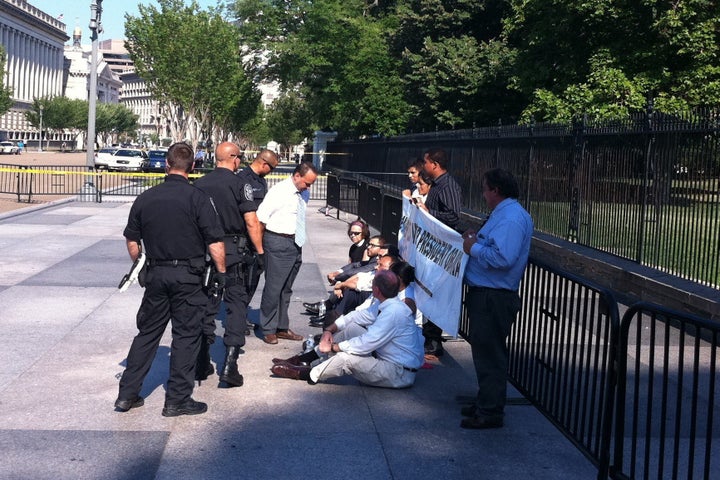 WASHINGTON -- Rep. Luis Gutierrez (D-Ill.) and 10 other immigration reform supporters were arrested in front of the White House on Tuesday for protesting against the Obama administration's deportation of young people and families.
Gutierrez has been arrested for protesting twice before -- once, in the mid-1990s, against the bombing of Vieques, Puerto Rico, and again in 2010 against the Obama administration's deportation record.
On Tuesday, he and other deportation critics sat down in front of the White House with a sign reading "One million deported under President Obama." After about 20 minutes, they were arrested by U.S. Park Police. The 11 protesters will be processed and then released after paying a small fine.
Gutierrez was joined by Deepak Dhargava, executive director of the Center for Community Change; Gustavo Torres, Delia Aguilar, Renato Mendoza, and Fernando Garavito of Latino advocacy group CASA de Maryland; Scott Roberts of Progressive Maryland; student activist Jerry Torres; Reverend Lorena Hernandez, and Ana Garcia-Ashley and John Norton of religious advocacy group Gamaliel.
Hundreds of Latino advocates and immigration reform supporters gathered to watch across from the White House in Lafayette Park after a rally against deportations. Adam Luna, political director for advocacy group America's Voice, said the crowd was moved by watching the arrests.
"These are people who are afraid of the police every day, watching their leaders get arrested and speak truth to power," he said. "You were seeing people with their hands over their hearts, just listening intently. It was a really big deal to them."

Popular in the Community