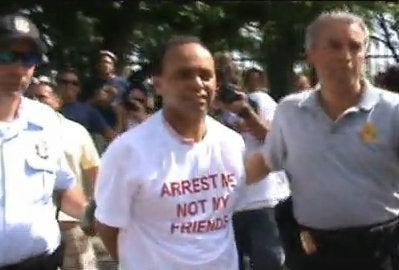 WASHINGTON (AP) -- About 35 immigrant advocates, including a nun and a U.S. congressman, were arrested in front of the White House fence Saturday after sitting down and defying orders from police to move.
U.S. Rep. Luis Gutierrez of Illinois was among those taken away with his hands tied behind his back in plastic restraints.
Many of those arrested Saturday held letters that spelled out the message: "Obama, Stop Deporting our Families."
Gregory Cendana, the 23-year-old president of the United States Student Association, said he was getting arrested for two close friends and his parents, who came to the U.S. on a visa from the Philippines.
Cendana, who said this was his first arrest, took two deep breaths before answering a question about whether he was scared.
"I feel the love and excitement from everybody here today and I'm trying to draw strength from that," Cendana said.
Others wore tee-shirts or held signs saying "We are All Arizona," a nod to the state that recently adopted a tough and controversial new law aimed at curbing illegal immigration.
The new law requires local law enforcement to question people about their immigration status if there is reason to suspect they're in the country illegally, which supporters say is necessary because the federal government has failed to secure the borders. Opponents of the measure, including a crowd that filled roughly half of Washington's Lafayette Park, say the measure is discriminatory and will lead to racial profiling.
Some, like Rep. Gutierrez, urged protesters to take something positive from the new law.
"Arizona has unified us," Gutierrez said, crediting the law with bringing focus and energy to the immigration reform movement.
Protesters saved plenty of anger for politicians -- President Barack Obama in particular.
Pedro Sanchez, a 37-year-old who is not in the country legally, carried a sign that mentioned Obama's children by name: "Malia, Sasha, what would you feel if someone separated you from your parents?"
Sanchez, a Maryland resident who entered the U.S. on a now-expired visa from Mexico, said he's the only one in his family who is here illegally and he worries that without action from the president, many states will follow Arizona's lead.
"I worry this will be a domino effect," Sanchez said. "You know, once one falls, the others start falling behind it."
Event organizers estimated thousands of protesters turned out to rally at Lafayette Park, urging Obama to fulfill his campaign promises to push for immigration reform.
Kim Propeack of the immigrant advocacy group CASA de Maryland said organizers had distributed 1,000 metro cards to people attending the rally and sent 40 chartered buses from Maryland carrying about 1,800 people. Another nine buses came in from Virginia and others came to Washington on their own.
Obama was to return to the White House around 2:40 p.m. after speaking at the University of Michigan. Two Marine helicopters flew overhead, but it wasn't clear if Obama was on board.
Protesters are usually required to stay in motion when demonstrating so close to the White House, according to U.S. Park Police spokesman Sgt. David Schlosser.
He said all those arrested were being processed Saturday evening at a U.S. Park Police facility, and it was not yet known when they would be released.
Popular in the Community