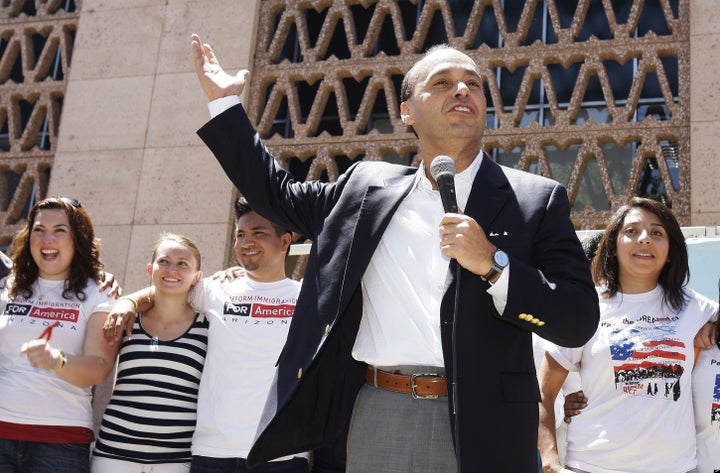 On the record, congressman Luis Gutierrez still isn't sure whether or not he's going to run for mayor of Chicago.
But at the Mexican Independence Day Parade on Sunday, he didn't appear like a man undecided.
Dozens of volunteers wearing "Gutierrez for Mayor" shirts and carrying banners emblazoned with the phrase marched with the congressman through the Little Village neighborhood. Many of them circulated through the celebrating crowd, passing around petitions to support Gutierrez's candidacy, the Chicago Tribune reports.
Speaking to the media, Gutierrez also sounded very much like a mayoral candidate.
"I'm focused on a vision for the city that asks how do you create more jobs, develop better schools and keep the streets safe," Gutierrez said before the parade began. "These are the ingredients for success."

...

"There is a very short time to set all this in motion," Gutierrez said. "We're here to see the reaction of the crowd and hopefully get a lot of signatures."

Any mayoral candidate would need to collect 12,500 signatures by November 22nd. Gutierrez told the Tribune that he had ambitious goals for the parade day.
''I'll make a decision about making an announcement for mayor sometime in the near future, but today what I'd like to see is can a candidate in one day get the requisite 12,500 signatures,'' Gutierrez said.
In his nine terms in Congress, Gutierrez has been known as an outspoken advocate of immigration reform. He was arrested earlier this year at a protest of the White House's immigration policies. A story in The Hill this weekend reported that his departure for City Hall would be a loss for advocates of reform in Washington.
According to the Chicago Board of Elections, Gutierrez could run for mayor while keeping his seat in Congress; only if he got elected would he have to resign.
Calling all HuffPost superfans!
Sign up for membership to become a founding member and help shape HuffPost's next chapter