WASHINGTON -- Earlier this week, a key element of President Barack Obama's executive action on immigration, which substantially increased deportation relief for roughly 4.1 million people, should have gone into effect.

It didn't, but the most outspoken immigration advocate in Congress is optimistic about the future.

Rep. Luis Gutierrez (D-Ill.) told The Huffington Post that the public debate leading up to the 2016 presidential election will change everything, particularly since two of the major contenders, Democratic candidate Hillary Clinton and Republican potential candidate Jeb Bush, have voiced support for immigration reform.
"You get the Republican and the Democrat nominee. Hallelujah, we made it to prime time," Gutierrez said. "Our issue now is center. It's national. No one can walk away from it. Hillary is speaking about it, Jeb Bush is speaking about it, the Republicans are speaking about it."

Obama's executive action is stalled because 26 states brought a lawsuit claiming that the new Deferred Action for Parents of Americans program would hurt them. DAPA would allow work authorization and temporary, renewable suspension of deportation for undocumented immigrants who are parents of U.S. citizens or lawful permanent residents.

Gutierrez said he had helped in preparing some 13,000 people in Chicago alone to apply for deportation relief this week.
Though disappointed about DAPA's delay, he sees the larger cause of immigration reform moving forward.

"Regardless of what happens in the court, regardless of what the Republicans do, this will be an issue that will need to be debated November 2016. People are going to go to vote," Gutierrez said.
"You know what they're going to be thinking?" he added. "They're going to be thinking, 'Who will protect the millions of people under the president's executive order? Who's going to expand it?'"

If Clinton is successful in nabbing the Democratic nomination for 2016, Gutierrez suggested he'd be on board, citing her promise to be more expansive in granting American citizenship to the undocumented.

If it's Bush for the Republican nomination? Gutierrez said the former Florida governor's stance on immigration is "almost better" than Clinton's.

"I think better than that, because it's another Republican, is Jeb Bush," Gutierrez said. "While he was really screwing up with the whole issue of Iraq, he said, 'I want to eliminate DACA and DAPA, but I'm not going to do it until I find a substitute for the folks that are in the DAPA and DACA programs,' which are the executive orders of the president. In other words, 'anybody impacted by the executive orders of the president in a positive nature, I'm for.'"
DACA, or Deferred Action for Childhood Arrivals, is another program that allows young undocumented immigrants brought to the U.S. as children to seek temporary deportation relief and work permits. Obama expanded the program in his November executive action.
Bush did say he wants to replace DAPA and DACA with other reforms, but he hasn't clarified whether he would make sure those reforms were in place before ending the programs.
Still, Gutierrez argues that "everybody is evolving" on the issue.
"I remember Hillary, when the children first came to the border, and Hillary said, 'Oh, they can't just show up. They have to be sent back home.' She's not there anymore. You remember when in 2008 they asked Hillary a question about driver's licenses for the undocumented? She was paralyzed. 'Oh my God. I don't know. I don't think so?'" Gutierrez recalled.
"Here's the good thing. Democrats and many Republicans, they're not there anymore. There's a lot less confusion about the way forward on immigration reform," he said.
For his part, Gutierrez said he will continue to help as many undocumented immigrants as he can get their birth certificates, IDs and other papers in order so they're ready when the lawsuit is over and, he predicts, won by his side.
Jesse Rifkin contributed reporting.

Before You Go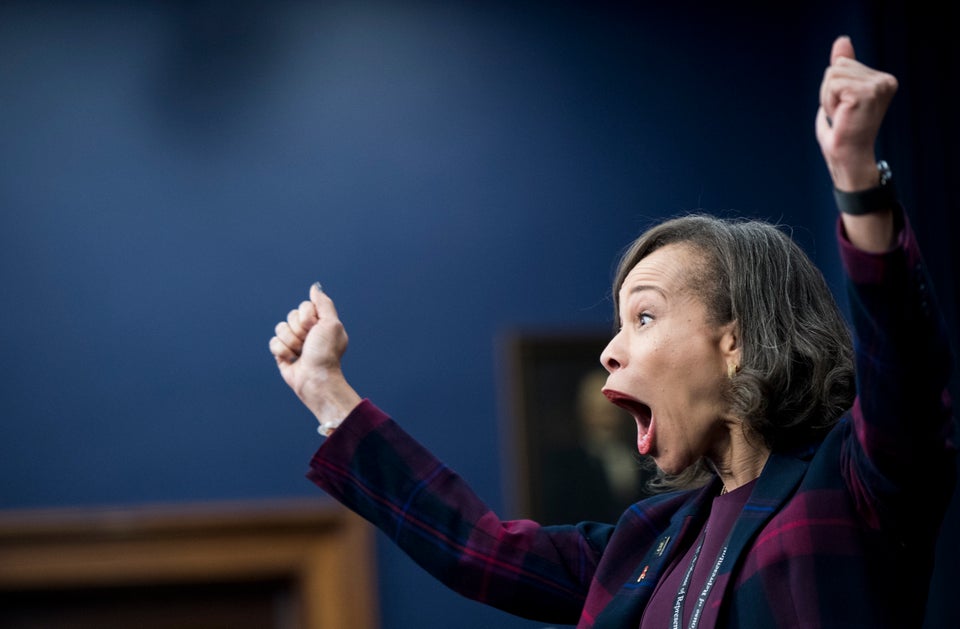 Scenes From 114th Congress And Capitol Hill
Popular in the Community