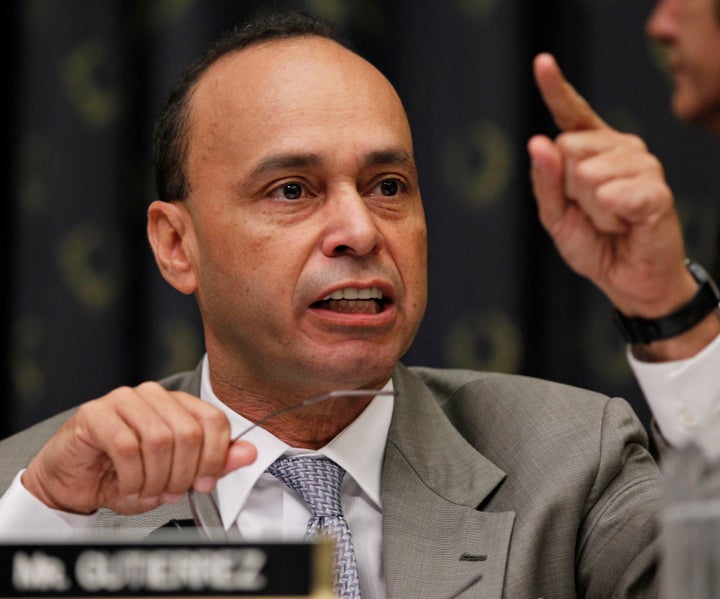 WASHINGTON -- In a meeting with bloggers last week, longtime immigrant rights advocate Rep. Luis Gutierrez (D-Ill.) said President Barack Obama should not count on Latinos to vote for him in 2012 unless he takes executive action to stop some deportations.
The Obama administration has said repeatedly that it has no options for halting the deportation of either undocumented students or the family members of citizens, even though it has frequently cited its use of discretion in immigration enforcement. Although the government says it prioritizes deportation of undocumented people who are considered threats to society, young men and women who grew up in the United States, as well as the parents and spouses of citizens, are still deported.
The main demand is to block deportation of families and young men and women who would benefit from the DREAM Act, a failed bill that would have allowed some undocumented people who entered the U.S. as children to gain legal status and attend college or join the military.
Gutierrez, who carries considerable clout among Latinos, is touring the country under the banner "Change Takes Courage" to rally support for administrative relief from deportations.
He said in order to win support, Obama should create deferred action or parole for DREAM Act-eligible young people, allowing them to live and work in the U.S. until Congress acts on immigration reform. Instead, the administration often carries deportation proceedings to nearly the last minute, then allows an immigrant to stay after public outrage.
"They stop the deportation when you do a little petition. When Change.org does a petition and gets a few hundred signatures, they stop the deportation," Gutierrez said. "Don't tell me you ain't got the power."
Senate Democrats, including Majority Leader Harry Reid (D-Nev.) and Majority Whip Dick Durbin (D-Ill.), called in April for Obama to stop deporting DREAM Act students.
Gutierrez is also pushing for the president to create a new definition of "extreme hardship," a classification for men and women applying for legal status for their family members.
Separating families should be considered "extreme hardship," he said.
Gutierrez acknowledged that exercising executive power ran the risk of a legislative backlash from Republicans, but said that should not be an excuse.
"Anything that you put in to safeguard people, then they're going to take it away from you -- then why did we put you there?" he said.
Gutierrez said the first sign of Obama's triangulation strategies on immigration came in 2007, when the then-senator voted for a border fence between the U.S. and Mexico.
Latino leaders in Illinois were furious, and Gutierrez said Obama called him for an explanation.
"I should have known something then," he said. "He didn't get it, but he said to me, 'I've got to show the Republicans that I'm someone that they can work with.' It's still the same person."
The problem, Gutierrez said, is that Obama continues to court Latino votes despite failing to follow through with immigration reform, which polls consistently list as among the top five issues for Latino voters.
Gutierrez said he thinks Latinos should vote for Obama in 2012 -- but only if the president first takes actions to relieve deportation threats for families of citizens and would-be DREAM Act beneficiaries. He said Latino voters should put their votes in a metaphorical lock box and only let them out if and when Obama makes progress on immigration reform.
Gutierrez said Latinos are unlikely to vote for the Republican Party, which has decried what it considers "amnesty" for illegal immigrants, or for alternatives such as the Tequila Party organized to rally Hispanic voters.
"It's not about voting for the Tequila Party and it's not about voting for Republicans," he said. "I don't see Latinos doing that. What I see them doing is staying home."
A boycott by Latino voters could hurt Obama in the end, he acknowledged, but he said the issue is too important to ignore.
"It's always the same conversation: If we do too much it will hurt Obama?" he said. "Civil rights and human rights movements cannot be so closely aligned with parties because they're going to eventually have contradictions. I think of Rosa Parks and I think of her getting on that bus and saying, 'Will this upset the Speaker?' ... They didn't think about what was going to happen to a particular party. They moved."
Popular in the Community