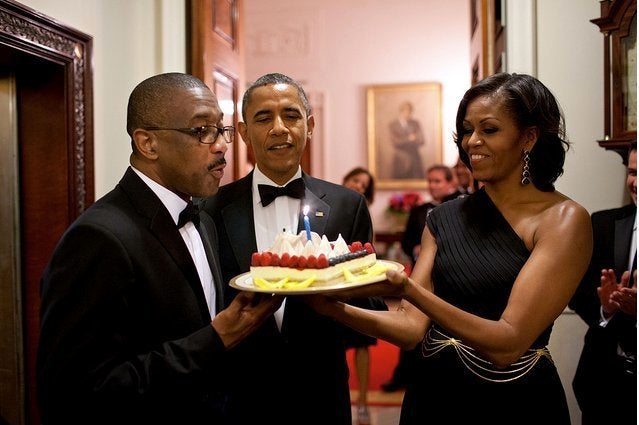 One day after reports surfaced in English-language publications that an adviser to one of Puerto Rico's top political officials sent a tweet to President Barack Obama, complete with a birther reference and what some say amounts to racist language, Rep. Luis Gutierrez (D-Ill.) called Thursday for Puerto Rican officials to remove the woman from the government's payroll.
Last week, a tweet from an account that belongs to Obama announced that "Someone has a birthday coming up," above a photo of the president and First Lady Michelle Obama. Heidi Wys, an adviser to Puerto Rican House of Representatives President Jennifer González, responded: "Who cares." (CHECK OUT THE ENTIRE TWITTER MESSAGE STRING AT THE BOTTOM OF THIS STORY)
"Take her to Burger King, buy her a sundae with double banana, take her to your homeland, Kenya!" she wrote on Twitter.
The tweet appears to play on racial slurs and the inaccurate claim that Obama was not born in the United States. Only natural-born U.S. citizens are eligible to serve as president.
Wys has tweeted separate messages questioning the real location of the president's birth. Wys, who is white, has described herself on Twitter as someone of German origins who deeply dislikes Obama and wants to see him defeated. In subsequent tweets she has described herself as someone who is not a racist and whose favorite nieces are black.
Wys' most recent message has been described as a racist embarrassment by multiple Puerto Rican lawmakers living on the island. Several have called for Wys to resign. However, González has declined to answer direct questions about the matter.
On Wednesday, González's spokeswoman, Marieli Padro, declined to answer questions about whether Wys would remain in her job. New York City Councilwoman Melissa Mark-Viverito, who was born in San Juan, Puerto Rico, also called for González to fire Wys this week.
But Gutierrez, a Democrat who hails from a Chicago-area Puerto Rican family, is the first member of the U.S. Congress to wade into the controversy. On Thursday, Gutierrez sent a letter to Gonzalez in Spanish calling for Wys' "immediate dismissal." González is a Republican.
Since 2008, Wys has earned $630,000 in her role as an administrative consultant to González, according to an Associated Press review of public records.
Gutierrez also wrote to the president and first lady Thursday to, "share his outrage," about Wys' tweet. Gutierrez described the message as "racist and despicable," and said in the letter that he thought it particularly important to express his concern as a Puerto Rican.
Gutierrez also informed the Obama's of his call for González to fire Wys.
Puerto Rico is officially a commonwealth with its own House, Senate and governor. It is also an unincorporated territory of the United States in which residents cast votes in presidential primaries but can not participate in the November general election. Popular in the Community