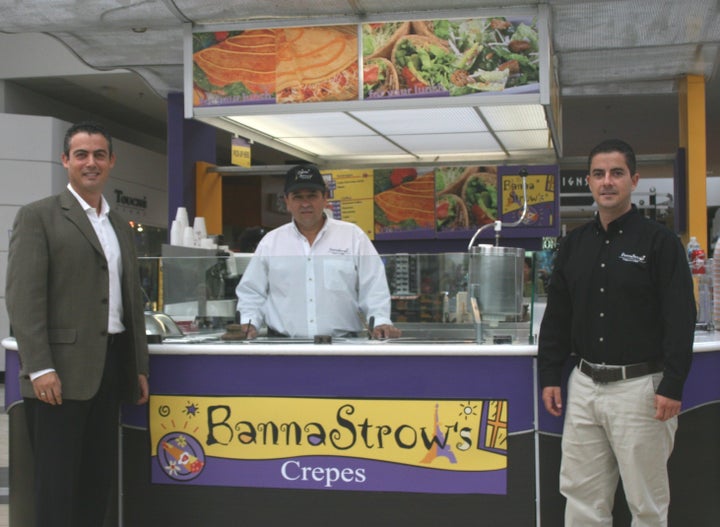 Around 11 a.m. on May 30, 1999, Luis Iragorri, then the owner of several franchised restaurants in Cali, Colombia, became an unwitting participant in a news story that made international headlines.
While in church, he, his two youngest children and about 120 other parishioners were kidnapped by the guerilla army, National Liberation Army ELN.
After fighting daily to survive, Iragorri, 52, moved to Miami, where he is now a co-founder of BannaStrow's, which sells crepes and coffee. There are currently six franchise units open in Florida, with five more opening within the next six months and another 100 in development. Though the business is growing, that it exists at all is something Iragorri is grateful for. After all, if things had worked out a little differently ...
About two hours after being hauled up to a small village in the mountains and herded into a building that seemed to be a gymnasium, the guerilla army began separating about 80 men from the women and children. When one of the guerillas told Iragorri to move away from his 3-year-old son, Daniel, and his 6-year-old daughter, Marcela, he protested.
At that moment, the guerilla pointed his gun to Iragorri's head and barked, "Either you start walking, or I will shoot you right here in front of your children."
Iragorri obliged, knowing that trying to play James Bond would just get him and his children killed. His children were distraught, as all the kids and adults in the building were. Women and children were screaming. Men were yelling. It was a nightmare in the middle of the day.
Thirteen years later, it's still difficult for Iragorri to discuss.
"Whenever you think your day isn't going well, you just remember this," said Mauricio Acevedo, a business partner and co-founder who also translates for Irragori.
Several hours after Irragori's kids were taken away, one of the guerilla army guards loaned him a radio, and he heard on the news that the women and children were liberated, which gave him hope for his own kids. Three days later, the Colombian government sent an army plane overhead, dumping newspapers on them, hoping some might reach the captors and give them hope. It did. Iragorri found a newspaper with a photo on the front page, showing his son being handed to his wife, Margarita.
After that, Iragorri's personal motto would be Sobrevivir, which translates, "I need to survive." He vowed to eat everything his captors gave him and do his best not to get sick. "If I would have gotten sick, I would have died," Iragorri said.
Iragorri was split into a smaller group with 10 other men and, for the next six months, moved to a new camp every night. Freezing, Iragorri kept himself alive by stuffing newspapers into his clothing for warmth. Meanwhile, the number of kidnapping victims grew smaller as family members handed over ransom payments.
It took Iragorri a while to be released because his kidnappers were slow to understand that he was a franchisee -- they thought he was a franchisor, owning the entire system, and believed he was far wealthier than he actually was. Margarita came into the mountains 18 times to negotiate with the guerilla army before they would accept the ransom and let him go.
Several months later, Iragorri was threatened by the kidnappers again -- who didn't appreciate Margarita denouncing them in the news. In 2000, Iragorri obtained a visa for his wife and kids and moved to the United States, where he was given political asylum and was allowed to apply for American citizenship, which he will finally achieve next year.
But his kidnapping reverberated badly in so many ways. Not only did he arrive in America with virtually nothing, he had to shut down the restaurants he owned. About 140 people were put out of work when Iragorri fled the country.
After Iragorri and his family moved to Miami, he considered how he would make a living. He hoped to do something in food, since that was his background. He didn't have the money to buy a franchise, and he knew if he started one, it could be a fool's errand to open up another burger, pizza or chicken joint and compete with all the established eateries on every corner. He started brainstorming ideas for a food that could be eaten during any time of the day, something easy to operate and that wouldn't be labor intensive. And he wanted a food product where he wouldn't be fighting against an army of competitors. Ultimately, he came up with the idea of selling the public on crepes.
"It's the perfect product for a successful food concept," Iragorri said.
But being practically penniless and not knowing the language, Iragorri needed some help to get his company going. He found the help in Juan Estrada, whom he had worked with as a franchisee. Estrada introduced Iragorri to Acevedo, and in 2003, the three men opened BannaStrow's -- a play on banana and strawberry, their two initial key ingredients in the crepes.
In 2009, they started franchising, selling the BannaStrow's units for $130,000 to $195,000, with a franchise fee of $30,000. "Everyone who tastes the crepes comes back," Iragorri said.
And if the crepes don't catch on? Well, Iragorri has been through worse.
Names: Luis Iragorri, Mauricio Acevedo, Juan Estrada Company: BannaStrow's Ages: 52, 41, 30 Location: Miami Founded: June 2003 Employees: Six 2012 Projected Revenue: Not disclosed Website: http://www.bannastrows.com
Calling all HuffPost superfans!
Sign up for membership to become a founding member and help shape HuffPost's next chapter