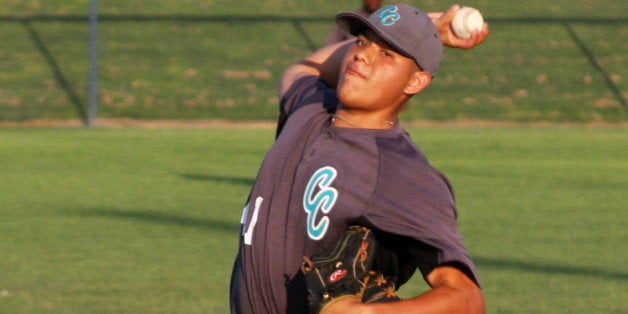 Luis Ortiz is not yet a household name yet, but that may change soon enough.
For now, the 6-foot-3 Ortiz is the prodigious 18-year-old pitching prospect from Sanger High School in Fresno, Calif., who throws a devastating slider and a fastball that approaches 97 mph. Ortiz was recently named the MVP for Team USA in the U-18 World Tournament. Perfect Game USA made him the first pitcher to take the top overall spot in highly competitive California, and ranked him ninth-best high school player in the country. Baseball America, known as the gold standard of scouting services, currently puts him at 14th for all positions in a national ranking that includes college players.
Ortiz is considered an elite pitching prospect and a potential top-10 pick in next June's MLB draft. He talks eagerly about one day becoming an All-Star and returning home to take care of his mother and family. His senior year of high school, which includes a bundle of in-home visits from pro scouts, also includes a commitment to the classroom and friends. "I'm working my tail off right now in class," Ortiz said. "I go out and I stay humble."
His talent, while special, is aided by a commitment to honoring his late great-grandfather Santiago, who died three years ago. "He was the one who raised me," Ortiz told The Huffington Post. "When he passed, it took a lot from me. He came to me in my dream and he told me, 'A lot of people are gonna try to bring you down, and don't let that negativity bring you down.' From that day on, it woke me up."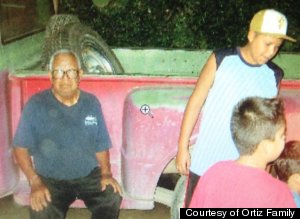 During games, Ortiz (orange hat) turns to his late "Abuelito" for help. (Courtesy of Ortiz Family)
The day his great-grandfather died, Ortiz signed a baseball -- the first he'd ever signed -- and placed it in Santiago's coffin with the promise that one day he would make it as a professional baseball player. The work that followed started with running every morning before school and losing 40 pounds to get down to a healthy 205. Today, Ortiz continues to honor his great-grandfather by carrying his old handkerchief every time he steps on the mound. "I made that promise," Ortiz said. "I always keep it in my back pocket. When I'm out there and I'm struggling, I talk to him. It helps me a lot and gives me the strength."
That strength stems from a deep spiritual bond that Ortiz still shares with his great-grandfather. "I ask him like, 'Abuelito, you know I'm struggling.' I reach back and get that extra help. 'I need your help,' and when I reach back and get that help from him, it always comes through for me. It calms me. It makes me focus more."
The focus starts before he even takes the field. "Before the game," Ortiz said, "I look into the mirror, and I'm like, 'All right, Luis. What are you made of? You're here for a reason. Show what you can do.'"
After Ortiz strolls to the mound, he writes his great-grandfather's nickname, "SANTI," in the dirt with his finger. He makes the sign of the cross, looks up at the sky, rubs his necklace and, according to his mother, finally says: "Let's play catch, Abuelito." Then he's ready to pitch.
Should he make it to the majors, Ortiz is confident he will never find himself alone on the mound.
"He will be there with me," Ortiz said. "It will be the same conversation I always have with my Abuelito."
Email me at jordan.schultz@huffingtonpost.com or ask me questions about anything sports-related at @Schultz_Report. Also, be sure and catch my NBC Sports Radio show, Kup and Schultz, which airs Sunday mornings from 9-12 ET, right here.
REAL LIFE. REAL NEWS. REAL VOICES.
Help us tell more of the stories that matter from voices that too often remain unheard.