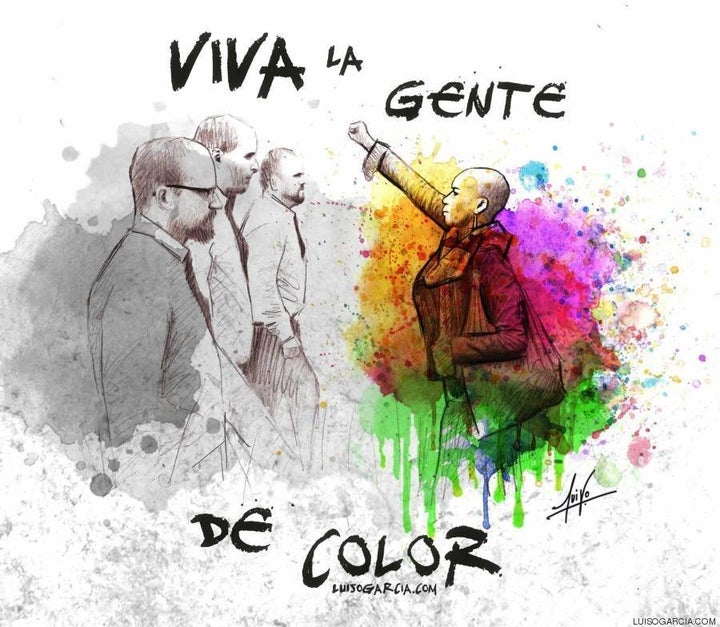 A photograph of Afro-Swedish activist Tess Asplund confronting hundreds of neo-Nazis at a rally in central Sweden has gone viral on social media -- and now it's inspiring tributes from around the world.
Spanish artist Luiso García created the above illustration as an homage to Asplund. The text in Spanish reads: "Long live people of color."
The original image, by photographer David Lagerlöf, shows Asplund with her head high and her right first raised in defiance as she stands directly in front of a group of marchers. The photo was soon shared around the world as a symbol of resistance to hate.
Asplund is involved in the organization Afrophobia Focus, which confronts and investigates discrimination against people of sub-Saharan African ancestry. She said she stood up to the rally on impulse. "I was thinking: hell no, they can't march here! I had this adrenaline. No Nazi is going to march here, it's not okay," she told The Guardian.
The marchers Asplund challenged belong to the Nordic Resistance Movement, an extremist group operating in Sweden, Finland, Norway and Denmark.
Asplund's act of protest is a reminder of how a singular image has the power to drive a conversation around the world.
A version of this post originally appeared on HuffPost Spain and has been translated into English and edited for a U.S. audience.
Popular in the Community