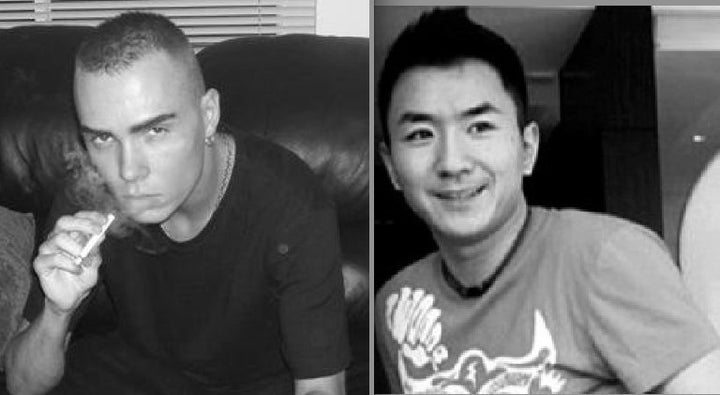 As headlines scream "cannibalism" and "dismemberment," everything else in the gruesome case of Luka Rocco Magnotta has quickly become overshadowed. And that includes details about his victim, 33-year-old Jun Lin.
Magnotta, the Canadian man who allegedly ate parts of his victim's body before sexually assaulting the dismembered torso, has quickly attained global infamy. People all over the world have watched the alleged acts, which police say Magnotta filmed and uploaded online. Copies might circulate on the Internet for the foreseeable future.
Yet in the case of other gristly crimes, savage acts have been seared into public consciousness, with the victims and their families going forgotten.
Take the infamous Milwaukee cannibal Jeffrey Dahmer. A necrophiliac who raped and dismembered many of his victims, Dahmer has been remembered by millions, but how many people can name a single victim of his? How many have heard of Anthony Sears, for example, or Raymond Smith or any of the 15 others he murdered?
The alleged crimes of this spring appear to be just as horrific. Montreal police believe Magnotta, a 29-year-old, low-budget porn actor, carried out Lin's brutal murder on or about May 25.
On May 29, Lin's torso was found in a suitcase near Magnotta's apartment. Later that morning, authorities were called to the headquarters of the Conservative Party of Canada to investigate a suspicious package. Inside, they found Jun's severed foot and a note, indicating a plan for another killing, police said. A second body part -- Jun's severed hand -- was found that night inside a package at the Ottawa Postal Terminal that was addressed to the Liberal Party of Canada.
Other body parts of Jun were found at the apartment building; his right hand and foot showed up earlier this week at two Vancouver schools.
The majority of the media coverage this week has focused on Magnotta and what police are calling his premeditated performance -- videos he posted online weeks, possibly months before Lin's murder in which he allegedly hinted at what was to come.
In March, a now defunct blog post allegedly written by Magnotta and titled "Necrophilia Serial Killer Luka Magnotta" appeared online. In it, he allegedly wrote, "It's not cool to the world being a necrophiliac. It's bloody lonely. But I don't really care, I have never cared what people thought of me."
A series of videos that authorities say Magnotta posted online after Lin's murder have recently been found online. In one that was posted to YouTube, Magnotta said, "what's up and hi to all my fans."
The most recent videos, however, pale in comparison to the one Magnotta allegedly filmed of Lin's murder and posted online. Titled "1 Lunatic 1 Ice Pick," the film is more than 10 minutes long. It shows a naked male being attacked with an ice pick and a knife. The victim is brutally stabbed multiple times, decapitated and dismembered. During the film, the killer masturbates with a severed arm, appears to devour a piece of flesh that he sawed from the victim's buttocks and has sex with the headless torso.
The Huffington Post acquired a copy of the video last week but it is too graphic to post.
A variety of experts have weighed in about this disturbing crime. There has been plenty of speculation about who, what, when, where and why.
Meanwhile, members of the distraught family of Lin -- his father, mother, sister and uncle -- traveled from Wuhan, the capital of Hubai province in China to Montreal this week to retrieve what remains of their loved one. Lin's head remains missing, but his torso, hands and feet have been discovered in various locations.
"We come to take you home now," Lin's mother said, according to CTV.
Yan Shi, the head of the Chinese student association at Concordia University where Lin was studying, said Lin's mother was so overcome by grief that she was barely able to stand.
"The entire scene was heartbreaking," Yan Shi told the Canadian Press. "Lin's mother was very emotional. She was crying the entire time. It's really terrible just being there. We didn't understand a word she was saying, she was crying a lot. She was barely walking. We had to help her."
Lin was in Montreal since last July, according to the Chinese consulate. He was enrolled as a undergraduate student at Montreal's Concordia University, majoring in engineering and computer science.
"On behalf of the Concordia community, I would like to extend our sincere condolences to the family and friends of student Jun Lin," Frederick Lowy, president and vice chancellor of the university, said in a statement. "We are saddened to learn of this loss of life and it has affected our community, especially those who knew him," Lowy said.
View photos of Luka Magnotta. (Story continues below.)
PHOTO GALLERY
The Luka Rocco Magnotta Case
When not occupied by his studies, Lin worked for Kankan Huang, the owner of a Montreal convenience store. Huang told the Blaze that Lin was a "responsible, polite cashier."
"[He was] so nice, humble and honest," Lakhany said. "He was really involved in his studies and never missed class."
Another friend, Pei Zhang, described Lin to CBC News as a "good person." Added Pei Zhang: "He was very gentle and positive. Always keep smiling."
On his blog on the Chinese website Weibo.com, Lin made no mention of his alleged killer. Instead, he discussed fashion, food, favorite TV shows, his beloved cat Andy and his feelings about attending school in Canada.
"Class is to begin soon," a posting from last year found by AP states. A photo of an empty classroom accompanies the entry. "I'm so nervous. Been out of school for so long," Lin added.
"I just realized I am 10 years older than my classmates," he wrote a month later. "They can call me Uncle. It's so crushing."
The blog, according to the AP, contains more than 1,000 entries, with a last one from May 16, roughly a week before the homicide. That entry, which does not appear to have any connection to the death, has attracted 40,000 comments.

Magnotta, captured in Berlin on Monday, faces charges of first-degree murder, committing an indignity on a dead body, publishing obscene material, mailing "obscene, indecent, immoral or scurrilous" material and criminally harassing Canadian Prime Minister Stephen Harper and several unnamed members of Parliament, police said.
Canadian justice officials this week sent a formal extradition request to Germany for Magnotta and wish to have Magnotta in custody soon.
"We hope that he can be extradited between now and the end of the month," German government official Martin Steltner told AFP.
It is not immediately clear when Lin's remains will be released to his family. The body -- all of the dismembered pieces that have been recovered -- is still considered evidence, according to police. As a result, members of the distraught family might return to China without their loved one's remains.
Various community efforts are being organized to help raise money for the Lins.
It's possible to donate to the Concordia University Chinese Students Association's Jun Lin Rest in Peace Foundation at any RBC branch. To learn other ways to donate, contact Yan Shi at 514-848-2424.
Calling all HuffPost superfans!
Sign up for membership to become a founding member and help shape HuffPost's next chapter
BEFORE YOU GO