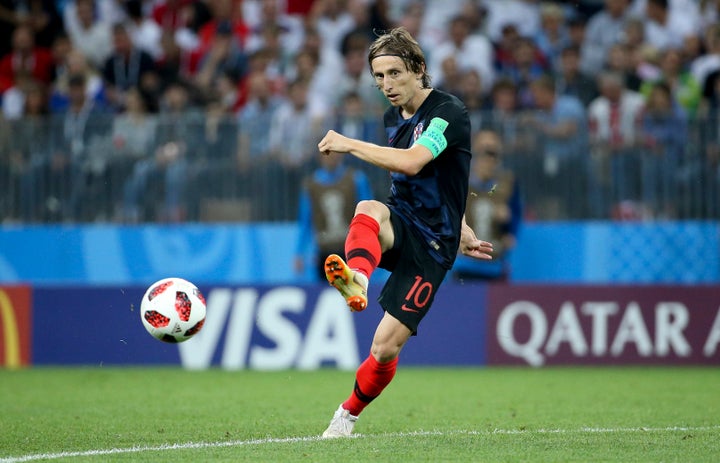 No one has played a more important role in leading Croatia to its first appearance in a World Cup final than Luka Modric. Croatia's metronomic central midfielder has dominated matches despite his slight stature, buzzing around the center of the field to both initiate the team's attack and solidify its defense.
Modric has been one of this World Cup's best players, and under normal circumstances, a Croatia victory over France in Sunday's final in Moscow might cement his legacy as the best player in Croatia's brief but proud soccer history.
But circumstances in Croatia and for Modric are hardly normal. Modric, in fact, is a polarizing figure back home ― simultaneously the player most responsible for the nation's best-ever performance at a World Cup, and the one whom many in the country have decided symbolizes everything that is wrong with Croatian soccer.
Modric has always been something of an exile in his own country. As a child, his family fled their home after his grandfather was killed by Serbian militia during the Balkan wars. For years they lived as refugees in hotels in nearby Zadar. His soccer career, too, was forged in opposition. Dismissed as too small to play the professional game, Modric's talents with the ball eventually became undeniable. Now, he has four Champions League titles for Madrid and is on the brink of bringing a World Cup home to a country that hasn't fully embraced him.
The perjury charges stem from Modric's role in a corruption probe that has rocked Croatian soccer for years, even though Modric himself has played his club soccer outside of the country for a full decade.
In June, just days before the World Cup began, a Croatian court convicted Zdravko Mamic, a powerful agent and former executive of the Dinamo Zagreb soccer club, on corruption charges. As The Independent reported, Croatian authorities asserted that Mamic had "claimed illegal profits on the transfers of Dinamo Zagreb players" ― including Modric and Dejan Lovren, who has started in all six of Croatia's World Cup matches this summer. As part of the scheme, Mamic apparently pocketed up to half of the transfer fees Zagreb was supposed to receive when Modric moved to England's Tottenham Hotspur in 2008 and Lovren switched to France's Olympique Lyonnais two years later.
Modric, who according to reports may have accepted the funds before passing them off to Mamic, was called to testify at Mamic's trial. It was a high-profile affair given that Mamic was among the most powerful men in Croatian soccer and had extensive ties to its president and other top political officials.
Modric had previously appeared to admit to knowing about the contract that benefited Mamic. But when asked about his role in the scheme at the 2017 trial, Modric demurred, telling a judge: "I told you then that I couldn't remember when it had been done."
Mamic was eventually convicted and sentenced to 6 1/2 years in prison, but some Croatian fans were nonetheless outraged that the nation's star player had appeared to help cover up the corruption at trial. The Independent reported in 2017 that Modric had received death threats, and fans of Dinamo Zagreb's rivals chanted anti-Modric slogans at the team's matches. "Luka Modric, you little shit!" they declared. A hotel where Modric had once lived, meanwhile, was spray-painted with the phrase, "Luka, you will remember this one day," the paper reported.
Not all Croatians hate their star. When it comes to Modric, "the public are divided," a Croatian journalist told Sky Sports this week. "On the one hand, there are those who claim that Modric could not be expected to know the specifics of the law. On the other, some claim that he is just as responsible as Mamic."
One fan showed up in Russia wearing a Croatia national team jersey emblazoned with Modric's No. 10. The back of the jersey, however, said "I don't remember" where Modric's name should have been, as ESPN reported.
Modric has not answered questions about the scandal in Russia, and he snapped at a British reporter who asked him about it prior to a group stage match, according to ESPN. "Nothing smarter to ask?" he said. "It's a World Cup, it's not about other things. How long did you prepare for asking this kind of question?"
Modric has carried Croatia at this World Cup. None of the team's players has completed more passes or scored more goals, and even when Modric has failed ― he missed a last-minute penalty kick against Denmark in the round of 16 ― he has quickly redeemed himself. In that match, Modric came back to bury a penalty during the shootout that put Croatia through to the quarterfinals. He made another spot kick in a quarterfinal shootout against Russia, then led the midfield that overran England in a come-from-behind semifinal win on Wednesday.
For Croatia to win its first World Cup title, Modric will have to play phenomenally again, especially against France's superstar-laden midfield. His squad and fans have rallied around the little wizard: After Croatia's dramatic win over Russia, a teammate scooped Modric up and lifted him in the air as he celebrated in front of traveling fans.
Only his role in one of the many corruption scandals plaguing global soccer, and the potential trial and prison sentence he may face, has complicated his legacy.
Modric, however, has maintained his innocence. Questioned by authorities last year over his testimony in Mamic's trial, he said simply: "My conscience is clear."
Calling all HuffPost superfans!
Sign up for membership to become a founding member and help shape HuffPost's next chapter