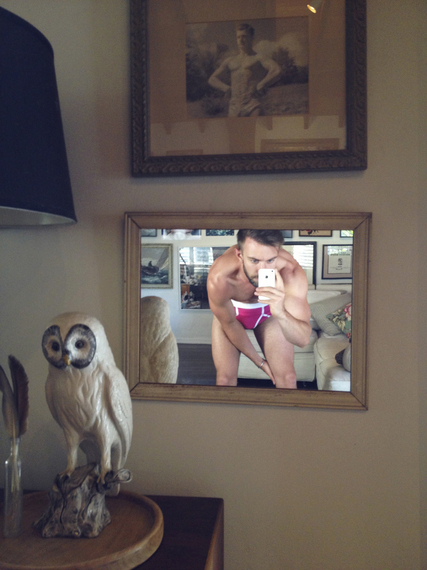 Luke Austin is something of an Instagram phenom. He grew in popularity as his Instagram account broadcasted his travels around the world meeting and photographing his followers, falling in love and getting married and his success as a working photographer. I got the chance to talk to Austin about his journey and his new book of photography, Beau Book, available online October 15, 2015. You can check out more work by Austin on his webpage, or, if you aren't already, you can follow Austin on Instagram @lukeaustinphotosthe3rd. In the meantime, enjoy this excerpt from our conversation.
Phillip M. Miner (PM): Hey, Luke! Tell me about this upcoming Beau Book.
Luke Austin (LA): It's from my 2013 trip where I left Sydney and traveled to 11 cities to photograph men I met on Instagram. I took 21,000 photos and my publisher got it down to 200 that appear in the book.
PM: How many guys did you end up meeting?
PM: That's a lot! How long were you traveling?
LA. For 5 months. In those 5 months, I didn't spend a single cent on accommodation. Everyone was so nice and let me crash with them. Its so nice to have a little group of friends across 11 cities now.
The book is laid out where every city is like a chapter with 3 pages of photos from my Instagram page to start each city. I originally wanted the photos from different cities to be mixed up, but this works better. Each city definitely has a different feel.
PM: Convincing 100 strangers to let you crash with them seems tricky. How'd you pull that off? Was it just through your Instagram presence?
LA: Lots of Instagram stalking. [Laughs] Everyone i contacted to shoot seemed really keen and open to the idea. Back in the beginning of 2012, somehow I quickly got to 10,000 followers, which was a big thing back then. Everyone was kind of like, "How the hell did he get to 10,000?" From that attention I met people really quick. By the time I started the trip I had about 20,000 followers.
I'm up to 90,000 now. I think a big part of that is people have enjoyed following the story. I don't post about one particular thing. I'm not just including photos of guys with abs, I try to post a variety. I also post about my life. I think people have responded well to that.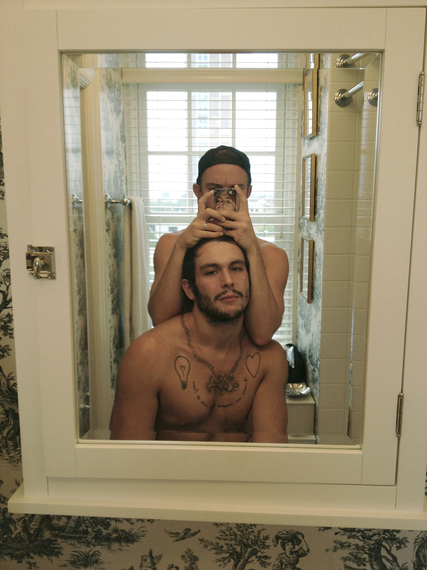 PM: You met your husband on this trip, right?
LA: Yes! LA was the first city on the trip i literally met Marcus on day 1 of the trip, at the airport. Coming in to every city it was always up in the air about where i was going to stay, but Marcus let me crash with him and I ended up staying 2 months. And, now we're married.
PM: Did you keep up with travel schedule or did you pause to explore that relationship?
LA: Yup, totally paused. I was meant to do a month in LA then go to Vancouver then Montreal then New York. I went up to Vancouver then cut out Montreal to come back to LA, so I could spend more time with him. Marcus also joined me in New York for a week. Now I look back at it and i go to marry him I think, "Oh! It would have been nice to have a Montreal shoot in the book" [Laughs]
PM: I think the world understands changing plans for love.
LA: Yeah, I mean the trip kind of changed its course from day one, after meeting Marcus. The focus became more about the photography which was great. It could have been one giant slut-around-the-world fest, but i ended up with a husband and a beautiful book out of it.
PM: You've put out 5 Mini Beau Books. How did you choose your themes for them?
LA: I really have no idea. It was one of those things where you're in the shower or about to fall asleep and they just come to you. The Runyon one came when I was deciding on a theme and all of a sudden Marcus and I decided to move to New York. I wanted to make a book that was really LA. I wanted to photograph the most muscle-y LA guys I could find in Runyon Canyon, in their undies, with a skeleton mask on their head [Laughs].
I chose the wig theme because I love wigs and thought that would be fun to shoot and play around with. Butts because, well, that ones obvious [Laughs]. I can't even remember thinking about the bed one. That was at a time when I wasn't even planning on doing 5 mini beau books. It's the first one.
Bed is the most popular and asked about one. It sold so quickly but i love that the books are limited edition. It's hard when you're strapped for cash and you have 10 people emailing every day asking you for your book. I could have so easily reprinted them,
I've applied for the LA Art Book Fair in February 2016. If I get that I'm going to make Bed 2 for all the people who want the bed one, but can't get Bed 1. Its fun watching naked guys read [Laughs].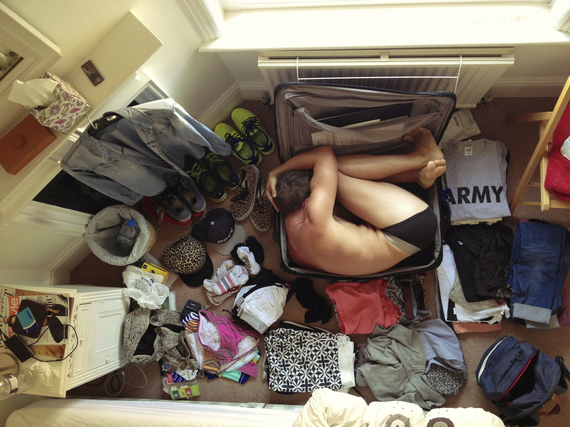 PM: Let's talk a little more about wigs.

LA: I love playing around with a wig, putting on a little bit of 'girl' is fun. Femme was fun to make. It's one of my favorites. Interestingly it was the least popular, which I thought was strange. I have no idea why. I was really happy with the shots and in my experience every gay loves a wig [Laughs].
PM: I was at the launch party for that book and I can confirm that's true. You mentioned it's important these are limited run. Could you talk more about that?
LA: When I lived in Sydney, there were magazines that i loved but didn't need to buy them because literally every shoot was posted on the Internet. I've made a point to not put images from the book on Instagram. I'll put outtakes from the books, but not the photos I'm using.
I like that people know the books are out there and are kind of intrigued by whats inside. but can't see them or flick through them because they aren't in stores. I like that there are only 800 people with the book. It makes them feel a little more special.
PHOTO GALLERY
Photography by Luke Austin [NSFW]
Calling all HuffPost superfans!
Sign up for membership to become a founding member and help shape HuffPost's next chapter