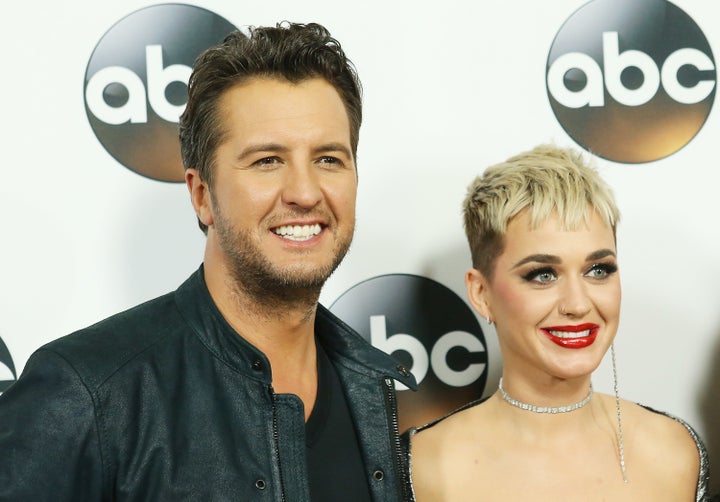 Luke Bryan thinks it's "unfortunate" that Katy Perry's controversial kiss on "American Idol" last week turned into such a big deal.
The "Chained to the Rhythm" singer faced backlash after she kissed a 19-year-old Idol contestant, Benjamin Glaze, who said he'd never been kissed. Glaze later told The New York Times that although he didn't feel sexually harassed by the singer, the kiss was still "uncomfortable." 
"It's unfortunate that stuff like that turns into a story that big," fellow Idol judge Bryan said in an interview with Australia's "The Morning Show." "I watched an actual interview where [Glaze] said that he was cool with everything." 
The country singer added, "And I gotta back Katy on that. You know she's in there working hard and making fun TV. And you know what, we're gonna get it right sometimes and get it wrong sometimes...At the end of the day, me, Katy and Lionel [Richie] and Ryan [Seacrest] ― our hearts are in the right place."
After the controversial kiss aired, the Times interviewed Glaze, who is now 20. He said if given the choice, he would've turned down Perry's surprise kiss. 
"I was a tad bit uncomfortable. I wanted to save it for my first relationship. I wanted it to be special," he said. "Would I have done it if she said, 'Would you kiss me?' No, I would have said no."  
Glaze added, "I know a lot of guys would be like, 'Heck yeah!' But for me, I was raised in a conservative family and I was uncomfortable immediately. I wanted my first kiss to be special." 
After the Times interview was published, Glaze posted a statement on Instagram March 15 that clarified his thoughts. 
"The way certain articles are worded is not done by me, and my true intentions are not accurately represented in every article you read about the situation," he wrote. "I am not complaining about the kiss."
He said he was "honored and thankful" to have been on Idol, and reiterated some of the comments he made to the Times. 
"I do not think I was sexually harassed by Katy Perry and I am thankful for the judges comments and critiques," Glaze wrote. "I was uncomfortable in a sense of how I have never been kissed before and was not expecting it."  
REAL LIFE. REAL NEWS. REAL VOICES.
Help us tell more of the stories that matter from voices that too often remain unheard.
BEFORE YOU GO
PHOTO GALLERY
Celebrity Photos