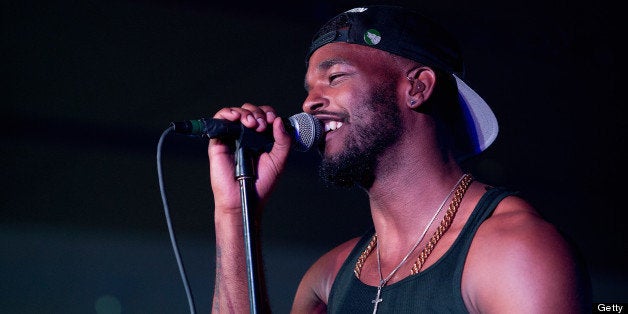 Don't let Luke James' recent recognition (or mild manners) fool you. Yes, the New Orleans-bred R&B crooner bypassed the local music circuit, landing instead on a national stage as the opening act for Beyoncé Knowles, but a blessing from Mrs. Carter herself doesn't just happen overnight.
James sat for a chat with The Huffington Post -- in between appearances around his hometown during the weekend's Essence Music Festival -- revealing how his latest gig came to pass and how he plans to use it to help shift the city's reputation of violence.
You've been all over the world and the country recently, how does that compare to performing here at home in New Orleans?
It doesn't compare. This is the place that I was born and raised, this is the very place that helped make me, that instilled the things in me that have taken me overseas. So to be able to give back, to perform in the city that I grew up in, amongst the people that I know, it's a tremendous accomplishment, a tremendous feeling.
Do you have time to connect with friends and family while you're here?
Not really. The first person I went to go see when I got off the plane was my mother. I always finde time for my mother. But when you're trying to have a show be right, for me, I try to stay still.
So no favorite places that you try to visit while in town?
My place I love to visit is mostly Uptown, St. Charles, Magazine St. I just love the environment, the trees. I'd love to ride the trolley. The last time I was here I was able to do so. That just brings back such a nostalgic feeling, what New Orleans really is.
How has that -- what New Orleans really is -- influenced your style as an artist?
Musically, my palette is ecclectic. There's a plethora of genres that I've been introduced to, but that's only because of the foundation that was laid growing up in New Orleans. I know it's a cliché thing to say, but it's very gumbo-like. You get that here. You can mix well with all different walks of life. That's what New Orleans is. It's like no other place. Musically, that's what I embody.
You seemingly bypassed the local music circuit and now you're opening for Beyonce on this national stage. That might lead people to believe that you've gotten this free pass. Tell us about the behind-the-scenes work that really got you here.
It's been a long time coming. The original goal was to pursue my artistry. It's been at least a solid 8 years, putting in a lot of work, hitting the pavement, networking, putting myself in places to be seen and heard. Even stepping away from being at the forefront and singing background, to even moreso behind the scenes writing the songs. But each vehicle was a different path to the same goal: my artistry. Nothing's overnight. Even like Justin Beiber, there are a lot of things his mother and family had to go through in order for that kid to be where he is today. Somebody had to pay their dues. I paid my dues. I'm paying my dues.
PJ Morton is the other R&B crooner on the lineup this weekend who's also from New Orleans. Do you guys know each other? Any plans to collaborate?
We haven't, but we've been texting away trying to figure out each other's schedule. You know PJ isn't only a solo artist, but he's also in the group Maroon 5, so scheduling is pretty crazy. But it will happen.
Essence hosted a big gun violence vigil sthis weekend and that's one of the things that's kept New Orleans in the new spotlight in recent months, unfortunately. Do you feel a responsibility, now that you're in this national spotlight, to speak on what's happening in this community. Is there any way you feel you might incorporate that mission/message into your work?
To be honest, for me it's just a matter of me being successful. It's a matter of broadcasting that I'm from New Orleans. That's one way for right now for me to give back and to shine a light on some of the issues going on in New Orleans. I'm not a politician, but I think the threshold for me right now is just being great at what I do, shining a light on New Orleans and letting people know that there's more to the city than the killing. And then hopefully, I'll inspire more people who are from New Orleans to do better at whatever it is they're doing.
If there is an opportunity for me to come on out and say something about gun violence, [I will]. Earlier this year I signed a petition that was sent by Essence to President Obama about gun control. My ears are to the streets … but as far as me getting out there and speaking on it, I haven't done that yet, I haven't gotten that far. But I guess just being great, speaking love into existence is the best thing I can do right now.
How does one prepare to open for Beyoncé. Take us backstage ... what does your pre-show routine look like?
First there's a soundcheck … where I dot all my Is, cross all my Ts and make sure everything is working correctly. Then I just try to relax, focus on what it is that I'm here to do. I don't eat, so that's probably a ritual. I'd rather be empty. I have more energy when I'm not full, and I sing better.
Anything in particular that goes into your writing process?
I like to have a great vibe wherever I am creating. I like to have movies playing on mute -- just eye candy -- maybe a friend in the room, maybe a lovely young lady, someone you can use as a muse, who can give you inspiration by her essence.
Luke James heads to Ft. Lauderdale, Atlanta and Nashville next. Check out a few shots of his New Orleans pitstop in the slideshow below.
REAL LIFE. REAL NEWS. REAL VOICES.
Help us tell more of the stories that matter from voices that too often remain unheard.
BEFORE YOU GO
PHOTO GALLERY
Luke James Comes Home To NOLA