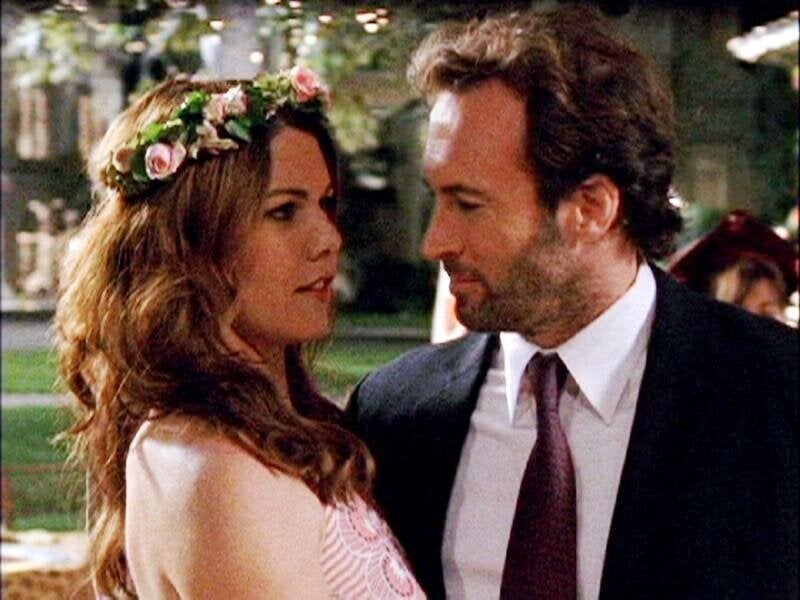 The character of Luke Danes was originally supposed to be a woman. When showrunners cast Scott Patterson instead (because there wasn't "enough testosterone"), he was only signed on for the pilot. But his connection with Lauren Graham quickly led to a six-year deal that changed everything. Without Luke, his diner and slow-burn on-again-off-again romance with Lorelai, "Gilmore Girls" would have been a completely different show. Patterson had met Lauren Graham before that fateful first day on set. After losing his luggage on the flight to Toronto, he was left wearing sweats to dinner with Graham and other cast members. "I walked into this very posh French restaurant and was, of course, the ugly American wearing my sweatsuit. Everybody stopped and turned to stare, and then there was wonderful Lauren, greeting me with a drink and seat at a very nice table," he said. "I liked her right away."
After that first day of shooting in the now-iconic Luke's Diner, Patterson and his manager bargained for two and then four more episodes, eventually convincing producers to offer up a six-year deal. "The chemistry was apparent from the get-go," Patterson recently told The Huffington Post in the kind of gruff but friendly tone you might imagine Luke smirking along with. "That's why it turned into more than a pilot." The relationship between the two was so natural and organic that, looking back, Patterson doesn't know if he could have done the show without Graham as his partner. The famously fast-paced dialogue meant the scripts were massive -- 80 pages of pure black chunks of ink stuffed with tongue-twisting witticisms. (The average hour-long show usually tops out at 60.)
Patterson recounted one time he and Graham received the 10-page script for an upcoming scene 10 minutes before filming. "We looked at each other after that point and two things happened: We both quit smoking and, from then on, we knew we could do it," he said. "I don't think I could have done it with somebody else. We had a very unique chemistry and a confidence in each other that we could hit the ball back over the net."
That connection on- and off-screen came easy. What was hard was the hemming and hawing of the will-they-won't-they dynamic that would allow the romantic tension between Luke and Lorelai to endure for what would be a total of seven seasons.
For the first several seasons, creators Amy Sherman-Palladino and Dan Palladino were careful. They put off Luke and Lorelai getting together as long as possible and plotted obstacles with caution, knowing there were only so many times they could tear the couple apart.
"You've created this unbearable tension throughout the years and you have to be careful with how you release that," Patterson explained. "It's like a roller-coaster and you have to keep people on board."
One of the more manufactured obstacles in the ballad of Luke and Lorelai came in the form of April Nardini, Luke's long-lost daughter, who amounted to little more than a frizzy plot point of a character when she was introduced midway through Season 6. "Listen, here's what happened," Patterson said. "In Amy's defense, and later in [writer] David Rosenthal's defense, they both know that as soon as you give fans exactly what they want, they go away. April was needed to ramp things up."
The Luke and Lorelai narrative really started to fall apart when the Sherman-Palladinos left ahead of Season 7, as the WB shifted hands and became the CW.
"No matter how gifted you are -- you didn't create those characters; that's not your voice," Patterson said of the show's new crew for its farewell season. "Amy is uniquely qualified to write a show like 'Gilmore Girls.' I thought losing her was the death knell for that show. It was like we were all playing Stradivariuses and then they took them away and gave us some high-quality violins, but they weren't Stradivariuses."
In that case, they must have felt like they borrowed violins from a public-high-school band the moment Lorelai ended things with Luke and immediately slept with Christopher. A ruinous plot point so universally disdained, it's still the subject of anger (and think pieces) in 2015, almost a decade later.
"Gosh," he said. "Listen, I think the the fans deserved better ... in a couple of different areas. They hung in for seven years and that wasn't a pleasant thing for them to go through."
The two find their way back together eventually, though only for a kiss in the final minutes of the show (after Lorelai realizes how hard Luke worked to put Rory's going-away party together). It's a consolation prize at best. A scene that, as far as Patterson sees it, was far from keeping with the reality of the characters.
"I think Luke would have just simply disappeared, just vanished. How long can he hang in there and get beat up? It's been seven years!" he said. "My plot point would be, they go by the diner and it's closed. Taylor is celebrating and lets Lorelai know he's just purchased the diner and Luke's gone away."
In the end, Patterson thinks fans deserved to see the love they had celebrated consummated with a bigger payoff. "Fans hooked into the whole Luke-Lorelai thing because of the very powerful feelings that were evoked within them, and they wanted a wedding," he said. "Let's just go out and say the 'w' word. They wanted a wedding and they didn't get it. They have every right to be a little miffed by that. I was miffed by that."
Before saying goodbye, Patterson hinted at the possibility of more "'Gilmore Girls,' maybe even a movie."
"I don't want to give the fans false hope," he said, sounding like he might want to avoid giving himself false hope as well. "I will say there have been some conversations."
Calling all HuffPost superfans!
Sign up for membership to become a founding member and help shape HuffPost's next chapter