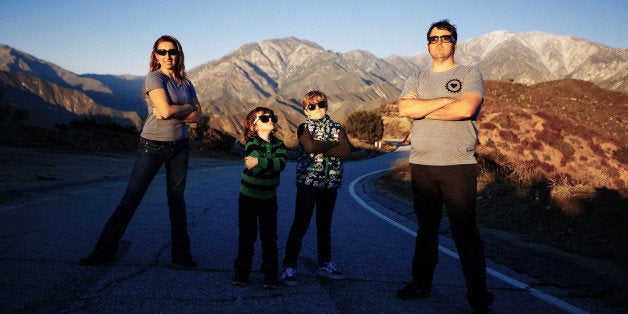 In 2009, Luke Mysse bought a road bike to improve his health. But this summer, he'll spend 100 days straight riding more than 4,500 miles across the United States with a larger goal in mind: to help save the lives of thousands of malnourished children around the world.
Mysse, 37, grew up in Orange County, Calif., and worked for years in his family's print and design business. Serving as his father's apprentice, he began working steady hours at the age of 14 and continued to nurture his entrepreneurial drive through his adolescence. After graduating from high school, he deferred college and instead used his years of business experience to launch Crossgrain, a marketing and design business of his own.
As he built his business, got married and started a family, Mysse enjoyed success in most areas of life except for his health. After a few failed attempts at dieting, his weight crept up to 340 pounds. Mysse told his wife, Dalia, that he was either going to resign himself to his weight, or make some serious lifestyle changes.
After he managed to drop 40 pounds through dieting, he went to the doctor for a physical. With a prescription to incorporate more activity into his daily routine, Mysse decided to try biking. He borrowed an old road bike from a friend and set off for his first 10-mile ride.
"I was miserable because I was so out of shape," Mysse told The Huffington Post, "but there was something about the rhythm of it and the alone time that just kept pulling me back."
He was officially hooked. Within six months, he completed his first century (100-mile) bike ride. Since then, cycling has helped Mysse lose more than 100 pounds and earn a clean bill of health from his doctors.
It's also become a way for him to give back. As Mysse focused on getting his health back on track, several of his friends were at work founding Mother Administered Nutritive Aid, or MANA, a nonprofit that manufactures a "ready-to-use therapeutic food" for children suffering from severe acute malnutrition. Their packets of micronutrient-fortified peanut butter are designed to meet a child's basic nutritional needs and do not require refrigeration. According to a 2005 study in the American Journal for Clinical Nutrition, 90 percent of children who receive a six-week treatment of a RUTF are able to reach a healthy weight.
When Mysse signed on to help with MANA's marketing efforts, he watched his son Andrew, who was 5 years old at the time, tasting one of the packets.
"It kind of haunted me, because I realized he'll never deal with this issue," said Mysse. "He was born in the U.S., and severe acute malnutrition is not something we deal with here. We have hunger, but this is way beyond hunger -- this is literally a child starving to death. I couldn't shake that image out of my head. And I thought, 'I don't know how I'll get involved, but I will.'"
Mysse quickly found a way. Early last year, he co-founded the nonprofit STOP SAM with Atlanta-based businessman and friend Mike Levison. The duo is dedicated to raising awareness of severe acute malnutrition and funds to send MANA's RUTF packets to children in need across the globe. With 20 years' worth of relationships in the nonprofit world to aid his efforts, Mysse has watched STOP SAM grow substantially over the last year. In fact, it has grown so much that in September, he decided to walk away from his successful 17-year marketing career in order to focus full-time on STOP SAM and prepare for his biggest journey yet -- Cycle Cause.
For the largest STOP SAM campaign of 2014, Mysse will bike 4,500 miles across the U.S. this summer to continue his fight against severe acute malnutrition. Setting out from San Diego, Calif., on June 20, he will bike for 100 days (including rest and bad-weather days) until he reaches New York City on Sept. 19, which happens to be his 38th birthday. He also plans to invite other cyclists to join him in various cities to start more conversations about SAM. His wife and two boys will follow behind him in a RV, and the family will head home together in September, with stops along the way for public appearances to talk about the cause and what motivated his ride.
"Honestly, for the past two years, I tried to kill the idea, because it's just so out there and crazy and outside of my comfort zone," said Mysse. "This is the kind of stuff you do in your 20s or later in life, not in the prime of your career. Because I'm so entrepreneurial, this trip requires me to swallow my pride and actually ask for money and ask for help, which is a tough thing for somebody who's been the person who made it happen for 17 years. But it's bigger than me, and there's a bigger story at play."
Mysse's family has supported his new goal since he brought it up last fall. Dalia, his wife, said she's excited to play a role in STOP SAM by helping him on his cross-country trip. Mysse's older son Andrew, now 9, has raised $300 for the campaign by making and selling rubber band bracelets, and his younger son Ayden, 5, attempted to mail a letter to the kids in Africa with the message, "Don't worry, peanut butter will be there soon."
As MANA manufactures the RUTF packets, Mysse, through STOP SAM and its campaigns, will tell the personal stories of the children they are working to help. All public donations from Cycle Cause go directly to purchasing and delivering RUTF packets to the youth in need.
"I'm not going to tell you that you should care, and I'm not going to tell you as an individual that you should get involved," said Mysse. "I'm going to show you what it looks like to care and what it looks like to get involved."
Calling all HuffPost superfans!
Sign up for membership to become a founding member and help shape HuffPost's next chapter
BEFORE YOU GO