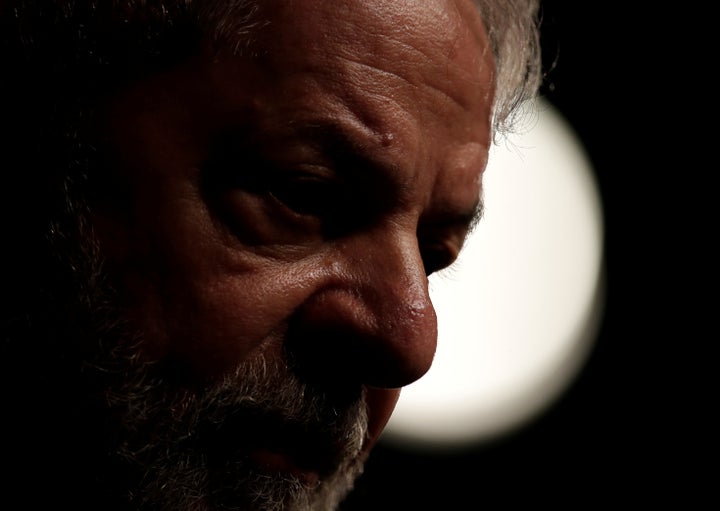 He was, as former President Barack Obama once said, "the most popular politician on Earth." But now, former Brazilian President Luiz Inácio "Lula" da Silva finds himself locked in a battle to save his legacy and preserve his future ― which he hopes will soon include another stint as his nation's chief executive. 
On Wednesday, da Silva and his lawyers will return to court to appeal his July conviction on charges of political corruption ― a case that threatens to derail his potential candidacy in elections later this year.
But da Silva and his legal team are confident they will win, with one of his top lawyers arguing that the former president is the victim of a political witch hunt. 
"Lula is not being prosecuted but persecuted ― politically persecuted," Valeska Zanin Martins, da Silva's co-counsel, told HuffPost. If his conviction ultimately stands, "we are absolutely certain that it is an international legal scandal that should be reviewed internationally and historically," she said.
From 2003 to 2011, da Silva held watch over one of the world's fastest-growing economies that ― coupled with his enactment of ambitious social welfare programs ― helped lift nearly 40 million Brazilians out of poverty.
But since he left office, Brazil has fallen into a state of perpetual crisis: under his hand-picked successor, former President Dilma Rousseff, the economy collapsed. And one of the world's largest and broadest corruption scandals ― known as Operation Car Wash ― erupted, engulfing hundreds of Brazilian politicians in the process.
Da Silva ― known to Brazilians simply as "Lula" ― was among them. He is facing four separate corruption charges. Only one case has gone to trial, however, and in July Judge Sérgio Moro, who has spearheaded the Car Wash probes, convicted da Silva.
Moro alleged that the former president orchestrated a vast bribery scheme involving da Silva's leftist Workers' Party, the Brazilian construction firm OAS, and Petrobras, the country's state-owned oil giant. Da Silva, according to prosecutors, took more than $1 million in bribes and personally benefited by gaining access to a beachside apartment in Guarujá, a coastal town in São Paulo state.
During the hearing on Wednesday, a panel of judges in the southern city of Porto Alegre will hear ― and could rule on ― da Silva's appeal. The decision could have sweeping ramifications not just for him, but for Brazil. Da Silva's  the front-runner in early polls for Brazil's 2018 presidential election. Brazilian law, however, bars anyone convicted of corruption from seeking office.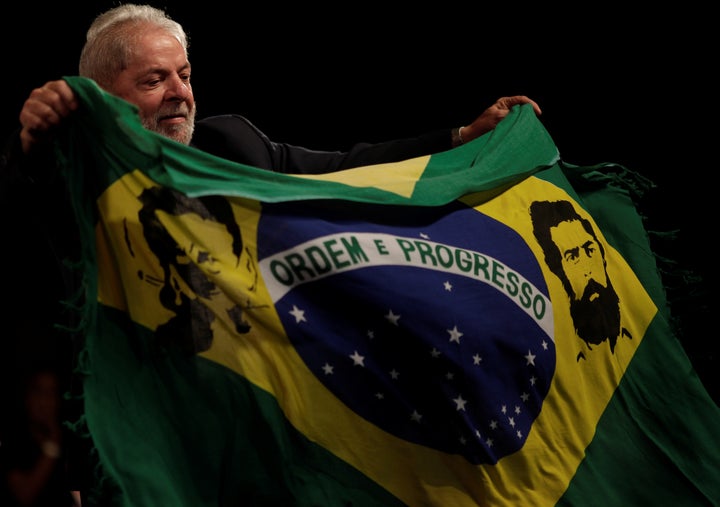 Zanin Martins argued that da Silva's appeal of the corruption conviction is less about his future political ambitions than about clearing the stain it has put on his name and his record.
"He's an innocent man," Zanin Martins said. "He wants his biography cleared, of course. He said he will run for president. But it's even more about clearing his name and making sure that history will see him for what he is, and not for what the Car Wash Operation invented."
Still, the political ramifications of da Silva's case are impossible to ignore. The 2018 elections have loomed over Brazil since Rousseff's impeachment in 2016 — a takedown her leftist allies saw as a "legislative coup" by centrist and conservative lawmakers eager to put an end to more than a decade of Workers' Party rule.
President Michel Temer, who inherited the top office from Rousseff, has quickly gone about eroding the left's accomplishments: He has gotten passed drastic austerity measures that have cut health and education spending, pushed broad labor reforms the left derides as attack on workers, ended certain social welfare programs, and sought major reforms to Brazil's generous public pension system.
Couple that with the economic collapse, and much of the Brazil that da Silva helped build has disappeared: the unemployment rate has improved of late but remains above 12 percent, 4.5 million have been cut from the rolls of one popular social welfare program, and the country is at risk of sinking back onto the United Nations World Hunger Map, which would erase one of da Silva's proudest achievements.
In part because of his policies, and in part because of his own link to the corruption scandal, Temer's comically low approval numbers place him among least popular politicians in the world — and have bolstered da Silva's standing and chances of reclaiming the presidency next fall.
Da Silva's conviction, however, sent a shockwave across Brazil. It was a sign, many observers said, that a new era had dawned in which no one, not even a popular former president, could engage in corruption and get away with it.
"It's the president that took Brazil to relevance," Alana Rizzo, a U.S.-based Brazilian journalist, told HuffPost at the time. "That's the figure that [internationally] people know. When you have this guy getting convicted, now anyone can get convicted."
But da Silva and his rabid base of supporters saw it differently. Though Car Wash and other corruption investigations have implicated politicians from across the political spectrum, they alleged that this was not indicative of a strong, independent judiciary hellbent on forcing good governance on Brazil. It was, along with Rousseff's impeachment, instead an opportunistic power play: a chance for Brazil's political and financial elite to thwart the nation's primary leftist party and its strongest leaders whose only crime, in this version of events, was redistributing too much of their money to the poor and working classes.
Zanin Martins said the facts of the corruption case support da Silva's innocence. Da Silva and his wife never owned the apartment that factors into the case, the lawyer argues. She also noted that more than 70 witnesses absolved da Silva of guilt during his trial. His lawyers also assert that Moro tainted the trial by illegally leaking da Silva's phone conversations to the media.
"If you look at the overwhelming evidence of innocence that we have produced in the files, it is impossible for an impartial or independent trial not to acquit Lula, or at least to declare the entire procedure null and void." Zanin Martins said.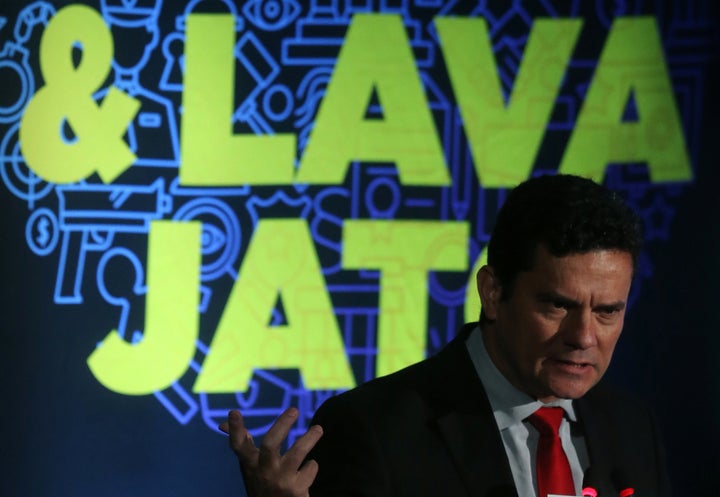 Da Silva's opponents have blasted him for his zealous appeal efforts, suggesting that he is undermining the judiciary's political independence and the anti-corruption efforts. But Zanin Martins said da Silva, whose previous presidential campaigns were rooted in opposition to corruption, still supports broad efforts to fight the sort of political bribery that Car Wash has exposed as rampant across Brazil.
It's just that this case, she said, is the wrong way to do it.
Da Silva is "not above the law, but he's not beneath the law," Zanin Martins said. "He wants a fair trial, because a fair and impartial trial would lead, again, to his acquittal."
Da Silva's corruption conviction has polarized Brazil: Protests erupted against the decision after it was announced it July, and were followed by counter-protests supporting Moro's actions and the Car Wash investigations, which remain broadly popular.
But even some of da Silva's most vociferous political opponents have suggested that he shouldn't face jail time, or a ban from future elections. In 2016, former President Fernando Henrique Cardoso, a long-time da Silva rival, said that voters, not judges, should determine da Silva's fate ― an assertion da Silva's supporters have used to bolster their claims that his conviction should be overturned and he should be allowed to run.
"We cannot politicize the judiciary, or judicialize politics," Zanin Martins insisted. "Politics are disputed in the ballot box, and should not be disputed in courts."
Brazilian political observers have reached nothing near consensus about how the panel of judges may rule.
Whatever the outcome, it is clear that da Silva's time as Brazil's most prominent political figure won't end quietly. He and his legal team have already filed a complaint with the United Nations human rights committee, alleging that Moro and Brazil have violated his right to a fair trial. They've lobbied, successfully, for global political support: over the weekend, a group of U.S.House Democrats sent a letter to Brazil's ambassador to the United States on da Silva's behalf.
If his conviction is upheld, da Silva is prepared to exhaust his legal remedies both "nationally and internationally," Zanin Martins said.
And no matter what, the former president ― for the moment, still the most popular politician in Brazil, if no longer on Earth ― intends to continue his latest pursuit of the presidency.
"If the Workers' Party will nominate him, he will run for office, for president of Brazil," Zanin Martins said.
Calling all HuffPost superfans!
Sign up for membership to become a founding member and help shape HuffPost's next chapter