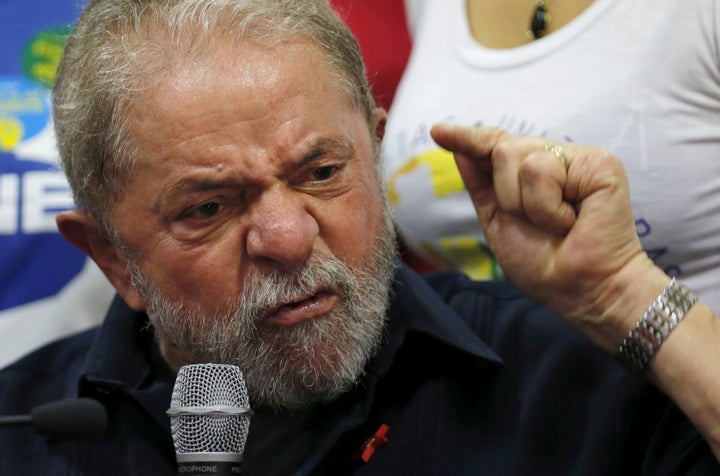 BRASILIA, March 15 (Reuters) - Brazil's former President Luiz Inacio Lula da Silva has decided to accept a position in President Dilma Rousseff's Cabinet, a presidency source said on Tuesday, a move that would offer some protection from an investigation into money laundering.
The source, who asked not to be identified so he could speak freely, said it was likely that Lula, an able negotiator, would take charge of legislative affairs, where he could leverage close ties to congressmen from the ruling Workers Party.
Lula's appointment as minister was seen by government critics as a last-ditch attempt by the unpopular Rousseff, who is struggling with an economic recession and impeachment proceedings in Congress, to hold together her divided coalition government.
"We'll sue Lula to prevent he becomes a minister. Because this action is not legally valid," Rubens Bueno, the leader of opposition party PPS, told HuffPost Brazil. "He is going to the ministry so his process is not open in a common Court. What is the public interest in this? He is running away from justice," Bueno added.
Earlier, O Globo newspaper reported that Lula had informed several of his closest advisers that he would accept a Cabinet post, ahead of a meeting with Rousseff in Brasilia on Tuesday.
Brazil's benchmark Bovespa stock index fell more than 4 percent and the Brazilian currency weakened 2.5 percent against the U.S. dollar on the news.
Investors, who have long blamed Rousseff for erratic policies they believe hurt the economy, had rallied behind Brazilian assets in recent days because of the increasing likelihood that the president might be ousted.
Lula was president from 2003-2010 when the Brazilian economy was riding on a global commodities boom. He remains Brazil's most influential politician.
"Lula is one of the biggest leaders of this country, he is internationally renowned, a man of state," said Érika Kokay, a member of parliament for the Workers Party.
"I don't think he is re-entering a ministry so he cannot be arrested," she told HuffPost Brazil. "He will be here to make the changes people are claiming. He will improve economy and make the necessary adjustments."
But Lula's return to government could lead to increased spending in the midst of a fiscal crisis. Lula and many Workers' Party allies have said more spending is necessary to revert dwindling support for the government.
Lula is under investigation on suspicion he benefited from the massive graft scandal that has ensnared dozens of corporate leaders and politicians in Rousseff's governing coalition.
Accepting a Cabinet post would transfer any charges against Lula from Federal Judge Sergio Moro to Brazil's Supreme Court. Moro was given jurisdiction on Monday to rule over money laundering charges presented against the former president.
Brazil's Attorney General Jose Eduardo Cardozo denied the government was trying to shield Lula from prosecution and said there were no legal or political impediments for him to join the Cabinet.
"Lula is not fleeing from justice. There is no attempt of any sort to shield him," Cardozo told reporters.
Moro, the federal judge, has arrested dozens of people for questioning and held many for months as he investigates a trail of bribery, price-fixing and kickbacks that started at state-controlled oil company Petroleo Brasileiro SA.
In a new blow to Rousseff's government, Brazil's Supreme Court on Tuesday accepted a plea agreement by a Workers' Party senator, Delcídio do Amaral, a close ally of the president until he was arrested last year in the Petrobras scandal.
The corruption allegations against Lula have also deepened the political crisis for Rousseff, who faced massive demonstrations on Sunday calling for her ouster for leading Brazil into its worst recession in 25 years.
Rousseff's main coalition partner, the PMDB party, whose leaders in Congress are also being investigated for corruption, has been moving toward a break with her government and support for her impeachment, which would put its leader Vice President Michel Temer in the presidential seat.
"The appointment of Lula as minister shows Brazilians that the government's only concern today is to survive at any cost," opposition leader Aecio Neves said in a Twitter message.
(Reporting by Anthony Boadle; Editing by Tom Brown)
Calling all HuffPost superfans!
Sign up for membership to become a founding member and help shape HuffPost's next chapter