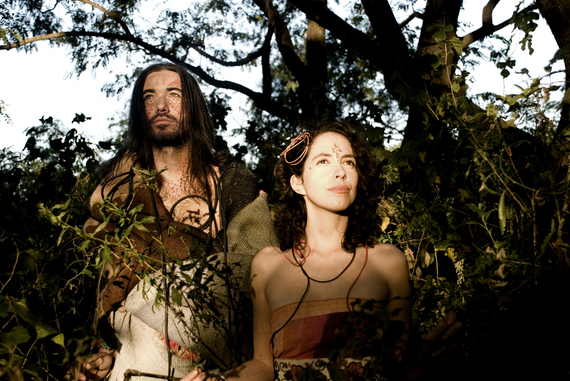 Sometimes, all it takes is one vibration to evoke a deep, emotional response that will resonate within you forever. The moment at which Lulacruza's newest album Orcas awakens your senses is the moment you press play. Blending the sounds of South American instruments with electronically produced music creates an experience that is as delicate as it is powerful.
Colombian Alejandra Ortiz and Argentinian Luis Maurette have been creating music together for a decade, carefully crafting a timeless sound that is a reflection of past, present and future. Orcas is their fourth full length LP and as they have grown, experienced and evolved, so has their music. The beauty, love and darkness of life inspired their creation's journey. A deep connection with the rituals and heritage of South America provide the canvas for their music as they paint it with hues of nature and wisdom.
Mixed and mastered by sound engineer Vance Galloway, who is known for his work with Nicholas Jaar, Orcas is a melodic masterpiece that leaves listeners mesmerized. Recorded on Orcas Island in Washington, the allure of the beauty that surrounded them inspired the album's namesake. They create a sonic landscape that is both vast and intimate, taking the listener as far as the mountains of Colombia, and as near as the complexities of the heart. In a previous interview with the duo, Ortiz and Maurette shared their insights on Orcas.
Lyrics are inspired by both sublime love and the calmest, darkest hour before sunrise, as well as ancient forces like the feeling of reuniting with what feels like a twin soul from a past life. This is also our most acoustic album.
The album opens with "Lagunitas," a living, breathing track that begins with a single sustained note. This one note pulls you into their realm as if you are stepping into water. Ortiz' vocals gently drip in and slowly expand in ripples. "Lagunitas" is similar in structure to that of Indian classical music where a single melody line is played over a fixed drone. This monophonic texture is often paired with rhythmic chanting which aligns the body and mind into a state of balance, like a vibrating guitar string, tensile yet taut. Straying from the typical verse-chorus structure, "Lagunitas" is a meditative piece upon which the mind may transcend.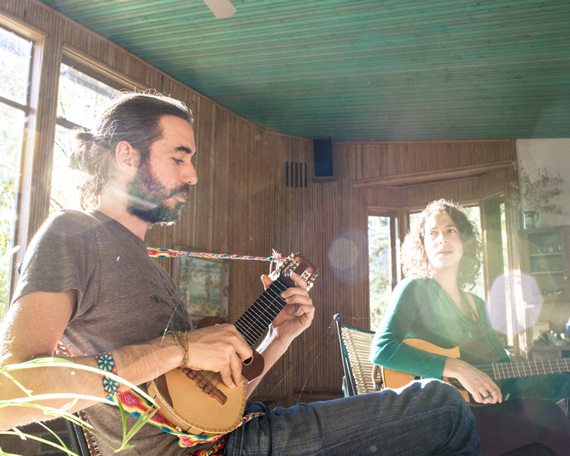 "Comandante," a contemporary folk song, weaves Ortiz' voice with sanguine strings into a colorful, musical fabric. Electronic beats and percussion instruments are elegantly incorporated, subtly smudging the lines between traditional and modern. Like warm folds of honey, "Subterraneo Y Estelar" uses romantic chord progressions, ethereal string arrangements and vocal harmonies by both Maurette and Ortiz to send the listener into a sublime dream. "Uno Resuena," which means "one resounds" or "one resonates," teaches us about the diversity of human connection. Like ions, we attract each other, pulled by one another's orbits. Lulacruza is a creation of this connection and a paradigm of inspiration. Nurture your inspirations so that you may manifest your creations.
This song was written for my favorite musician in the world, someone I've had the fortune of making music with while traveling to sacred sites in Colombia. One day we traveled to a pristine waterfall together and that night this song was born.

Every time I'm around him we tap into magical realms. He has never been my lover, but what we share through music makes him one of the loves of my life, there's just so much resonance between us.

-- Alejandra Ortiz

The haunting melody of "El Agua Abarca" is like bathing in the cold waters of a mountain river: chilling, cleansing and invigorating. Hypnotic strings carry me through the song as Ortiz' lyrics guide me. One of the most moving tracks on Orcas, even statues would sway like kelp on their pedestals. "Estrella Del Alba" and "Callar, Llorar, Gritar" are both deeply ritual based tracks which express their eternal gratitude and love of nature. Solemn in tone, rich in rhythm, and highly emotive, these tracks show Lulacruza's unrivaled ability to blend the organic instrumentation of ritual folk music with the soul-shaking depth that can only be achieved with electronic music.
The last track on Orcas titled "Señor de Fuego" offers a final message of warmth and hope. An altogether pensive album, "Señor de Fuego" leaves you with an affectionate kiss on the cheek, reminding the listener of the many hues of happiness. Living in between the earth which moves beneath our feet and the glittering abyss of the heavens above us can sometimes evoke a feeling of insignificance. It is not until we connect with the life and matter that surrounds us, light and dark, beautiful and ugly, that peace finds us. Orcas is a revelation. The music of Lulacruza can be heard in the wind that whispers in your ears, seen in the undulating trees and felt in the cadence of water. Change does not come through silence, but through sound.
REAL LIFE. REAL NEWS. REAL VOICES.
Help us tell more of the stories that matter from voices that too often remain unheard.