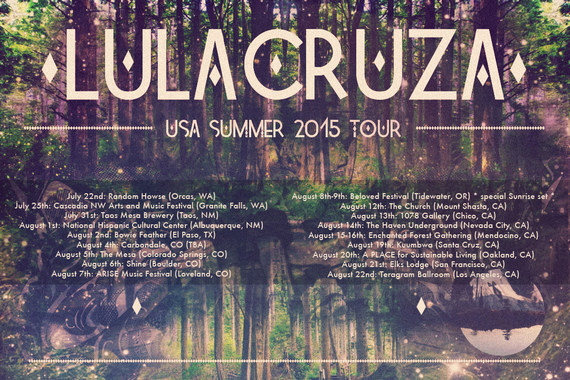 South American electro-folk duo, Lulacruza, comes to America for a very rare, 18-city tour. Blending two South American heritages, Luis Maurette of Argentina and Alejandra Ortiz of Colombia create a musical palette that is foreign in its soundscapes and intimate in its storytelling. Ortiz describes their music as a seed that blossoms into an ecosystem that listeners can not only hear, but walk into. Their deep connection to ritual music brought them to each other and the result was nothing short of alchemy.
A fusion of South American ritual music and electronic folk, the music of Lulacruza is a shamanic odyssey that washes over you in waves of sound. Creating unique song structures that soothe and sway, ebb and crescendo, chant and sing, the listener is able to transcend anywhere, from beckoning mountain vistas to an ancient bygone era. Their most recently released and critically acclaimed album, Orcas, is their most profound thus far, displaying the evolution of their musical genius.
While Lulacruza's studio recordings are beautifully mastered and performed, there is no experience that can match the magic which they conjure on stage. Listening to each of their albums, I developed a crush on Lulacruza, but it was not until I saw them live that I fell in love. The sensory acuteness that live performances evoke strengthens the bond between music and soul. To not only hear the sounds but watch them emerge from the minds who conceived them is as important as the music itself.
The duo's newest acquisition, bassist Pablo Paz from Argentina, will also be touring with them, adding yet another scintillating layer to the vocals and acoustic instrumentation of Ortiz, and the percussion and electronic sequencing of Maurette. The bold, thickness of sound surrounds you in vibrating molecules of music while Maurette's deep and subtle bass vibrates your innards. While sounding predominantly like a folk album when heard at home, the live experience accentuates the depth of bass, turning their music into a surreal dimension that is neither reminiscent of the past, present, nor future, but a nameless combination of all three.
Having already performed shows in Washington, Oregon, New Mexico, Colorado, and Texas, they are now making their way down the California coast, beginning in Mount Shasta and ending their tour in Los Angeles. They have also graced the lineups of Beloved Festival in Oregon and Arise Festival in Colorado. Lulacruza gained a large following from their two performances at Envision Festival in Costa Rica back in February of 2015 and also by signing to the Polish Ambassador's boutique label, Jumpsuit Records. Though they have been creating music for over a decade, 2015 has been a meteoric year for the group.
As their tour reaches its end, there is still time to catch them in Santa Cruz, Oakland, San Francisco and Los Angeles. Lulacruza's live performances are a place to grow, meditate, dance, pray and transcend. There are many doors of music to walk through, each of them offering different experiences, and it seems as though Lulacruza has unlocked one that had never been opened before. Music is the key that unlocks the doors to our souls.