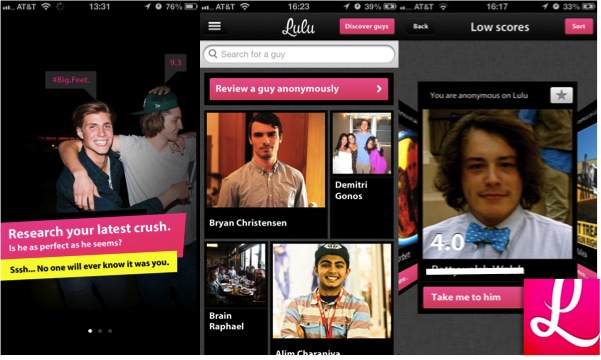 It only takes one girl with a Facebook account to put your son up for the global female population to rate his looks, humor, kisses, sexual performance, body and personality (although personality seems quite unimportant in the Lulu world). One girl, one click and within seconds, your son is unknowingly searchable and rateable online the same way Yelp lets you review restaurants and dishes.

Is he worth looking at or speaking with? Check his score on Lulu, and girls will tell you in detail with hashtags like #PleaseF**kMeILoveYou, #I'mSoSore and #MyFriendsAreJealous summarizing "the best things about (name)," and #CheaperThanABigMac, #IntegrityChallenged, #LoserFriends and #TotalF***ingDickhead telling you "the worst things about (name)".
Will all guys be on Lulu?
If the founder of Lulu Alexandra Chong gets her way, Lulu will soon let women browse all guys nearby to find out whether they are worth their time, and sort guys according to high scores, low scores, trending guys, hot guys, great kissers, sexual panthers, smart guys, loyal guys, sweet guys, funny guys or wild cards to find the one for you, or -- just as important -- those who are not even worth a look in real life. Which category does your son fall into? Or your husband, best guy friend or father? Soon, they might all be on there...
A future scenario could very well be a situation where all boys and men are searchable and rateable on Lulu. At least all guys who have a Facebook account. It really doesn't take much imagination to visualize the numbers once you understand the simple fact that every girl who joins Lulu automatically adds all her male Facebook friends to the Lulu database of men.
Let's put some real numbers to it: Within a few weeks of launch, Lulu had grown its user base to more than 100,000 Lulu girls, which should mean about 15 million Lulu guys in the database (for simplicity, excluding both the fact that there are overlaps in male friends as well as that many have more than 150 male friends). We are talking about 15 million guys, most of who probably have no clue they are searchable and rateable on Lulu. Would you want to be that guy?
Disgusted and scared
As a woman I am disgusted by the way this new services portrays men putting only immature "stud" factors at the center, and I'm just as uneasy about the way it portrays us women, implicitly defining our interest in men as only based on looks and sexual performance. It is taking the meat-market world of porn to the kitchen table, only that in porn people choose to join (of course excluding victims of human trafficking -- an extremely important topic, but out of the scope for this post), while on Lulu all guys are automatically added to the menu.
As a mother I'm both angry and scared. To imagine my two young boys added to this meat-market service freaks me out. I get flashes of the many sweet but insecure young men I knew in high school and college who would not score high on the Lulu parameters, but who definitely both needed and deserved a thumbs up. I think about all the teenage boys out there, perhaps overweight, with acne issues or a high nerd factor, who may be emotionally destroyed by the Lulu world of scores that may stick with them for years (I see nothing in Lulu's terms that reviews are deleted after a certain amount of time). Despite Lulu's statements about being "cheeky, but definitely not evil" and where "Reviews are a quick, fun way to contribute the collective wisdom for women everywhere," I worry that this service can be used for grotesque bullying.
And I worry for my teenage daughter...
The world young women grow up in today is already extremely sexualized. SnapChat is the new sexting app among teens (luckily not installed on my daughter's phone -- not yet at least -- and I dread the day when my parental guidance app MobileKids alerts me that she has discovered it). Instagram is great for photos. I use it frequently myself, but tons of kids use it for discovering and sharing sexual, anorexic and self-harm images. Facebook is used by kids and teens as well as by adults, and while it is an incredible service for keeping friends in touch, it is also a great place for kids to make friends with people they have never met in real life. Not to mention Chat Roulette -- an app widely used for live video sex chats. This is the world teens are exposed to, and Lulu is taking it one step further by automatically adding all guys.
Lulu is a world I definitely do not want my daughter to take part in. Neither by rating guys, nor by reading reviews. And by no means do I want her to learn from the Lulu Dudes, the supposedly real guys answering the questions from girls on Lulu on topics they wonder about.
Let me give you one example of a Lulu Dude advice to Lulu Girls wondering about "How far should I go with him on dates 1-4?". The Dude concludes his answer with
When you decide to take a trip to Fucktown is totally up to you, but I'd say that if you're not at least curious about visiting by date 3, this is not the guy for your. Oh, and a hand job is totally acceptable as "sex" on a 3rd date. But get real expert with it, like use tons of spit or even some lube (that you keep next to your couch you naughty girl). And kiss him when he is coming. That is shit HOT.

I have no words.... Is this the advise on guys and sexuality my daughter is going to be exposed to? In Lulu's defense, Lulu Girls have to state that they are above 17 to join, but the reality is that there is no real barrier to join the Lulu world. It's there, and your son, husband and father might very well be on there, searchable and rateable for the female world. And that female world unfortunately also includes my teenage daughter...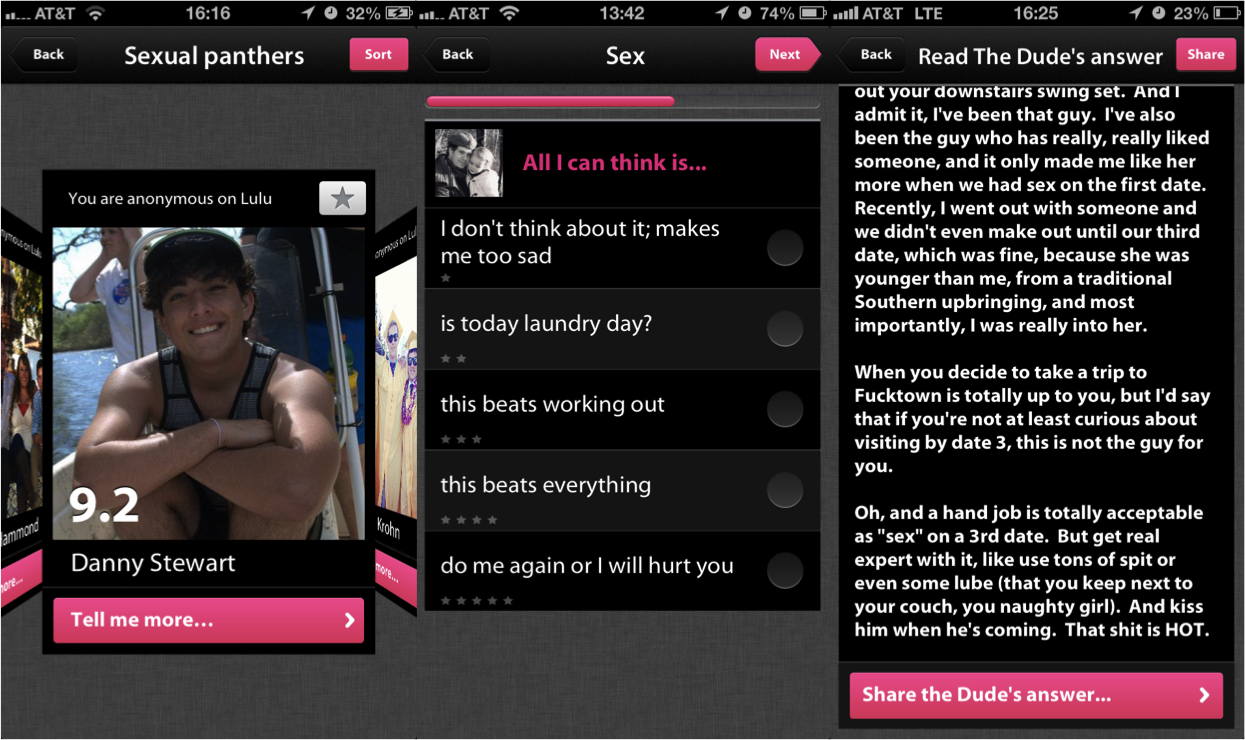 While your son's looks and sexual performance is publicly rated, your daughter is taught to give expert handjobs. Meet Lulu -- the new fast growing social community for girls!

Related
Popular in the Community